Double Date caps victorious year with MADCO collaboration
To say that Double Date has had a great year is an understatement.
The quartet of two students and two alumni from the University of Missouri–St. Louis got a major boost by winning the 2014 Barbershop in Germany competition. After returning to the states, they found themselves in high demand for performances and instruction at workshops around the country. But what they're most excited for will be happening on stage at the Blanche M. Touhill Performing Arts Center.
This week, they will combine their a cappella barbershop tunes with MADCO's choreography, in the project "MADCO: Double Date." Combining modern dance with barbershop singing is a combination that no one else seems to have heard of, said Blair Brown, who graduated from UMSL in December 2013 with a degree in vocal music.
"We would love to see this light a fire within the barbershop community," Brown said. "It feels like we're doing something kind of groundbreaking."
The group is used to being groundbreaking, though. Double Date is composed of Brown and alumnus Ravi Raghuram and UMSL seniors Michaela Slamka and Nathan Johnston. Barbershop singing has historically been divided into men's and women's groups. Groups that combine men and women are a newer addition to the art form.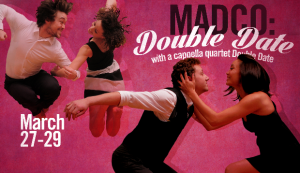 MADCO approached Double Date about a collaboration after hearing them sing last year. The vocalists gave them a recording for choreography and practice. When the two groups came together to rehearse, seeing their music take form on stage was a touching moment.
"Michaela and Blair cried the entire time seeing our music brought to life that way," said Raghuram, now a music teacher at Brittany Woods Middle School in University City, Mo. "It was a dream come true but we didn't even know that was our dream."
The work is also challenging. Double Date will be singing live, but the choreographies were developed to recordings, which means that the singers have to remain aware of their timing in a way they're not accustomed to.
"They've been rehearsing with recordings of us that have a very specific tempo and very specific interpretation," said Johnston, a music education major. "Our interpretation of these songs has continued to shift and grow over the past year since we made the recording, so we've had to return to what we did."
Working with such impressive dancers can also be a distraction, in a positive way.
"It's tough with their dancing not to say 'Ooh, look at that,'" said Brown. "None of us has any dancing skills. They're doing the coolest things we've ever seen. It's really cool we get to share that with each other."
"MADCO: Double Date" will take place at 8 p.m. Friday and Saturday and 3 p.m. Sunday at the Blanche M. Touhill Performing Arts Center. Tickets are $30, $25 for seniors and $15 for students and youth.
Media Coverage:
St. Louis Post-Dispatch


Short URL: https://blogs.umsl.edu/news/?p=56057