Perryman named Louisville Slugger/NFCA National Co-Pitcher of the Week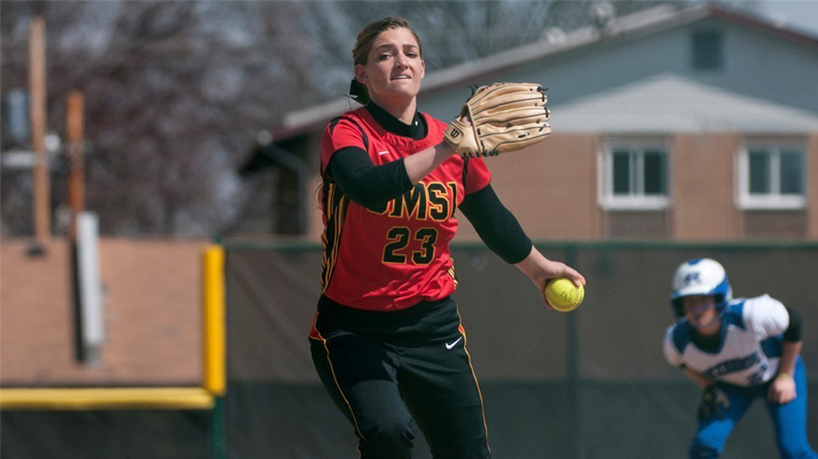 For the second time this season, University of Missouri–St. Louis junior Hannah Perryman has been named the Louisville Slugger/NFCA National Pitcher of the Week. Perryman shares this week's honor with Tiffin's Kimmy Reynolds, while Augustana's Jenelle Trautmann was named the National Player of the Week.
Perryman was dynamite in the circle for the third-ranked Tritons, and for the third time this season, she was perfect. The lefty stymied Great Lakes Valley opponents Missouri S&T and Drury, holding them to one hit in 13 innings of work with 27 strikeouts and limiting the squads to a paltry .029 batting average.
"I'm really excited to be named pitcher of the week because everyone on my team helped contribute to it," said Perryman, a criminology and criminal justice major. "We worked really hard to prepare for the weekend and it really showed. I've been throwing to our hitters a lot, which is incredibly helpful because they are so good. They help me feel prepared and confident in the circle. Our defense was a huge contributor on Sunday. We made all the plays that came our way and I couldn't be prouder because we have worked really hard to make it that way."
She opened the weekend with a complete-game one-hit shutout of Missouri S&T in which she struck out 15 and walked one in a 3-0 victory for UMSL. A day later, Perryman twirled her perfect game against Drury striking out 12 in a six-inning triumph. The performance marked the fourth of her career, tying the Division II record. The Streamwood, Ill. native also recorded her 1,000th career strikeout in the win and finished the day with 1,008 career punchouts.
"When you have a pitcher who has led the country for three years in strikeouts per game you start to take things for granted," said head coach Brian Levin. "However, when you consider how difficult it is to throw a perfect game, for her to throw her third in a season is really astonishing. The National Pitcher of the Week award could not have been given to a more humble person. Hannah is one of those rare players that truly gets more joy from winning, and watching her teammates success than from any accolade she has received."



Short URL: https://blogs.umsl.edu/news/?p=56570