McLarty, Mueggenburg named All-GLVC in men's tennis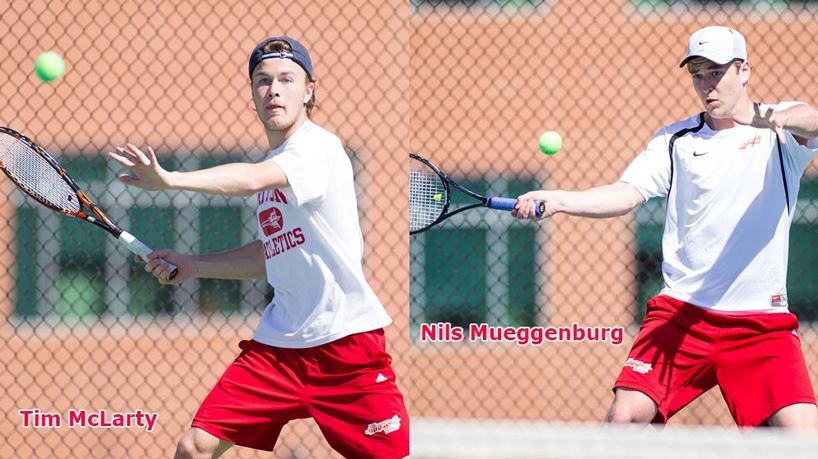 Seniors Tim McLarty and Nils Mueggenburg of the University of Missouri–St. Louis men's tennis team have been named to the All-Great Lakes Valley Conference team. The league office announced the 2015 All-GLVC team at the Tennis Championship banquet on Thursday night.
McLarty, a three-time selection to the All-GLVC team, was a combined 10-0 in GLVC singles and doubles play. He owns a team-best 18-8 record in singles play, including a 6-1 mark at No. 2 and a perfect 5-0 mark in GLVC matches. McLarty, a business administration major, entered the league tournament having won 11 of his last 13 singles matches. In doubles, McLarty is 18-9, playing at the Nos. 2 and 3 spots. He has teamed with Kristoffer Lindal to post a 7-3 record, playing mostly at No. 3, including a 5-0 mark in GLVC play.
Mueggenburg, a business administration major and Pierre Laclede Honors College student, earns All-GLVC accolades for the second straight year. He is 12-11 in singles play, including 9-6 at No. 1 and finished GLVC play with a 3-1 mark. In doubles, Mueggenburg sports a 15-13 record and was 2-2 in GLVC matches. He played mostly at No. 1 and was 9-5 with senior Harry Heyburn.
The 2015 GLVC Tennis Championships was held in Kansas City, Mo. The Tritons finished regular season play with a 10-7 record and completed GLVC play with a 4-1 mark to secure the West Division No. 2 seed. UMSL lost a 5-1 decision to No. 24 ranked Indianapolis on Saturday night in the GLVC Tournament semifinals.


Short URL: https://blogs.umsl.edu/news/?p=56597