Verboven, Carvalhais earn All-GLVC honors in women's tennis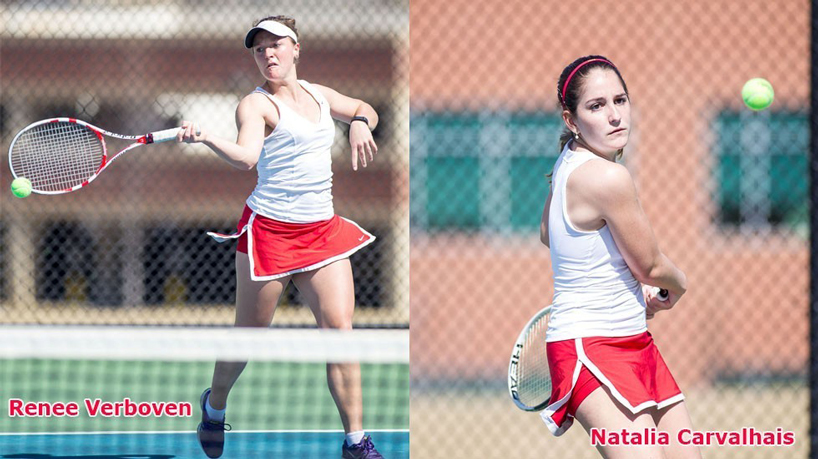 Juniors Renee Verboven and Natalia Carvalhais of the University of Missouri–St. Louis women's tennis team have been named to the All-Great Lakes Valley Conference team. The league office announced the 2015 All-GLVC team at the Tennis Championship banquet on Thursday night.
Verboven, who also earned All-GLVC honors as a freshman, is 13-14 overall, including 10-5 at No. 2, and went 6-0 in GLVC play. In doubles, Verboven, an engineering major, is 12-15, but finished 4-2 in GLVC matches, including 4-1 with Annie Hays. The duo sports a 8-3 record at No. 3 doubles.
Carvalhais, a business administration major, owns a team-best 18-9 singles record, playing mostly at No. 3, where she is 11-5. She went 5-1 in GLVC matches and entered the league tournament on a six-match win streak. In doubles, she is 15-12, including 10-5 with senior Leanne Cantalupo. The duo went 5-1 in GLVC play and is 8-4 at No. 2 doubles.
The 2015 GLVC Tennis Championships were held in Kansas City, Mo. The Tritons finished regular season play with a 9-7 record and completed GLVC play with a 5-1 mark to secure the West Division No. 2 seed. UMSL wrapped up its season with a fourth-place finish at the GLVC Championships.


Short URL: https://blogs.umsl.edu/news/?p=56603