It's a 3-peat! Softball captures 3rd straight GLVC Championship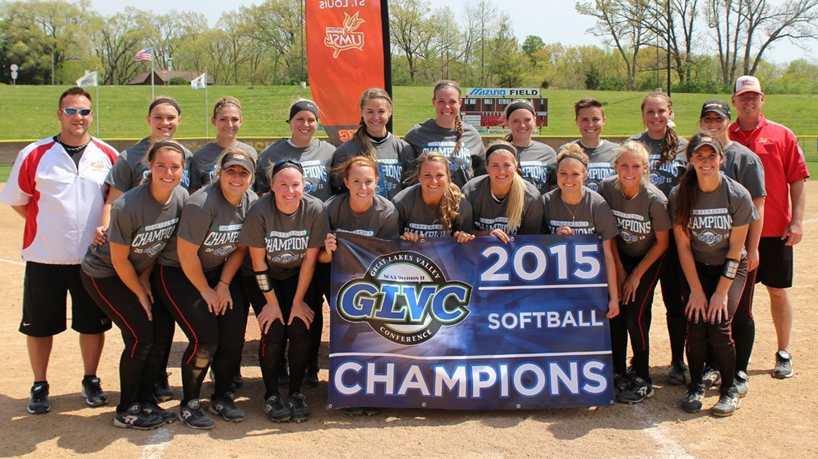 The No. 2 ranked University of Missouri–St. Louis softball team captured its third straight Great Lakes Valley Conference championship on Sunday with a 4-0 eight-inning victory over No. 10 ranked Indianapolis.
With the win, UMSL also receives the league's automatic bid to the NCAA Regional Tournament. The UMSL Tritons will find out who their first round opponent is tomorrow morning at 9 a.m. (CST) when the NCAA Division II Softball Selection Show is announced on NCAA.com. The region's top-eight teams will pair off into two double-elimination tournaments, held on campus sites May 8-10. The Tritons have been ranked No. 1 in region's previous rankings and typically, the top two teams will host the regionals.
With the three-peat, UMSL becomes the first active league member to accomplish such a feat, and only the second GLVC softball team to ever do so since former league member SIU Edwardsville won three in a row from 2006-08.
UMSL, which had been held hitless through seven innings of play, finally broke through in the eighth inning with four runs on two hits. Greyhounds All-American pitcher Morgan Foley, who issued nine walks in the game, walked senior Brianna Butler for the third time, after a lead off strike out of sophomore Alex Stupek. Foley then got senior Madison Zbaraschuk to fly out to deep right field, before giving freshman Jennah Perryman a free pass to the base paths.
Sophomore Sara Kern followed with the team's first hit with an RBI single to right field, sending Butler home for the lead, while senior Jena Boudreau followed with a three-run homer over the centerfield fence for a trio of insurance runs.
Before the eighth inning, the Tritons had left eight runners on base. UMSL threatened to score in the sixth, loading the bases with no outs, but after a J. Perryman strikeout, Kern flied out to left field. Stupek was sent home on the play, but was tagged out.
Junior Hannah Perryman tossed the complete game one-hit victory, striking out 11. The Greyhounds had just one other runner reach base coming on a one-out error in the first inning. Perryman improves to 26-3 overall, recording her 14th shutout of the season. She pitched all 27 innings of the tournament for the Tritons, recording three shutouts, including one perfect game, while limiting opponents to just .067 hitting…
The GLVC title is the second this year for UMSL with men's golf having also won their league championship.


Short URL: https://blogs.umsl.edu/news/?p=56911