Mental health expert discusses art, healing, advocacy on KETC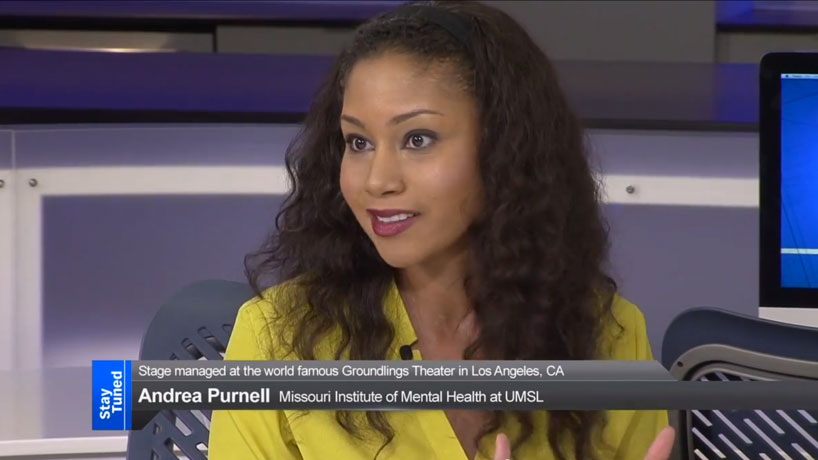 Mental health came into the spotlight after the death of Tom Schweich, the Missouri state auditor and a Republican candidate for governor. His suicide spurred conversations about awareness and treatment. It's a topic that the University of Missouri–St. Louis' Andrea Purnell is passionate about.
As director of communications and the arts for the Missouri Institute of Mental Health at UMSL, Purnell shared her perspective on art's relationship to healing and advocacy on "Stay Tuned" on KETC (Channel 9).
"The idea is to use the art to do stigma busting," she said during the panel discussion. "When you can see the art and see, 'Wow, this is an amazing piece of work,' and perhaps something that you would not necessarily think someone with a mental health challenge could produce, it makes that person just that much more real."
She recalled the successful 200-person flash mob in downtown St. Louis two years ago that helped bring mental health awareness into the public's eye in a new light.
"I think the arts allow us to talk about it without pointing a finger, as well as just really expose and dispel myths."
Purnell touched on how communication is key in shaping positive, blameless messages about those who suffer with mental health challenges.
She also talked about the importance of working specifically with art therapists and how various arts – dance, theatre, music and others – can raise esteem levels.
"Oftentimes if you have a mental health challenge and don't feel like you can talk to someone," she said, "perhaps you can draw what it is that you're feeling and still get some of that out of you."
Click here to listen to the full discussion and hear more from Purnell.

Short URL: https://blogs.umsl.edu/news/?p=57393