Alan Byrd discusses college access, youth jobs on Nine Network's 'Stay Tuned' series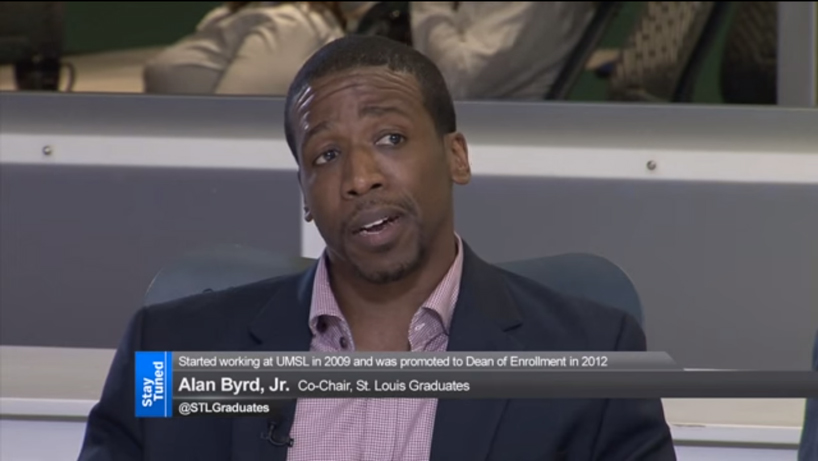 The impact of youth employment on the St. Louis region was the focus of the "Stay Tuned" program on the Nine Network last week featuring Alan Byrd, dean of enrollment at the University of Missouri–St. Louis.
Touching on the job market, local initiatives and the growing percentage of jobs that require post-secondary degrees, the May 28 discussion highlighted the role that graduation from high school – and beyond – plays in preparing young people for success.
Byrd, who co-chairs St. Louis Graduates, a collaborative network working to increase equity in education, said preparation for the working world begins early – as do common barriers.
"It starts with access to rigorous coursework in high school, qualified teachers and really the expectations to pursue post-secondary education," he said. "Access to college counseling is critical – many of our schools in high-poverty districts have much higher case loads, and they don't have staff dedicated solely to college placement."
St. Louis Graduates focuses on removing existing barriers that low-income and first-generation students face, Byrd said, including lack of academic preparation for college as well as inability to afford higher education.
He added that meaningful work experience is also an increasing emphasis at the university level as institutions grapple with what students need to be successful in today's economy.
"Most of our students were employed before they walked across the stage," Byrd said of UMSL's recent spring commencement. "It depends on the sector, it depends on what that degree is in. But the market is fairly strong right now for college graduates. And from what we hear from employers, we need even more college graduates to meet their work-force needs."
Watch the full episode of "Stay Tuned" here.

Short URL: https://blogs.umsl.edu/news/?p=57583