UMSL Tritons weekly rewind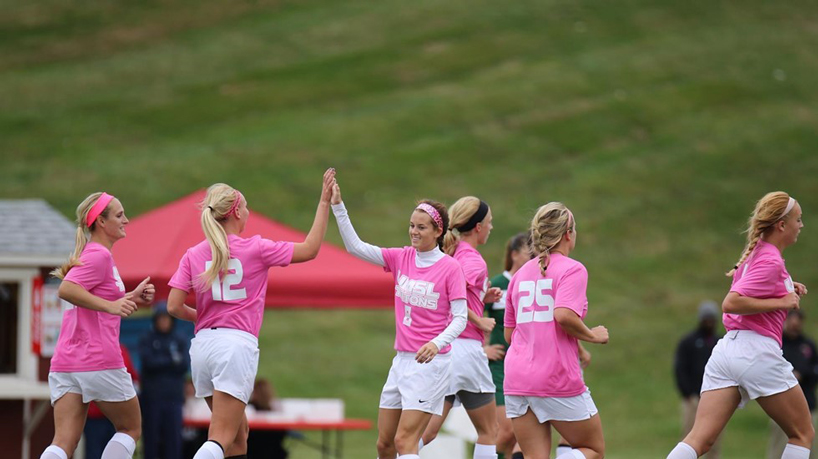 Women's Soccer
The University of Missouri–St. Louis extended its unbeaten streak to 11 games last weekend, defeating McKendree, 1-0, on Friday before settling for a 0-0 draw at Illinois Springfield on Sunday. Junior Kayla Delgado scored the game's only goal against the Bearcats. The UMSL Tritons then held the Prairie Stars without a shot on goal on Sunday, but were shutout for just the second time this season. UMSL (10-1-3, 8-1-3 Great Lakes Valley Conference) will host No. 13 ranked Bellarmine on Friday and wraps up its regular season home schedule on Sunday against Southern Indiana.
Men's Soccer
UMSL went 1-1 last weekend, while wrapping up a four-game road trip. The Tritons suffered a 1-0 loss at McKendree on Friday, but came back to secure a 2-0 win at Illinois Springfield on Sunday. Junior keeper Jack Filla posted the shutout, while seniors Jon Huelsman and Robbie Hoffman each scored. UMSL (6-6-2, 5-5-2 GLVC) will host Bellarmine on Friday before closing out its home schedule on Sunday, hosting Southern Indiana.
Volleyball
UMSL posted a 2-1 record at the Midwest Region Crossover last weekend. After a 3-0 loss to Northern Michigan, the Tritons bounced back with a pair of victories on Saturday. Sophomore Gina Pezze led UMSL in the first win over Lake Erie with 16 kills and 12 digs, while senior Lindsay Meyer had 30 assists. Junior Samantha Lewis recorded a career-high nine kills in the sweep of Ursuline in the other win. The Tritons (10-12, 4-5 GLVC) returns to action this weekend, hosting William Jewell and Rockhurst on Friday and Saturday, respectively.
Men's Golf
UMSL turned in a 610 (303-307) to finish in third place in the 24-team Midwest Regional at Fox Run, hosted by the Tritons, last Monday and Tuesday. Senior Colby Yates (80-73) and junior Julien de Poyen (74-79) each shot a 153 to lead the Tritons, tying for 12th place. UMSL will close out the fall portion of its schedule October 26-27 in Puerto Rico at the Illinois Springfield Island Getaway.
Men's and Women's Swimming
The Tritons competed at William Jewell last Saturday, with the men's team winning six events including three individual titles by freshman Diogo Dias, including the 200-meter freestyle, the 200-meter butterfly and the 200-meter backstroke. Other titles went to freshman Radoslaw Chupka in the 100-meter backstroke, and the 400 freestyle relay. On the women's side, sophomore Angie Quiroga won the 200-meter backstroke.


Short URL: https://blogs.umsl.edu/news/?p=59311