Wildlife artist honored with World Ecology Award
The Whitney R. Harris World Ecology Center at the University of Missouri–St. Louis presented its World Ecology Award to Robert Bateman, an internationally acclaimed wildlife artist, on Saturday.
"It's a huge honor to receive this ecological award tonight," said Bateman in his acceptance address. "Just looking down the list of people who have received this, I feel very, very humbled."
He is the first-ever visual artist to receive the award, which was bestowed on him during the World Ecology Gala at the Saint Louis Zoo. The Harris Center, along with the zoo and the Missouri Botanical Garden, sponsored the event.  On display at the gala were some of Bateman's "big hit" original works, including "Midnight – Black Wolf." The collection was left to the zoo by Bateman's late friends C.C. Johnson and Edith Spinks.
"It's just amazing for me to be in the same room with the originals tonight," said Bateman. "I haven't seen them for decades. I want to not only thank Spinks for acquiring them, but I want to thank all of you, especially the zoo, for taking good care of them and honoring them with this beautiful space tonight."
The gala had a big turn out, too, with all 120 seats filled despite the wet, snowy conditions.
"We are so grateful to Robert Bateman for taking time to come to St. Louis to receive the World Ecology Award and to meet our students and supporters," said Bob Marquis, director of the Harris Center and a professor of biology at UMSL. "His art brings us all closer to the wildness and beauty of nature. He is a true leader in conservation, traveling the world, using his paintings and his words to motivate us to be good stewards of wildlife."
Bateman felt he was in similar company as well.
"The World Ecology Center really does mean 'The World,'" he said, "and it means a world of difference to so many living things on the planet that are threatened right now. From the students to the gurus, you all are key to making a giant difference."
Scroll down to see more images from the evening.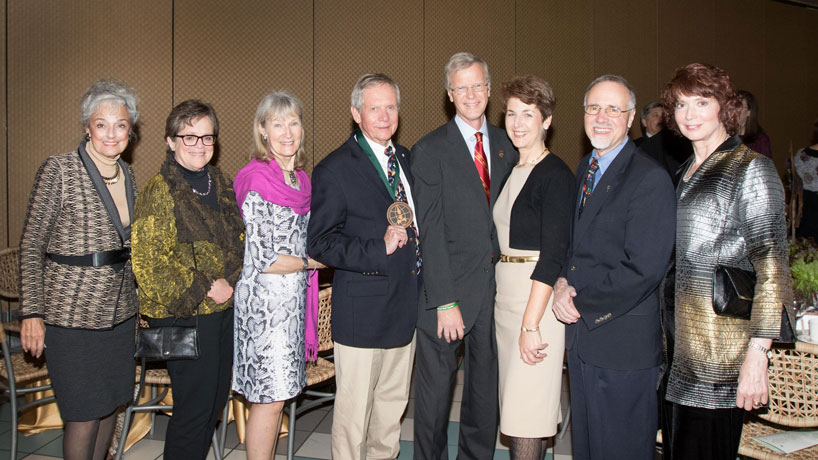 Bateman (center) poses with (from left) Whitney R. Harris World Ecology Center Chairperson Anna Harris, Professor of Biology Patty Parker, Bateman's wife Birgit, alumni Virgil and Sandra Van Trease, Chancellor Tom George and Curators' Professor of Music Barbara Harbach at the 2015 World Ecology Gala.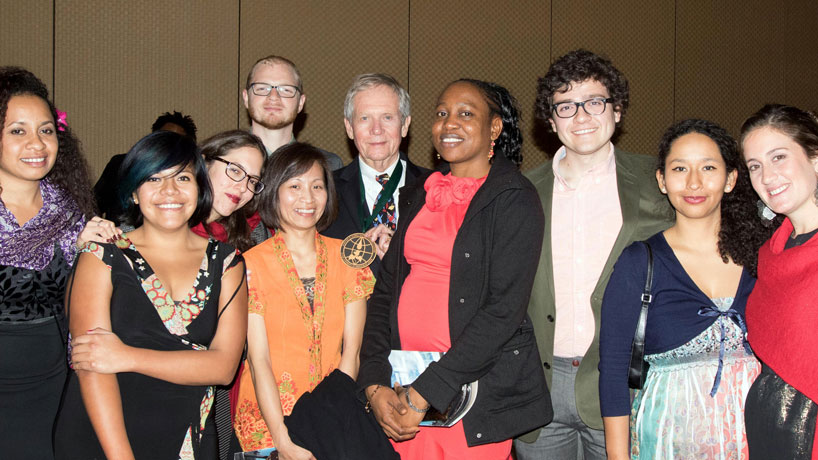 Bateman (center) poses with UMSL students after receiving the 2015 World Ecology Award.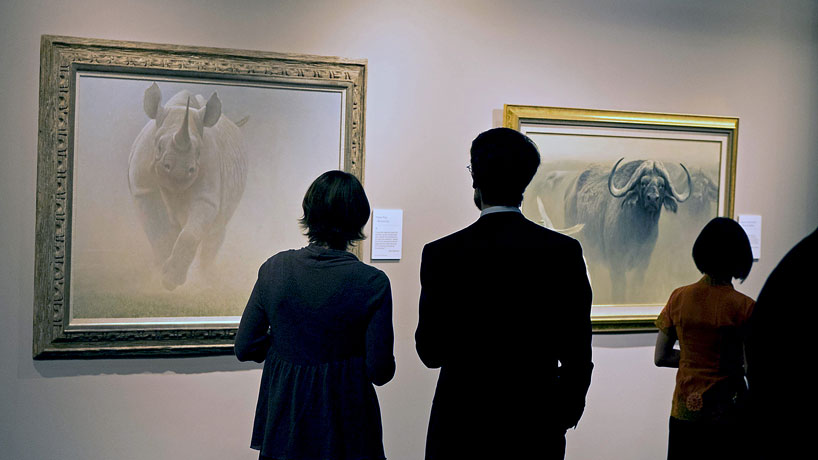 Above: Gala attendees got the chance to see many of Bateman's original works like "Power Play" (left) and "Master of the Herd," which are part of Bateman's "Inspired by Nature" exhibit on display at Peabody Hall at the Saint Louis Zoo.
Below: Also in attendance was Hoot, the screech owl, with whom Bateman acquainted himself.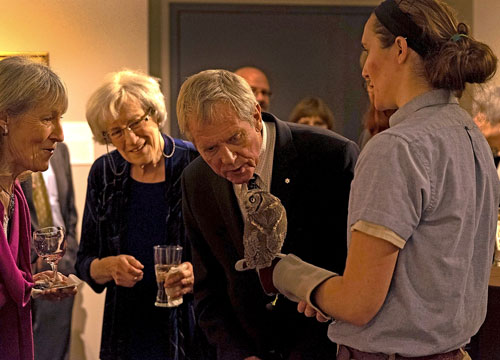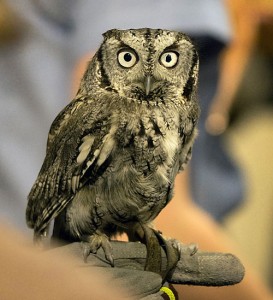 Short URL: https://blogs.umsl.edu/news/?p=60018