Women's soccer lands 4 on All-GLVC teams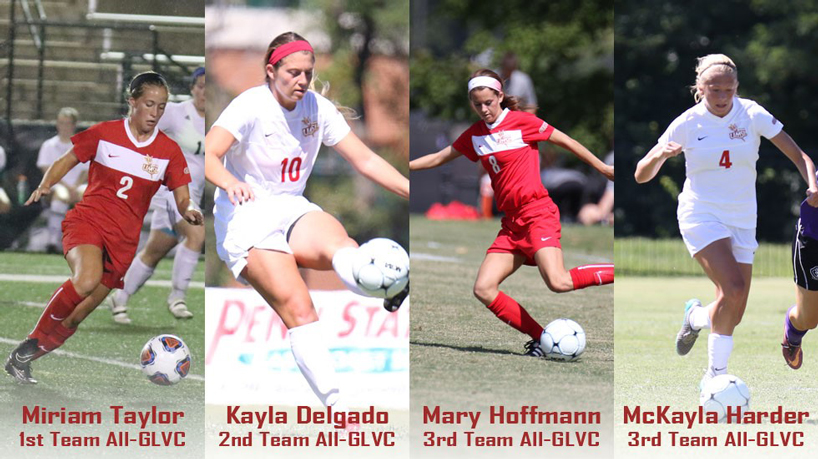 The University of Missouri–St. Louis women's soccer team had four players earn All-Great Lakes Valley Conference playing honors. Junior forward Miriam Taylor was selected to the first team, while junior Kayla Delgado was a second team selection. Senior back Mary Hoffmann and freshman forward McKayla Harder were both named to the third team.
Taylor led the Tritons with 11 goals, including four game-winners. She also has four assists for 26 points. The GLVC Offensive Player of the Week on Oct. 5, Taylor was ninth in GLVC-only games with 14 points (five goals, four assists).
Delgado owned a team third-best seven goals, including two game-winners, and also has three assists. She ranked 12th in GLVC-only games with 2.67 shots per game and owns a shot on goal percentage of .603.
A four-year starter in the backfield, Hoffmann helped the defense to eight shutouts and a goals against average of 0.82. Offensively, Hoffmann had three assists.
In just her first collegiate season, Harder was second on the team with 10 goals and also had four assists. The GLVC Offensive Player of the Week on Oct. 12, Harder has an impressive 0.694 shot on goal percentage. In GLVC-only games, she tied for fourth with 1.20 points per game, scoring eight goals, which tied for second.
The Tritons' four All-GLVC honorees are the most recipients in a season since the 2007 team also had four earn all-conference accolades.
UMSL finished at 12-5-4 overall, and the program made its first NCAA Tournament appearance since 1982.


Short URL: https://blogs.umsl.edu/news/?p=59793