Huelsman adds another all-region honor to list of postseason accolades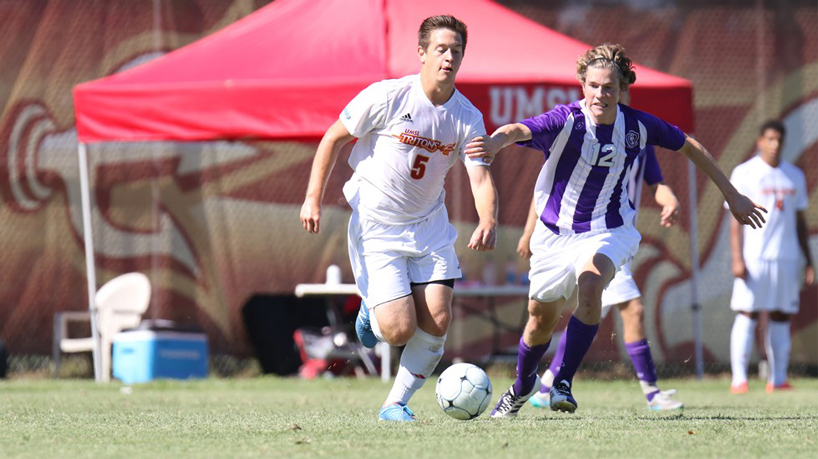 Senior midfielder Jon Huelsman of the University of Missouri–St. Louis men's soccer team has been selected to two different all-region teams. Huelsman, an education major, was named to the Conference Commissioners' Association (CCA) Division II Men's Soccer All-Midwest Region First Team and the National Soccer Coaches Association of America (NSCAA) All-Midwest Second Team.
The CCA all-region teams are nominated and selected by the region's sports information directors, while the NSCAA all-region teams are done by coaches.
A First Team All-Great Lakes Valley Conference honoree this season, Huelsman led the Tritons with eight goals, including four game-winners, and added two assists. In GLVC-only games, he recorded 14 points (six goals, two assists), which tied for 13th. His six goals in league play tied the fifth most.
During his three-year career at UMSL, Huelsman totaled 57 career points (24 goals, nine assists), which ninth on the career charts. His 24 goals are seventh best.
With his first team selection to the CCA All-Region Team, Huelsman is now eligible for the CCA DII Men's Soccer All-American team.
The Division II Conference Commissioners Association encourages and promotes Division II athletics and high standards of sportsmanship as important elements of higher education. The CCA is a key communications link among the conferences as they discuss views, policies and regulations that impact Division II intercollegiate athletics and works closely with the NCAA as a communications channel to NCAA Division II member colleges and universities.


Short URL: https://blogs.umsl.edu/news/?p=60185