UMSL achieves another milestone with CASE awards for marketing and communications excellence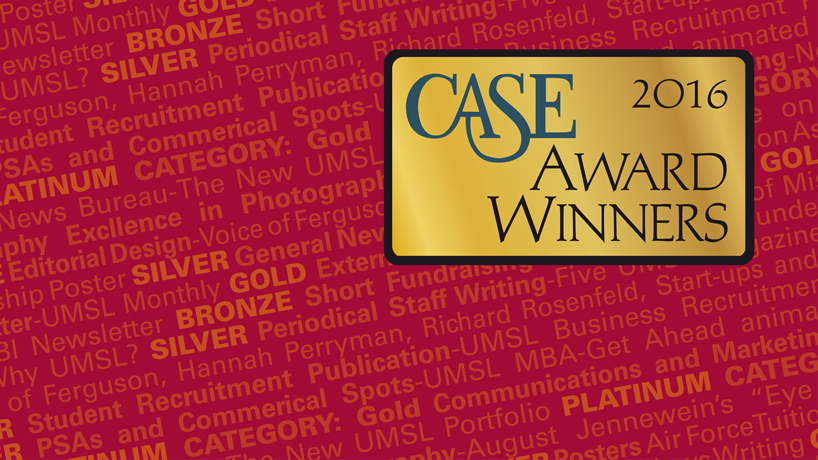 If organizational peer recognition is the highest validation of exceptional work in higher education, then the University of Missouri–St. Louis has achieved another institutional milestone, this time for the professional quality of its marketing and communications unit's work.
The Council for the Advancement and Support of Education (CASE) District VI has honored UMSL with its two first-ever gold platinum awards for outstanding achievement, part of a record-tying four golds among its 11 total awards.  The competition featured entries from colleges and universities in Colorado, Iowa, Kansas, Missouri, Nebraska, North Dakota, South Dakota and Wyoming.
UMSL's platinum awards were the top honors for "Outstanding Achievement in Communications and Marketing" for the UMSL News Portfolio (consisting of UMSL Daily, UMSL Magazine, UMSL Monthly and their linkages to traditional and digital media) and for "Excellence in Photography" recognizing the outstanding work of UMSL campus photographer August Jennewein. Platinum awards are automatically entered in the CASE international awards competition.
"For all of my nearly 13 years as chancellor of the University of Missouri–St. Louis, I have been impressed by the exceptional work produced by our small but prolific University Marketing and Communications team," Tom George said. "I have noticed how they have adapted to a changing industry and new challenges while continuing to churn out great stories, photography, publications, graphics, websites and marketing efforts. I'm not surprised that their peers have also recognized this, bestowing upon the group a record number of awards this year."
The awards and descriptive categories are:
Gold, Best Practices in Communications and Marketing (Platinum Category): "Not Your Daddy's Newsroom – The UMSL News Portfolio"
Gold, Excellence in Photography (Platinum Category): August Jennewein's "Eye on UMSL"
Gold, External Audience Tabloids and Newsletters – Digital: UMSL Monthly
Gold, External Audience Tabloids and Newsletters – Print: The University of Missouri–St. Louis IBI Newsletter
Silver, Design – Posters: Air Force Tuition Assistance Scholarship Poster
Silver, Excellence in News Writing – General News Writing: UMSL News Writing
Silver, Periodical Staff Writing: "Five UMSL Magazine Features"
Silver, PSAs and Commercial Spots: UMSL MBA – "Get Ahead" Animated Digital Spots
Silver, Student Recruitment Publications – Publications Packages: UMSL Business Recruitment Package
Bronze, Editorial Design: "Voices of Ferguson"
Bronze, Fundraising Video – Short Video: "UMSL Founders Dinner 2014: Why UMSL?"
CASE is an international association serving educational institutions and the advancement professionals who work on their behalf in alumni relations, communications, development, marketing and related areas. The awards will be officially presented at the district's annual conference in Kansas City, Mo., which will take place Jan. 24-26.

Short URL: https://blogs.umsl.edu/news/?p=60818