Athletics Q&A with sophomore swimmer Diogo Dias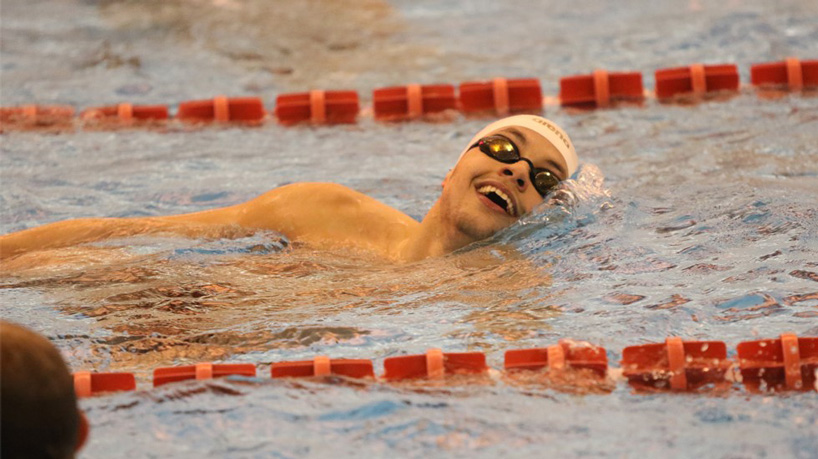 Sophomore Diogo Dias has made quite the splash in his first season with the University of Missouri–St. Louis men's swimming team. Recently crowned the program's first Great Lakes Valley Conference champion (in the 100 backstroke), the business administration major also competed at the NCAA Division II championships earlier this month.
When did you start swimming? How did you know you were good at it?
I started swimming when I was three years old – just a little kid – and I've never stopped. All my life has been swimming. Up until I was 13, I did both swimming and soccer, and after that I knew if I wanted to be good, I had to choose one or the other, so I stopped soccer. I'm not sure why, since I'm from Brazil! But I think I enjoy swimming more because it's just all about me. Whether I'm doing good or bad, it's because of my effort.
Who got you started in swimming?
My parents. My mom and dad have always liked sports, and my dad use to play volleyball. I think he actually threw me in the water as a way to just have fun and expend some energy.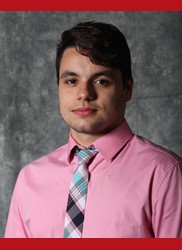 What makes swimming enjoyable for you?
I have always liked the water. I was born in a city by the beach in Brazil, so every weekend I would spend in the ocean. I've always had that contact with water and have always enjoyed it. And I love the sport of swimming because it's a great feeling when you are racing. There is so much energy and the expectation to do well is exciting.
How did you end up at UMSL?
I have a friend who swam here last year, and he was the one that told me about the school. I thought it would be a great opportunity for me and said, "Why not go to the U.S.?"
What does it mean to qualify for the NCAAs?
It's really neat. In Brazil, I had all the experience I could get there in the pool, so to have the opportunity to come to the U.S. and study and swim has been great … I didn't really know that I would be going to nationals, so I took a few days off, but when coach called to tell me, I was pretty happy and had to immediately call my mom, my dad and my family in Brazil.
What is your favorite race to swim, and why?
I have always loved the backstroke. The freestyle is nice too, but the backstroke was the first one I got better at, and I think all my life it has been my passion. I think it's because you have to practice so much more to know where you are at in the pool because you are looking up when you swim. So it's a different perspective and takes a little more practice.
What was it like to win the 100 backstroke at the GLVC Championships and to stand on the podium as the champion?
It was the best feeling! At that time you are the best of the whole meet, so it's a great feeling. It's amazing.
Who has had the biggest influence on your swimming career?
Probably my dad, because he has always pushed me to do my best. He's always been the type of person who said, "Yes, you can do it."
How have you managed this year in being away from home?
It's been a new experience for me. In Brazil, you don't have the opportunity to go to school and swim. You have to choose one or the other. So it's been refreshing here, being able to do both. It's also been hard work, and I've learned that every minute counts every day. I'm here at 6:30 a.m. for practice, eat something and then go to class and then back to the pool. It's been a busy year … Coach has also been great to have. He's a great guy and understanding with class and practices. He used to be a swimmer as well, so he understands how busy things are.


Short URL: https://blogs.umsl.edu/news/?p=61759