Year's first presidential debate attracts large audience at student center, as across the country
Mia Jones said her jaw dropped when she came down the hall on the third floor of the Millennium Student Center and could finally see inside the doors of Century Room A.
There were 10 tables positioned throughout the space, eight chairs surrounding each of them, and every seat sat occupied.
It was fair to say it wasn't just chili-cheese nachos and free soda that drew such a crowd just shy of 8 p.m. on an early fall Monday.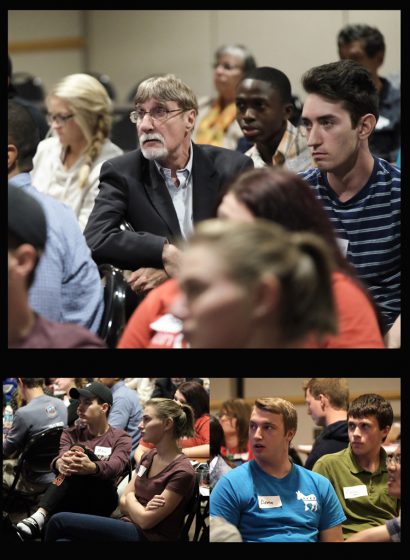 Rather, the students and a handful of faculty members were there eagerly anticipating the start of the year's first U.S. presidential debate moments away from beginning on the television feed being projected onto the screen on the north wall of the room.
MSC event staff wound up removing a partition to create enough space for the rest of the roughly 120 people on hand, and they got it out of the way just in time for everyone to settle in as Democratic candidate Hillary Clinton and Republican candidate Donald Trump walked out onto the stage at Hofstra University in Hempstead, New York.
"I'm really excited about this turnout," Jones said. "I love the fact that we had to open up another room just to get people in so they can actually be informed."
Jones is serving as secretary of the Associated Black Collegians, one of several student groups to sponsor Monday night's debate watching party.
The Political Science Academy, Philosophers' Forum, Associated Students of the University of Missouri and College Democrats also joined in putting on the gathering.
There currently is no College Republicans group active on the UMSL campus, so it was not among the organizers.
Jones, a sophomore studying criminal justice and social work, had not sensed that much political awareness on campus through the first few weeks of the semester, which made Monday night's level of engagement a particularly pleasant surprise.
She was not the only one who felt that way.
"It's great to see the interest in the debate and civic engagement, particularly from our students," said Anita Manion, an associate teaching professor and undergraduate adviser in the Department of Political Science who also coordinated Monday night's event.
"That's part of our mission as a department and as a university: that we are a civically engaged – absolutely nonpartisan engagement ­– but trying to create an environment where students can ask those questions and where they can discuss with other students and create an energy around that."
Manion added, "Voter turnout for young people in particular is the lowest of all age groups, so being able to make them feel a part of the process I think is important."
That means directing attention beyond national politics. That's why, for example, sample ballots sat on each table in the room, reminding of the other races – including a governor's race and one for the U.S. Senate – to be decided this November.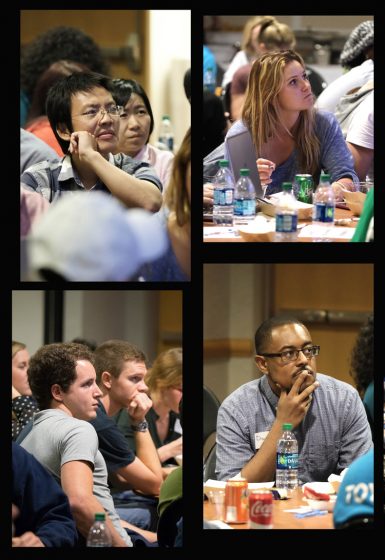 But the presidential candidates were the center of attention Monday.
The was much speculation about how the debate would unfold in the days leading up to it, which helps explain how it set a record as the most watched in the 60-year history of televised debates with an estimated nationwide audience of more than 80 million. It might have proved more lively than even expected.
The pointed exchanges between the two candidates, from the opening minutes of the night, certainly seemed to hold the attention of everyone in attendance at the MSC.
"The beginning was really surprising, where they were calling each other out basically and making little side jokes," said Darius Joshghani, a junior studying business administration.
There were audible laughs at more than a few moments as the night went on.
When Clinton said, "I kind of assumed there would be a lot of these charges and claims, " and Trump interjected, "Facts."
When Clinton said, "I have a feeling that by the end of this evening I'm going to be blamed for everything that's ever happened." Trump responded, "Why not?" which was then followed by a sarcastic "Why not?" from Clinton.
Or when Trump, while discussing the suggested Russian involvement in the hacking of the Democratic National Committee, said the hacking could have been done by others, including "some guy lying on his bed who's 400 pounds."
For some in the room, including at least a dozen international students, the debate might have served as an introduction to American politics.
Klea Cepele was among them. The senior biology major moved to the United States from Albania two years ago, but she won't be eligible to gain citizenship and, with it, the right to vote for another three years, so it's not been something she's examined closely before.
"I'm not very familiar with how the American politics works," Cepele said just before the debate began. "It's totally different, and for me taking political science, it's kind of challenging because I have to erase from my mind all the stuff and the structure of how politics works in Europe and how it's working over here and especially with my country."
Manion fielded other questions from international students over the course of the evening, explaining terms such as "trickle-down economics" and "birtherism" that were foreign to them.
She visited with American students as well, encouraging them all to fact check the two candidates as they watched by simultaneously interacting with websites such as the Pulitzer Prize-winning PolitiFact.
How many opinions will really be changed by Monday's debate and the three others – including the vice presidential debate – still to come remains a mystery. Polling before Monday night showed that roughly eight out of 10 people who said they planned to watch the debate had already made up their mind about how they would vote on Election Day.
Joshghani said shortly after Monday's debate ended that he didn't expect it to have much impact.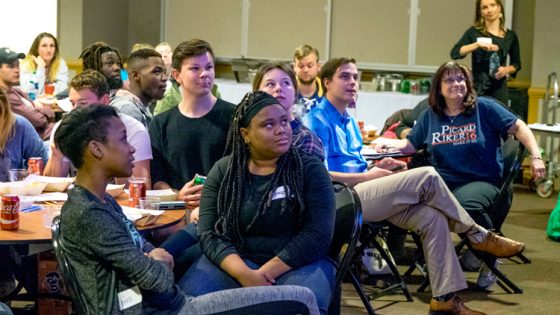 "I think people pretty much know what they're getting out of both parties," he said. "I'm voting a third party, so there's nothing really they're saying that's going to change my mind."
He acknowledged some frustration that third-party candidates, such as Libertarian Gary Johnson, were not permitted to share the stage with Clinton and Trump.
Aaron Ziegemeier, a senior political science major, had likewise been contemplating voting for a third-party candidate going into Monday night after supporting Bernie Sanders in the Democratic primary. But watching the first debate might have altered his thinking.
"I felt a little bit better about Hillary Clinton than I did before," he said. "I was supporting Sanders, so I was thinking about voting for Johnson. I wish he could have actually debated, but he wasn't able to debate, but I'm thinking I might lean toward Clinton currently. I still need to do some research."
He will have time in the next five weeks leading up to Nov. 8.
There are plans for another campus debate watching party for the final debate, which is scheduled for Oct. 19 in Las Vegas.


Short URL: https://blogs.umsl.edu/news/?p=64265