Eye on UMSL: Difference makers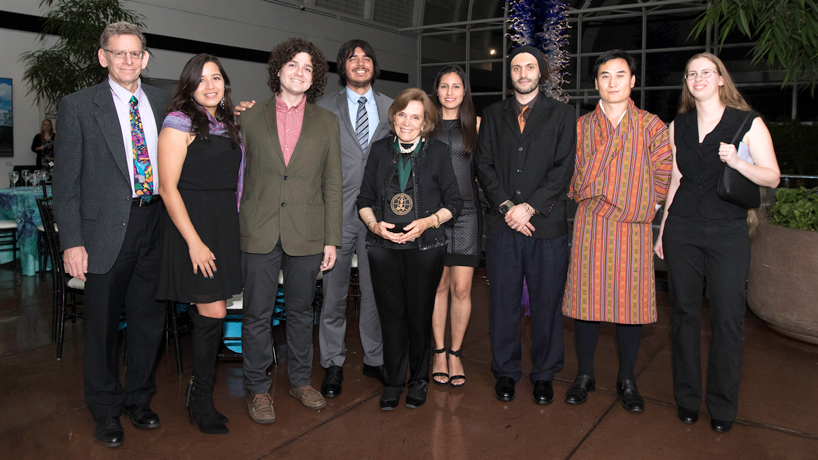 A concentration of nature's biggest advocates forms as University of Missouri–St. Louis biology Professor Bob Marquis (left) and department graduate students gather around 2016 World Ecology Award recipient Sylvia Earle (center). The National Geographic Explorer-in-Residence received the award from UMSL's Whitney R. Harris World Ecology Center at a gala Sunday night at the Missouri Botanical Garden.
Known for devoting her life to saving Earth's oceans, Earle stands in similarly inspired company. These UMSL biology graduate students are funded by the Harris Center, which supports budding conservationists so that they might go on to preserve Earth's biodiversity and ecosystems.
Together, these are the people that will be and already are the difference makers.
Students from left to right are:
Patricia Mendoza, who researches bird/mosquito/disease interactions,
Camilo Calderon, who researches biogeography and systematics of pollinating bats,
Juan Moreira, who researches plant/pollinator interactions,
Rossana Maguina, who researches bat/flower interactions,
Miguel Chaves, who researches plant/insect coevolution,
Rinchen Namgay, who researches climate change effects on tree distribution in the Himalayas,
and Christina Baer, who researches ecology of shelter-building caterpillars.
This photograph was taken by UMSL photographer August Jennewein and is the latest to be featured in Eye on UMSL.


Short URL: https://blogs.umsl.edu/news/?p=64679