Eye on UMSL: Making the cut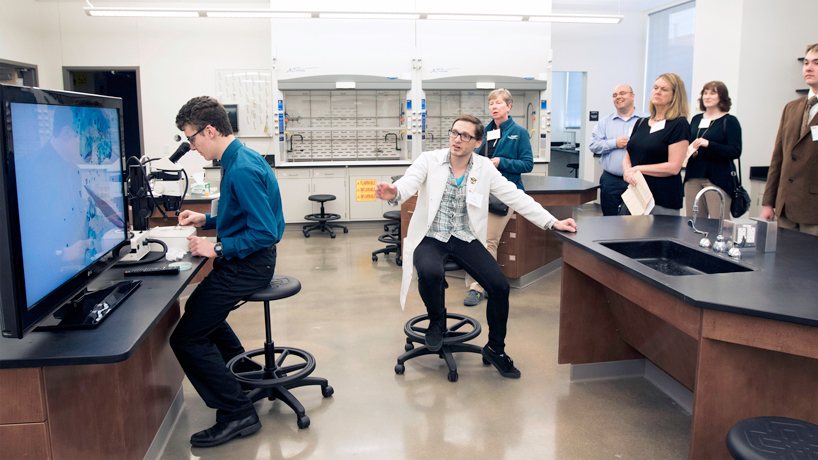 Jason Caleb Hoke, a junior at Living Word Christian High School, focuses on cutting tiny blue crystals as he peers through a microscope in a lab of the new Science Learning Building at the University of Missouri–St. Louis.
The crystal structures and his technique are magnified and on display to his left as doctoral candidate in chemistry Carl Oberle (center) explains to on-looking parents what Hoke is doing.
The opportunity to try his hand at some of the lab equipment came because Hoke, along with 42 other local high school students, was on campus March 20 to accept one of the 2017 Distinguished Achievement Awards for Excellence in Science.
Presented by UMSL's College of Arts and Sciences, the award recognizes junior-level high school students for their good grades, talent and success in the sciences.
Hands-on demonstrations for students and their parents took place in 11 labs – including genetics, biotechnology, anatomy and physiology, physics and more – prior to the awards ceremony in the science complex's Stadler Hall.
This photograph was taken by UMSL photographer August Jennewein and is the latest to be featured in Eye on UMSL.
See below for a full list of the 2017 honorees: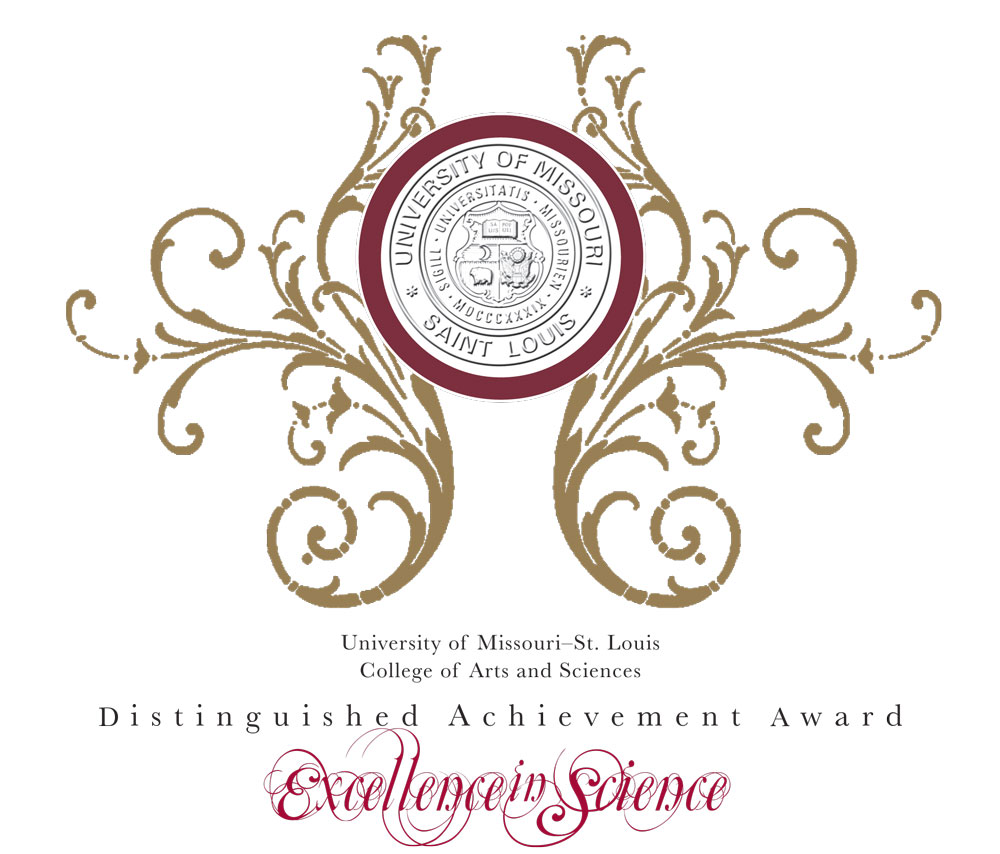 Affton High School
Steven Tyler
Alton High School
Leif Asher
Cahokia High School
Tyler Cotton
Central Visual Performing Arts
Katrina Bates
Chaminade College Preparatory School
Alexander Stewart
Clayton High School
Cooper Kennelly
Collegiate School of Medicine and Bioscience
Yusuf Bekirov
Collinsville High School
Emily Park
Crossroads College Preparatory School
Sydni Norville
Eureka High School
Catherine Colletti
Fort Zumwalt East High School
Bonnie Jeune
Fort Zumwalt North High School
Cicely Berzack
Fort Zumwalt South High School
Emily Harrelson
Fox High School
Patty Wolk
Lift for Life Academy
Kyajaa White
Living Word Christian High School
Jason Caleb Hoke
Lutheran North High School
Hongyou Liu
Madison High School
Rayniece Barbee
Maplewood Richmond Heights
Lauren Owens
Mary Institute and St. Louis Country Day School
Ehan Kamat
McCluer High School
Keylana Jenkins
McCluer North High School
Cheyenne Parson
McCluer South-Berkeley
Teighlor Love Carroll
McKinley Classical Leadership Academy
Keona Hughes
Nerinx Hall High School
Anna Pendleton
Northwestern High School
Madison Graham
Orchard Farm High School
Anna Peacock
St. Charles West High School
Sam Ho
St. Dominic High School
Alexandra Sabala
St. Francis Borgia Regional High School
Noah Thomas Elbert
St. John Vianney High School
Christopher Paul
St. Joseph's Academy
Holly Shah
St. Louis University High School
Trent Adelmann
St. Mary's High School
Alexander Spellmeyer
St. Pius X High School
Emma Grimshaw
Steelville High School
Gwen Cook
Triad High School
Payton Miner
Union High School
Brittany Baker
Ursuline Academy
Emerson Brazile
Visitation Academy
Claire Fanning
Washington High School
Amber Cunningham
Webster Groves High School
Ben Linehan
Westminster Christian Academy
Michael Thoenen


Short URL: https://blogs.umsl.edu/news/?p=67362