A UMSL garden for Earth Day
The rain last Friday didn't stop University of Missouri–St. Louis students, faculty, staff and community members from coming together to a plant a Native Plant/Conservation Garden on campus.
Leading up to Earth Day, April 22, a group of about 30 volunteers pulled up grass, shoveled, raked and prepared the earth to plant native Missouri species in the area outside the north entrance to the science complex.
"The goals of this project lined up perfectly with what we celebrate on Earth Day," said Katy Mike Smaistrla, coordinator and educator of UMSL Sustainability and one of the leaders of the project. "The first Earth Day was aligned with a 'teach in' to educate about the environment. With this garden, we're hoping to create a space that UMSL faculty and students can use to learn about the natural environment, including plants, pollinators and other species native to our region."
But planting native species went beyond providing a learning opportunity for UMSL students.
"Properly designed landscaping can re-establish the complex food-web interactions among native plants, insects, birds, mammals and other species," said Smaistrla.
Besides encouraging native species re-establishment, another goal of the garden is to encourage people to take part in conservation efforts and saving the environment.
"We realized that a new native plant garden is one small way that we can do this on our own campus," said Patricia Zahn, director of community outreach and engagement for the Des Lee Collaborative Vision and another leader spearheading the garden project. "Part of the location and design of the garden is so that it is visible to many people on campus who will see it and be reminded that pollinators and natural habitat are important."
The garden advocates are also hoping that the new vegetation will improve water quality by managing storm water runoff and restore healthy soil by eliminating excessive pesticide use.
The new Native Plant/Conservation Garden is supported and maintained by faculty, staff and students in the Department of Biology, the Des Lee Collaborative Vision, the Whitney R. Harris World Ecology Center and UMSL Sustainability along with community partners.
Scroll below to see the garden come together over a series of photographs.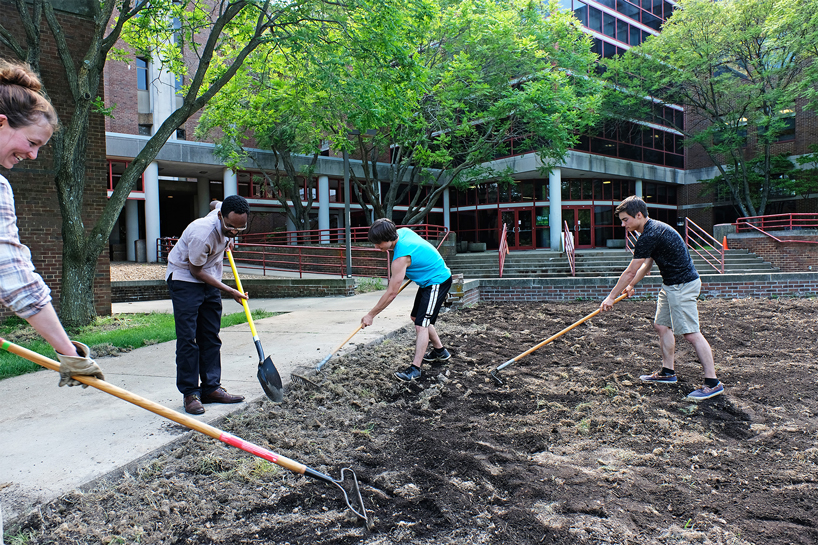 Over the course of a week Smaistrla and the "Green Team" hacked at the old grass and pulled it all up, preparing the earth for the new garden to be laid April 21. Student volunteers for the garden came together from an array of organizations, including the Environmental Adventure Organization, SUCCEED, Alpha Phi Omega and the UMSL Biological Society.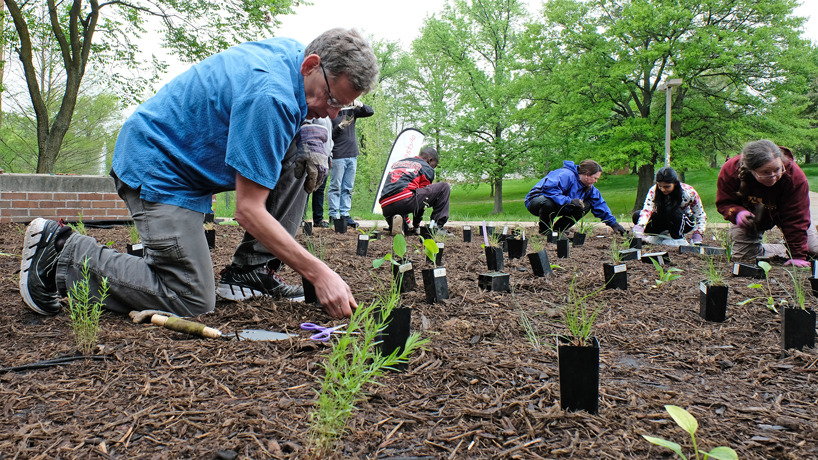 Professor of Biology Bob Marquis kneels as he prepares a hole in the soaked earth. The garden team planted about 30 different varieties of native Missouri plants, including favorites like milkweed, indigo, coneflower, bottlebrush, bee balm and little bluestem.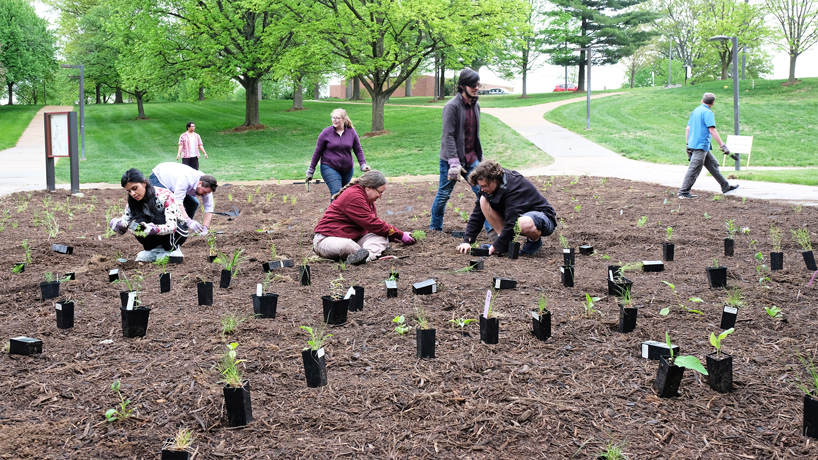 Assistant Professor of Biology Aimee Dunlap (center in red) gets ready to fill a hole with a plant. An expert on pollinators, specifically bee behavior, Dunlap certainly has a stake in the success of the new garden. With native plant species, the hope is that the garden will help support native pollinators as well.


Short URL: https://blogs.umsl.edu/news/?p=67909