5 couples who found lasting love at UMSL share their stories of meeting on campus
Remember the butterflies? The first glances and shy giggles? For some University of Missouri–St. Louis students, there's more to be found on campus than the exploration of academic thought. Sometimes there's a little bit of love in the air at the library or down the hall. And in some cases, there's a whole life with a special someone just waiting to be started. Meet five of the many couples lucky enough to have found lasting love at UMSL.

Tom and Becky Minogue
Married in 1977
Live in Frontenac, Missouri
Children: Beth, Kristen and Rachel
Tom, BA economics 1976
Becky, BA economics 1977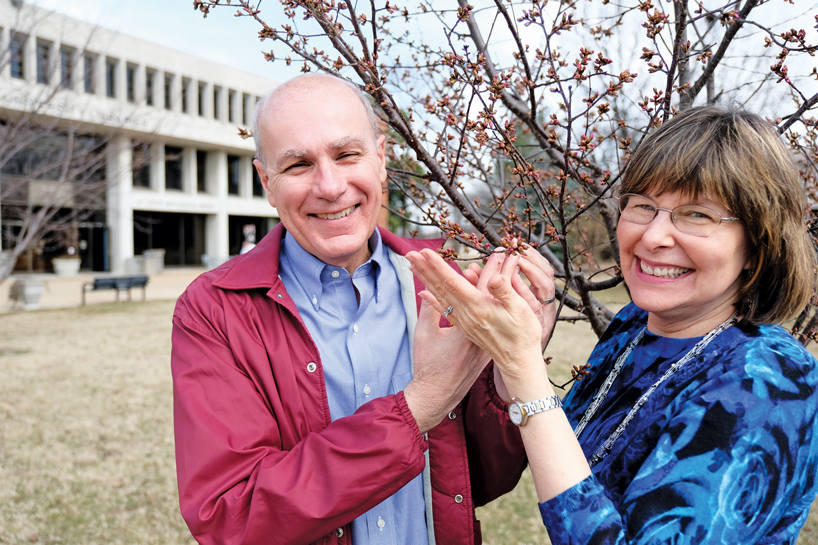 She sat eight rows in front. It was an intro to biology class. Later they caught each other's eyes at a tennis match, where Tom played for the university. "I thought he was very cute," Becky says.
The art of pursuit. Tom cooked up a plan to ask to borrow Becky's biology notes, purposefully missing class so he would need them. "I didn't want to be entirely duplicitous," Tom jokes. Becky says years later he admitted "the notes were just OK."
The tree outside the library. Tom asked Becky on their first date outside Thomas Jefferson Library. A cherry tree marks the spot today. On May 4, 1974, they went to see "Serpico" and eat Italian. They celebrate the day every year in addition to their wedding anniversary.
Tom, who went on to graduate from Harvard Law School, is chairman at Thompson Coburn in St. Louis. Becky raised their three girls full time.

Dorian and Candace Hall
Married in 2010
Live in Belleville, Illinois
Children: Edwin, Bailey and Avery
Dorian, BSBA 2010, MBA 2013
Candace, BA English 2010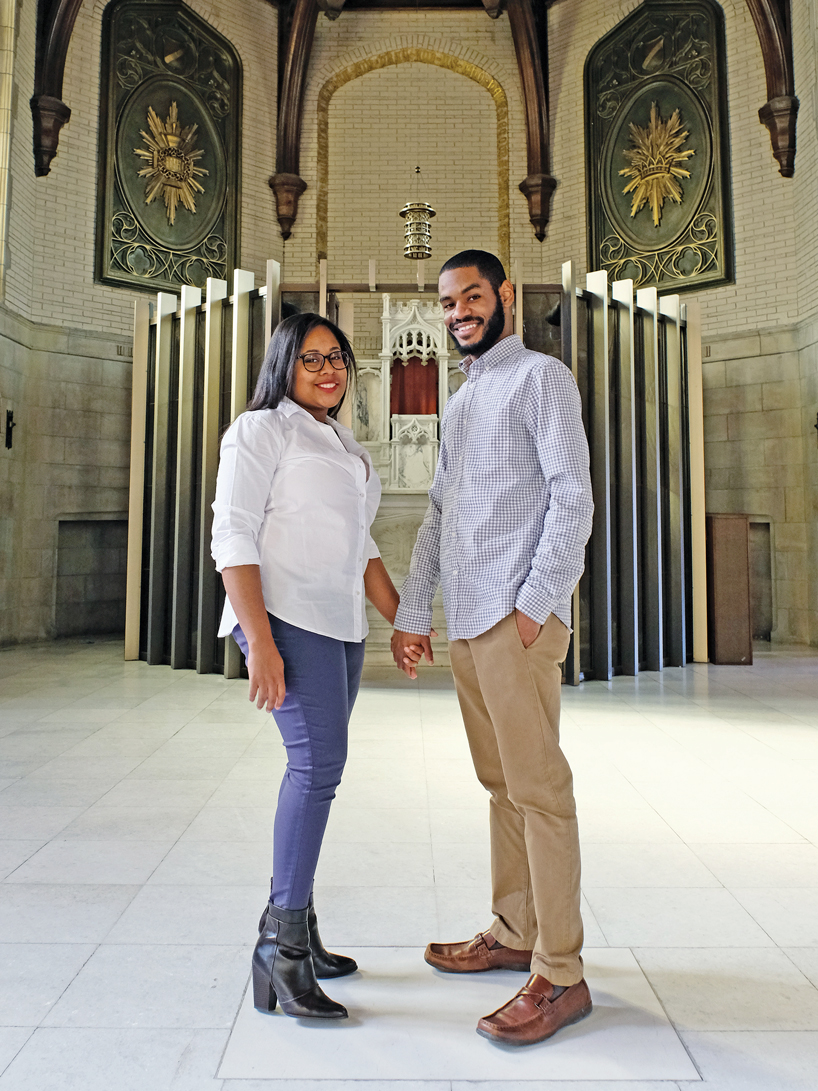 307B Oak Hall. After Candace's roommate invited over a group of friends, including Dorian, to their suite in Oak Hall, Candace said, "I'm going to marry him one day."
Taking a hint. After Bible study, Candace suggested they grab a bite to eat. Not realizing her intentions, Dorian invited the whole group. Luckily, their friends knew how to take a hint. Dorian and Candace grabbed takeout from a local eatery and talked until 3 a.m.
Married on campus. Senior year they planned their wedding and were married in the Provincial House Chapel on South Campus. More than 200 family members and friends attended. Their friends call them "Mr. and Mrs. UMSL."
Dorian is the assistant director of event services for UMSL's Millennium Student Center. Candace is department administrator for the Department of Sociology at Washington University in St. Louis.

Stephen and Jane Reise
Married in 1972
Live in Normandy, Missouri
Children: Paul and Karen
Stephen, BA political science 1970
Jane, BA sociology 1969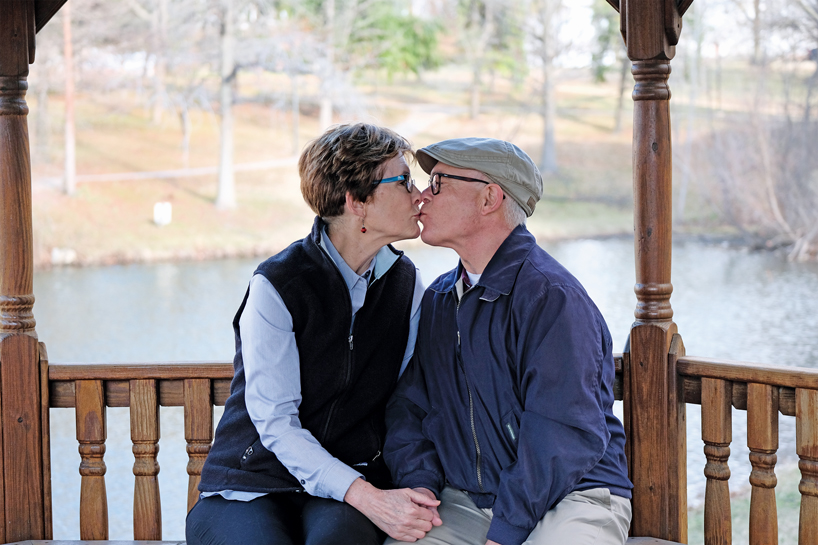 White jeans in a muddy cave. Jane and Stephen met in the spelunking club on a caving trip to Mammoth Cave in Illinois. Jane was impressed because "he wore white jeans in a muddy cave, but never got dirty."
Meeting for lunch. They didn't have the same classes, so they spent their lunches together. "He would get the canned grapes out of the vending machines in the basement of the administration building," she remembers.
Earth Day. They helped organize the school's Earth Day festival. Jane still wears her pin from the occasion. The Reises continue to be conservationists and are involved in the Historic Preservation Commission and the Wayside Community Garden in Normandy.
Stephen retired as a systems analyst from the U.S. Department of Defense. Jane was a school librarian before retiring as a first-grade teacher in the Normandy School District.

Steve and Lily Grelle
Married in 2007
Live in Wildwood, Missouri
Children: Xavier and Luke
Steve, BSBA 2007, MBA 2010
Lily, BS accounting 2008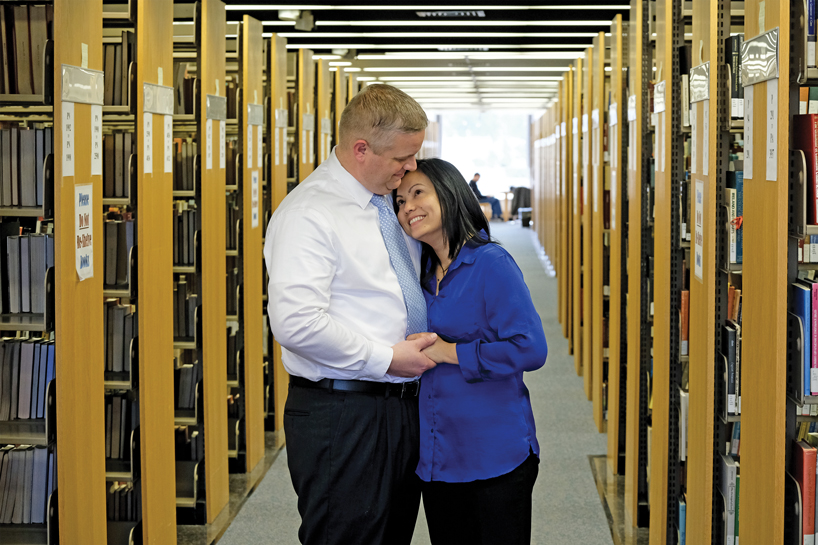 She stole his table. Lily passed Steve on the way into the library. Their eyes locked, and they felt an "instant connection." When Steve went inside, he found Lily had stolen his favorite table, so he sat nearby. Studying for her tax exam, Lily decided to break the ice and ask Steve for some help. After chatting, Steve asked Lily out. "I recommend that everyone go to the library," Lily jokes.
Truly best friends. Both are sarcastic and silly. "We just hang out and have fun," Steve says. "We give each other a hard time and tease a lot."
The best of both worlds. Lily moved to the states from Vietnam when she was 5. Steve was born and raised in Missouri. "The difference in culture keeps it interesting," Lily says.
Steve is vice president for small business loans and commercial lending at Midwest Regional Bank. Lily is an accountant for Centene in St. Louis.

Hal and Pamela Carlisle
Married in 2008
Live in Tampa, Florida
Children: Alicia and Logan
Hal, BA Spanish 2009
Pamela, BSBA 2009, MBA 2011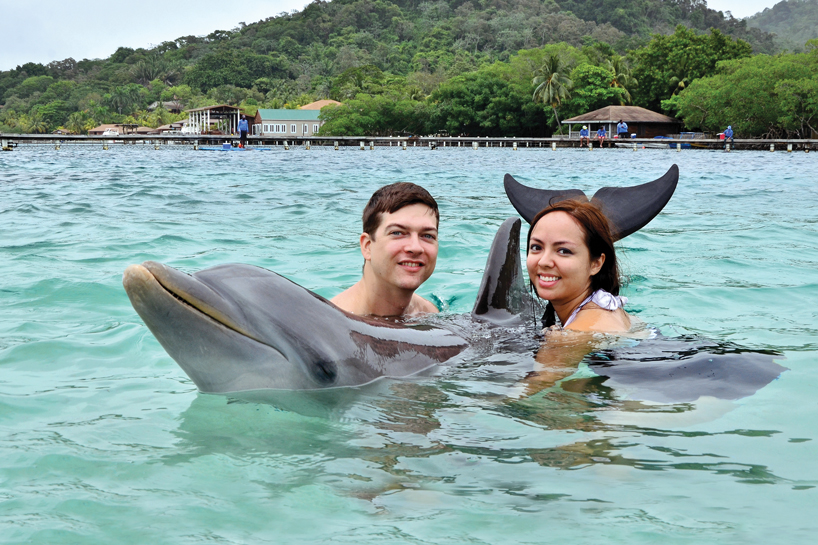 The original plan. From Lima, Peru, Pamela thought she would earn her degree in the U.S. and return home to pursue a career – until she met Hal. "I never planned to fall in love with an American," she says. "We get to share our different cultures and our culinary traditions."
He was a flirt. Pamela went to UMSL's language lab in search of her friend. She found Hal, who worked there as a Spanish tutor. "He approached me," Pamela says. "We were friends first, but Hal was a flirt."
Making life an adventure. Hal loves Pamela's spontaneity. "One moment she is laid back and the next she has us zip lining, snorkeling or clubbing in an exotic country," he says. Pamela's favorite thing about Hal? "He's the best friend I could ever ask for," she says.
Hal is a technical lead at Enterprise Rent-A-Car. Pamela is a SAP IT administrator at Bristol-Myers Squibb.

This story was originally published in the spring 2017 issue of UMSL Magazine. Have a story idea for UMSL Magazine? Email magazine@umsl.edu.


Short URL: https://blogs.umsl.edu/news/?p=69059