First day of college, first solar eclipse for many UMSL students
The first day of the fall semester is always a big deal at the University of Missouri­–St. Louis, but today's version was in a class all its own. Along with the usual hubbub of activity, the official start of UMSL's 2017-18 school year included, as physics would have it, a much-anticipated astronomical phenomenon.
Hundreds of campus community members gathered outside the Millennium Student Center just after noon to witness the progression of a total solar eclipse overhead.
For David Cather, a freshman criminology major from Chicago, the experience made an already once-in-a-lifetime kind of day – the start of his college career – even more memorable.
"I'm really glad I got to see it," he said shortly afterward. "You kind of forget that you're on a planet, rotating like that. And when it happens it's like, 'Oh my God. That's crazy.'"
His classmate Jovan Colbert, from Mascoutah, Illinois, agreed.
"It was pretty spectacular," said the incoming psychology student. "It was bright, and then it was dark, and then it was coming back."
Colbert added that he enjoyed viewing the eclipse with such a huge crowd of his peers – and also appreciated the thought put into the themed snacks, which included Moon Pies and Sun Chips among other goodies.
Organized by UMSL's student-led University Program Board, the watch party was billed as the Hottest Event of the Year. And the weather lived up to the name, with the notable exception of the final minutes leading up to the moment that 99.93 percent of the sun was obscured by the moon.
Senior information systems major Kevin Shee, of St. Louis, found the temperature drop particularly interesting and refreshing, as did freshman Chira Love of Belleville, Illinois.
Meanwhile, Letisha Wexstten and several friends paid particular attention to the fading of light.
"It was awesome," said Wexstten, a graphic design student. "We had fun, we sat out here with our glasses [provided as part of the event], and we watched it the whole time and discovered the different levels of darkness as it passed over. I think I described it more from a photographer standpoint, like it was lowering the ISO of my visibility."
First-year students Nida Mutan and Alyssa Specht found a shady spot to take in the spectacle – which was enhanced by all the people gathered around them.
"The enthusiasm was just infectious," said Mutan, who plans to study biology at UMSL. "The cheering, the clapping – that was awesome."
"It was so cool," added Specht, who hails from central Illinois. "I totally agreed with the one guy over there who started yelling, 'It's so pretty!' And at one point he was like, 'One more minute!'
"You heard everybody getting super excited about it. I was already excited about it, because it was super cool, but hearing all those people made it even better."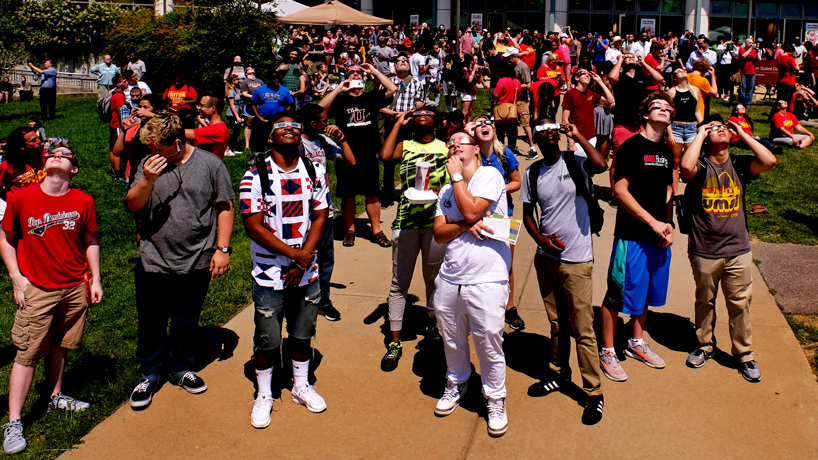 Short URL: https://blogs.umsl.edu/news/?p=69971