#UMSLproud: The new campaign for that Triton feeling of UMSL awesomeness
You feel it. You know it. Now proclaim it – you are proud to be a Triton.
That's the thought behind the #UMSLproud initiative in full swing this year at the University of Missouri–St. Louis.
"The objective of the Internal Branding Campaign is to increase our community's emotional connection to UMSL and to empower all Tritons with information to serve as brand ambassadors," UMSL Marketing Director Jackie Schlarman said. "We need to talk about ourselves positively, tell others about all the good people at UMSL and share our educational successes, research and community efforts proudly."
To start, UMSL hosted a #UMSLproud Kickoff event Aug. 25 alongside Food Truck Friday on campus. Students, faculty and staff received free #UMSLproud T-shirts and trucker hats to display their university pride outwardly while munching on some delicious food, playing games on the Recreation and Wellness Center lawn and enjoying bubbles from the Bubble Bus.
"The kickoff is the first of multiple events planned throughout the year to shine a light on what makes UMSL truly great," Schlarman said.
Scroll through the event photos below and read why you should be #UMSLproud.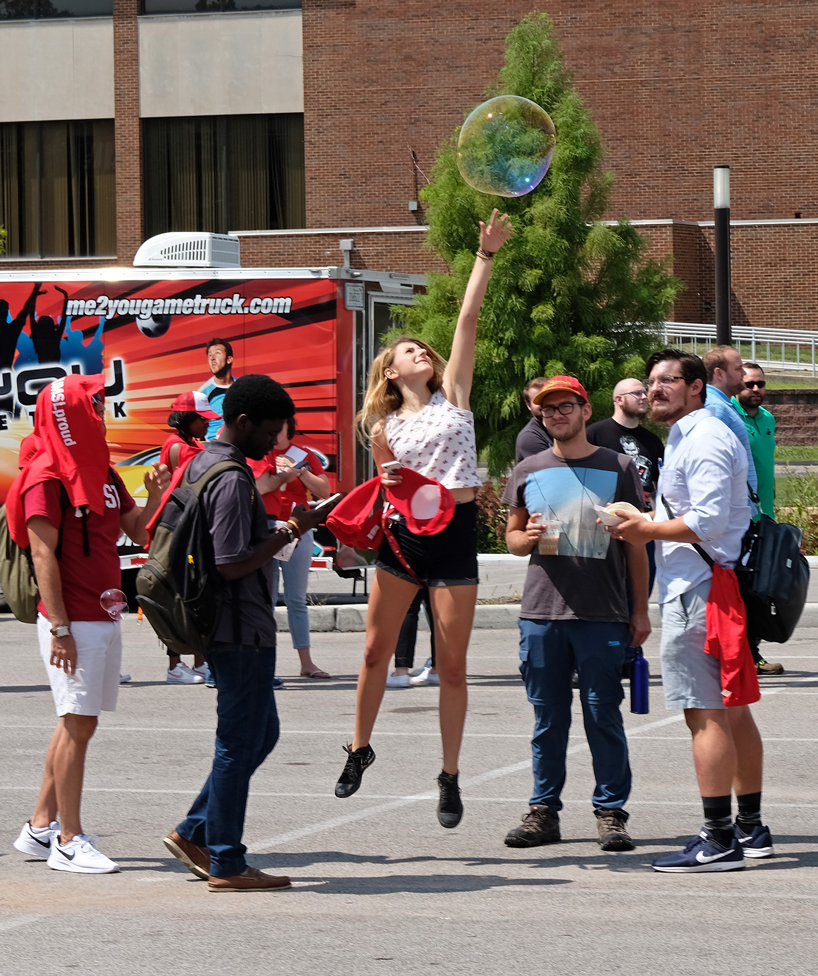 Be #UMSLproud of a fun campus. The Bubble Bus created a bubble-tastic atmosphere at Food Truck Friday, prompting students to jump and pop the bubbles floating by.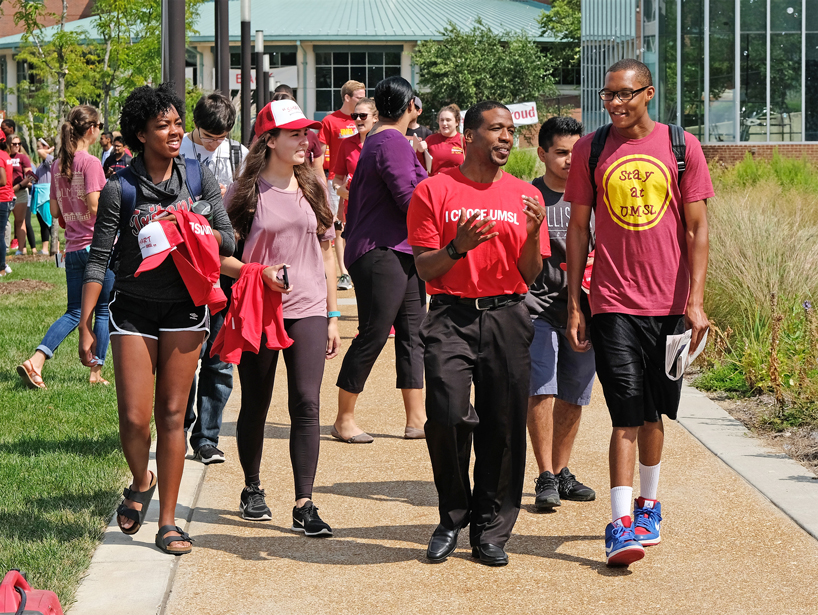 Be #UMSLproud of the knowledgeable and supportive faculty and staff. Alan Byrd, vice provost of enrollment management, chats with students as they head toward the food trucks in the RWC parking lot. Byrd was recently selected to receive a 2017 Excellence in Education Award from the St. Louis American Foundation.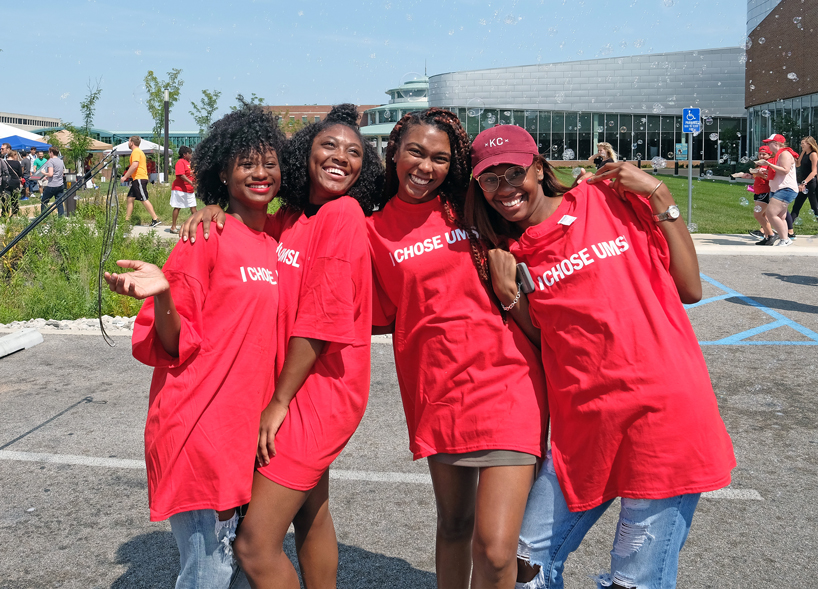 Be #UMSLproud of the people you meet and the friends you make at UMSL. Tritons (from left) Monet Davis, Taylor Grant, Lia Hester and Raylen Sanders form memories together in their over-sized shirts. They received the last few of the 500 T-shirts given away at the event. The shirts said "I chose UMSL" on the front and "#UMSLproud" on the back.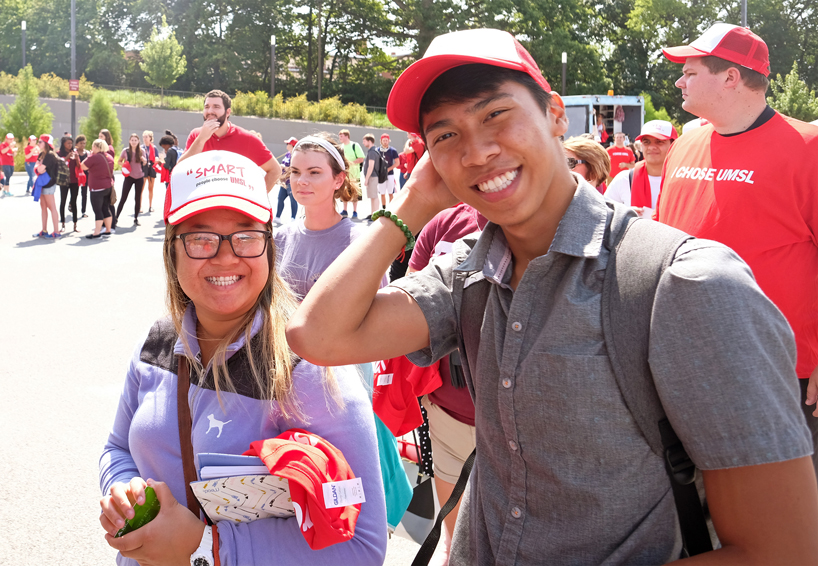 Be #UMSLproud of the smart, driven and diverse people that make up campus. The trucker hats featured those three words, which were some of the top words students, faculty, staff and the St. Louis community used­ to describe the type of people who choose UMSL according to the "Choose your word" surveys.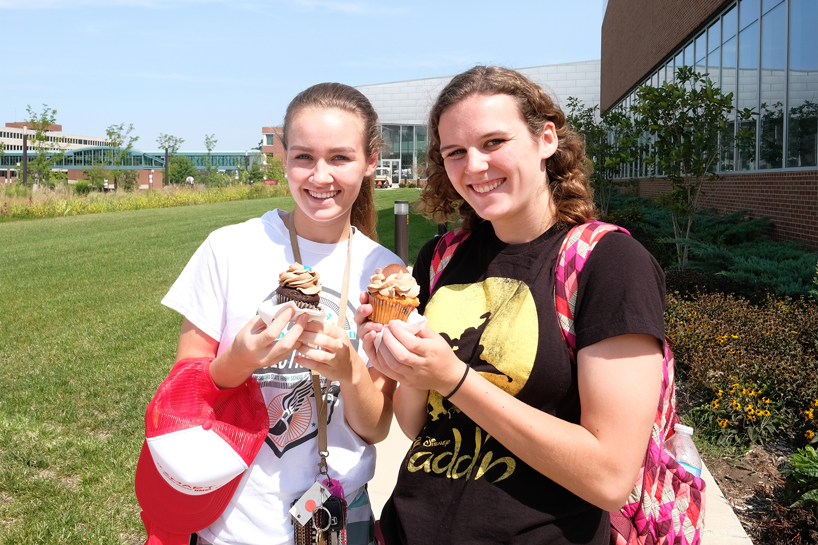 Be #UMSLproud of free cupcakes. Sweet giveaways the first week of classes at UMSL offered a classic college experience and a bit of sugar to get students through the jam-packed week. Cupcakes were from the Destination Desserts truck.


Short URL: https://blogs.umsl.edu/news/?p=70096