UMSL receives national recognition for excellence in student voter engagement
The University of Missouri–St. Louis continues to garner attention for its commitment to and success fostering civic engagement among its students.
On Thursday in Washington, administrators of the ALL IN Campus Democracy Challenge awarded the university one of its Champion Awards for having the highest student-voting rate among nearly 300 participating institutions – a distinction that later received recognition on Forbes' website.
Patricia Zahn, the director of the Des Lee Collaborative Vision, also accepted two Best in Class Awards on behalf of UMSL during the awards ceremony to recognize colleges and universities committed to increasing college student-voting rates. Those were for having the highest voting rate among all four-year, public institutions and the highest voting rate among all medium-sized, four-year, public institutions.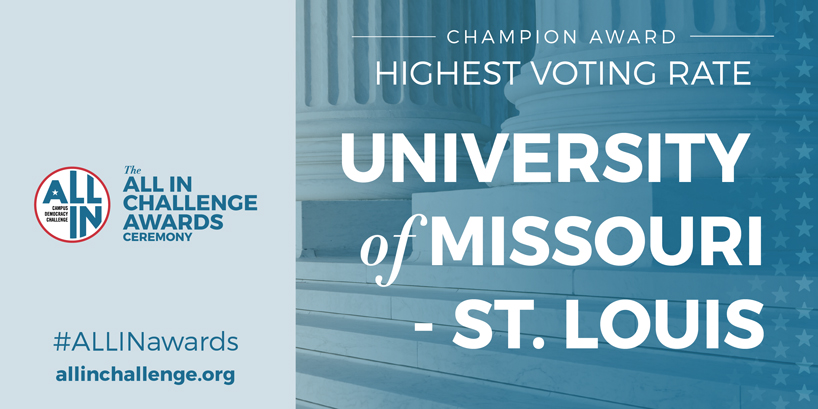 More than 30 awards were announced at Thursday's event, which took place at the Knight Conference Center at the Newseum. A full list of award winners can be found here.
"UMSL is proud to be recognized as a place that has fostered strong civic engagement in our students," Zahn said. "Part of UMSL that makes it wonderful and unique is the people already focused on this work. Our professors are talking about voting in their classes. Our students come to campus already engaged.
"But with our faculty, staff, administrators and students, we remain committed to doing even more to try to reduce apathy, increase engagement and graduate civic-minded individuals eager to have a say in the future of their communities, our nation and the world."
Student participation in elections has increased in the past few years. A recent report, "Democracy Counts: A Report on U.S. College and University Student Voting" from the National Study of Learning, Voting, and Engagement, an initiative of Tufts University's Institute for Democracy in Higher Education, shows that between the 2012 presidential election and the 2016 presidential election, student voting went from 45.1 percent of eligible voters in 2012 to 48.3 percent in 2016 – a 7 percent improvement. UMSL's data revealed that an impressive 67.4 percent of eligible students voted last November. That was an increase of 5.7 percentage points over the school's 2012 numbers, which were already considered an outlier among the more than 1,000 institutions to take part in the study.
"I am proud to honor the University of Missouri–St. Louis with an ALL IN Challenge award in recognition of their dedication, hard work and achievement," said Zaneeta E. Daver, director of the ALL IN Campus Democracy Challenge. "UMSL is not only ensuring that a more representative population participates in our nation's democracy, but is educating students to be civic-minded. They are an example to be emulated."
The ALL IN Campus Democracy Challenge is a national awards program. The Challenge encourages higher education institutions to help students form the habits of active and informed citizenship, and make democratic participation a core value on their campus. By joining the Challenge, campuses commit to:
Convening a campus-wide committee that includes members from academic affairs, student affairs and the student body, as well as any other relevant stakeholders;
Developing and implementing an action plan to improve democratic engagement;
Participating in the National Study of Learning, Voting, and Engagement (NSLVE) in order to measure student voting rates; and
Sharing their campus' action plan and NSLVE results in order to be eligible for a recognition seal and/or awards.
Nearly 300 campuses, enrolling more than 4 million students, have joined the Challenge since its launch in summer 2016.
Media Coverage
Forbes

Short URL: https://blogs.umsl.edu/news/?p=70911