Eye on UMSL: Special delivery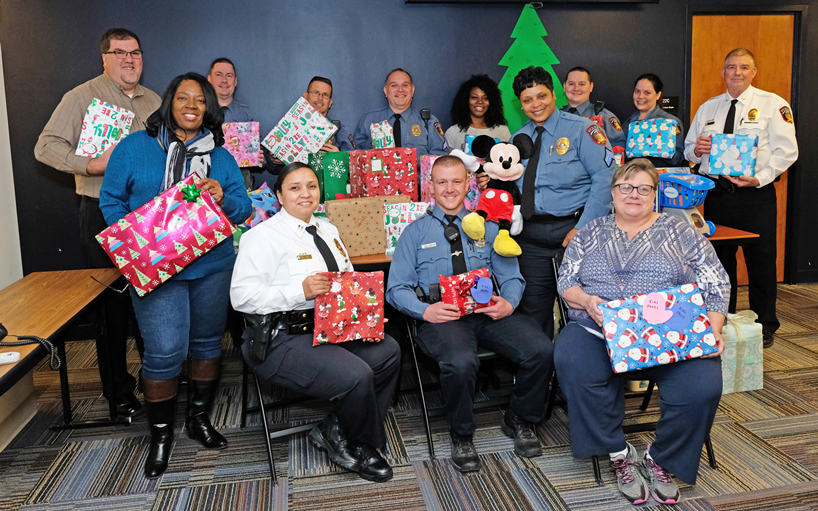 When the community of employees based at UMSL's Campus Police Building heard about a student in need this holiday season, they immediately stepped in to help.
UMSL's social worker, Robin Kimberlin, had initially nominated the UMSL student and her family, among several others, for St. Louis County's Adopt A Family Holiday Project. Upon hearing that the student family had not been adopted, she mentioned the situation to her partner, David Woods, who is a campus officer.
He reached out to Captain Marisa Smith and Chief Dan Freet to see what the department might be able to do – and soon a construction-paper tree full of mittens, each listing a much-needed item, appeared on a conference-room wall.
Not long after Sgt. Catherine Dennis sent out an email asking colleagues to consider contributing to the effort, the tree became completely bare.
"The mittens told what the family needed, and every officer came in here, every employee, and they pulled off one, two, three mittens and took responsibility to purchase those items," Dennis said. "It was a family that was in need – and already part of our UMSL family – and certainly we wanted to do our part to say, 'Hey, we're not just here to protect and patrol and all that; we're here to be a help in any way that we can.' And what better time to help than at Christmas?"
Ranging from toys and other gifts to coats and household items, the whole store of cheery goods was delivered to the UMSL student's home a few days before the holiday.
"We wanted to deliver this for safety reasons and so that she didn't have to unload all of this by herself," Dennis said.
This photograph was taken by UMSL photographer August Jennewein and is the latest to be featured in Eye on UMSL.

Short URL: https://blogs.umsl.edu/news/?p=71895