Panel examines patriotism through the experiences of African Americans
Danielle Fedrick found herself drawn to Tuesday night's Black History Month panel as soon as she learned its title: "I, Too, Sing America: Black Patriotism in the U.S."
"As far as being black and in America, sometimes personally I don't feel so much that this is the America for me," said Fedrick, a sophomore majoring in biology at the University of Missouri–St. Louis. "So I really wanted to hear about other people's opinions and see if they felt the same and see how to deal with that and learn how other people cope."
She was part of a small gathering of people who made their way to the Millennium Student Center on a rainy and cold evening for the discussion in Century Room A.
The University Program Board put on the event, with Ashlee Roberts, the assistant director of student involvement, serving as its moderator.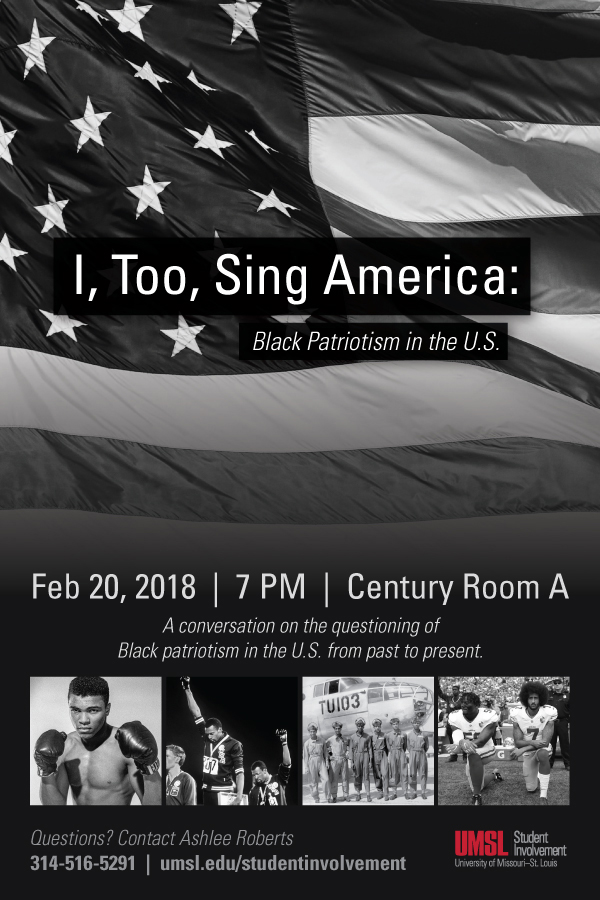 "With the national theme for Black History Month being African Americans in times of war, and in conjunction of the ongoing conversations of police brutality, Black Lives Matter, Colin Kaepernick taking a knee during the anthem, among other issues," Roberts said, by way of introduction, "we wanted to create a space where we could have a conversation about the historical questioning of Black patriotism in the U.S."
She then introduced a panel that included Richard Marks, the interim director of the Cross Cultural Center at Saint Louis University; Dominic Dorsey, the director of Disability Support Services at Southern Illinois University Edwardsville; and Kevin Windham, a candidate running to represent the 85th District in the Missouri House of Representatives.
Roberts then read the Langston Hughes poem "I, Too" that inspired the event's title before beginning the discussion with the panel.
Dorsey spoke early on about the experience of having his patriotism questioned when protesting to highlight racial injustice.
"If we didn't have an affinity for this country, we wouldn't raise a stink about it," he said. "The other side of it is we have more stock in this country than anybody other than probably our indigenous brothers and sisters because the blood of our ancestors is in the soil. So we have a responsibility to raise our voice and to say something about the state of affairs as early and as often as possible."
They talked about the meaning of the Fourth of July, and all three acknowledged celebrating with barbecues as children. But it wasn't until they got older that they became more conscious of the fact that America's birthday didn't mark independence for their ancestors the same way.
African American freedom for many is better commemorated with Juneteenth, the annual celebration of the end of slavery in the United States with news of its abolition spreading to Texas in June 1865.
Marks talked about the feeling of pride that came with the election of Barack Obama in 2008.
"Who'd have ever thought there'd be a black president, a biracial president, a multiracial president?" he said. "I think for us, American the country did something that should have been done years ago, and it was time."
But that sense of pride hasn't always been easy to maintain in the years since.
Speaking about issues like police brutality, more readily apparent in the present day, Marks acknowledged times where "no, I don't feel proud to be an American. I do not feel that America cares about me and my work for my success and those that work for me."
While engaging with the audience, they discussed ways people can most effectively continue the fight for equality.
Change requires political power, and Dorsey doesn't think pushing voter registration drives is enough.
"We register to vote really well," he said. "Black folks register to vote like nobody's business. We need people to run."
Fedrick, who's been a regular at Black History Month events throughout February, left the event with plenty to think about.
"I thought the panel was very informative, and there were a lot of things that they said that I felt like I could really relate to," she said. "They really touched on a lot of things, a lot of things that I personally feel, an example being when they were talking about voting and young people and also getting into politics.
"It's something I was never really talked to about or told about until I really got older and in college, and I feel like it should start very much earlier."

Short URL: https://blogs.umsl.edu/news/?p=72764