Eye on UMSL: Well-earned recognition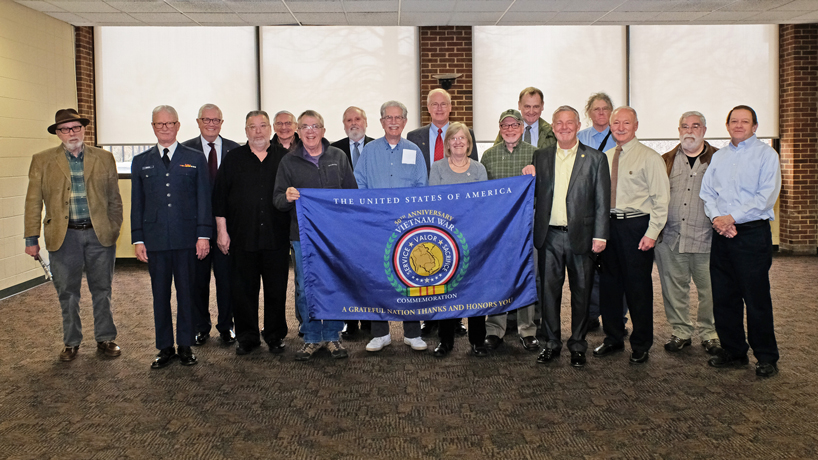 Vietnam veterans from throughout the University of Missouri–St. Louis community came to the J.C. Penney Summit Lounge Thursday afternoon to be recognized for their service to their country as part of the United States of America Vietnam War 50th Commemoration.
UMSL is a participant in the commemorative partner program.
While lauding the success the university has had becoming a model for student veteran support programs throughout the region, Jim Craig, the chair of the Department of Military and Veterans Studies, told the audience about an oversight he hoped to finally remedy.
"In all our success, we forgot something. I forgot something," Craig said. "We made the mistake that our country made 50 years ago, and our society continued doing. We forgot to recognize the Vietnam veterans in our midst. We forgot to acknowledge them and their experiences as the foundation upon which the current veteran support programs are built.
"So when we started thinking about this commemoration program about a year ago, several told me UMSL is too young. We don't have Vietnam veterans. It's just not true. Established in '63, graduating its first class in '67, the students and employees of UMSL were heavily involved in Vietnam experience, both at home and abroad."
Craig and Chancellor Tom George presented each veteran in attendance with a commemorative lapel pin, and the honorees gathered for a group photograph after the ceremony.
The members of the UMSL community pictured are (from left) Zelli Fischetti, Tom Knoten, Charlie Hoffman, Ron Goldfeder, Keith Womer, Dan Clark, Mike Murray, Fred Meyer, Rick Stream, Jean Bachman, Gary Bachman, John Mulderig, Richard Powers, Michael Hicks, Frank Nigro, Repps Hudson and Raymond Barclay.
This photograph was taken by UMSL photographer August Jennewein and is the latest to be featured in Eye on UMSL.

Short URL: https://blogs.umsl.edu/news/?p=73120