UMSL's annual economic impact in Missouri tops $363 million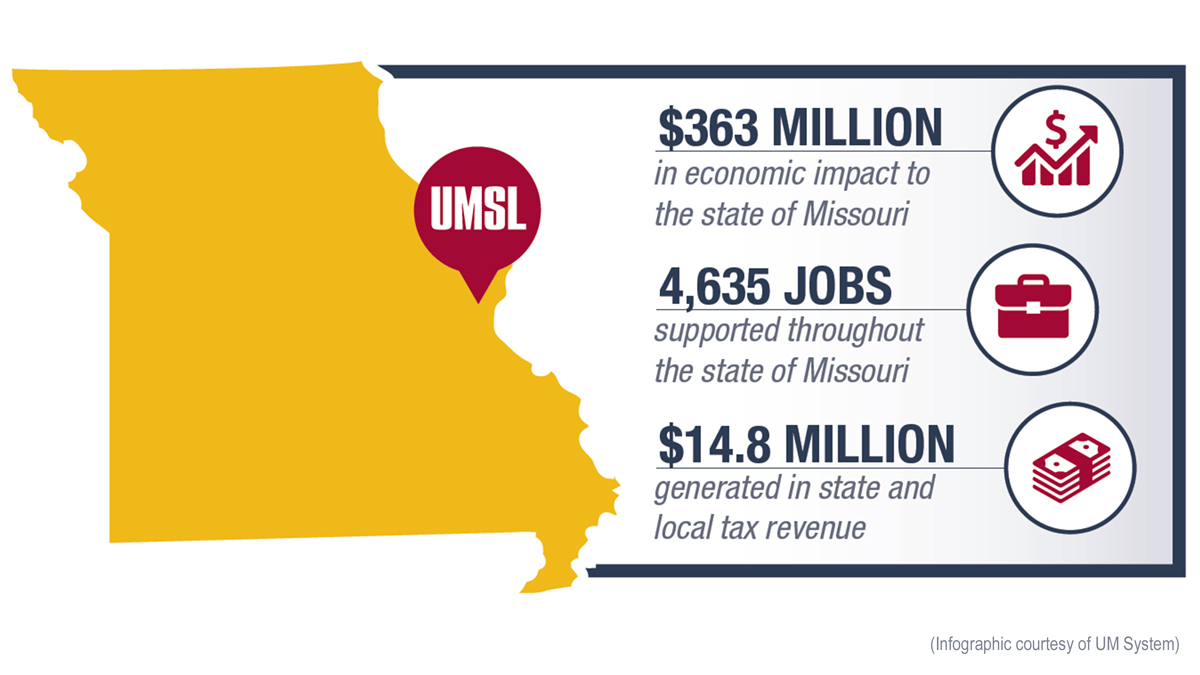 The University of Missouri–St. Louis has an annual economic impact exceeding $363 million and is responsible for supporting 4,635 jobs primarily in the St. Louis area, according to a report released today in Jefferson City, Missouri.
"This report affirms UMSL is a vital contributor to the economic vitality of Missouri in general – most specifically the St. Louis region," UMSL Chancellor Tom George said. "It also represents just a tip of the iceberg of UMSL's value to the state's and region's economic and social well-being – which includes contributions of our 70,000 alumni who live and work in Missouri. Factoring in the enhanced incomes and efforts of UMSL's alumni certainly would add $1 billion in additional economic impact to the report."
The report, completed by nationally recognized consulting firm Tripp Umbach, found that the University of Missouri System as a whole has a $5.4 billion impact on the state of Missouri.
"We are dedicated to the welfare and success of the citizens of Missouri," UM System President Mun Choi said. "Our original mission was to educate the future leaders of the state and provide new knowledge that would open new opportunities and significantly alter the economic prosperity of the state for the better. This study proves that the University of Missouri System, its four campuses, MU Extension and MU Health Care continue to be a powerful driving force for the future of the state."
For the past eight months, Tripp Umbach worked on a comprehensive analysis that included the economic, employment, government revenue and community benefit impact of the University of Missouri System. Results of the report, which reviewed the UM System, four campuses, MU Extension and MU Health Care, include:
The UM System and its four campuses have a $5.4 billion impact on the state of Missouri.
More than 61,000 people have jobs either directly or indirectly because of the university system.
More than $244 million in state and local revenue taxes are collected because of the university. These include taxes on sales, food, gas, lodging, etc.
"Given that our annual appropriations from the state are approximately $400 million each year, this means that taxpayers are receiving a return on their investment of 13.5 to 1, an impressive number," said Mark McIntosh, UM System vice president of Research and Economic Development. "A vast number of our graduates are staying in Missouri and putting their education to the test in our workforce while our faculty across the four campuses are conducting research that addresses grand challenges facing our state and nation. This significant combination of workforce development and innovative discoveries in our labs is impacting thousands of Missourians every day."
Tripp Umbach staff used several sources of data for the study, including capital expenditures, operational expenditures, number of employees and students, conferences hosted, payroll and benefits, and taxes paid to local and state governments. The study did not review the economic impact of MU's athletics department. A previous study completed by a team of MBA faculty and students found that MU athletics contributed approximately $294 million to the local and state economies.
"The University of Missouri System is an extremely important economic driver in the state of Missouri," said Paul Umbach, president and CEO of Tripp Umbach. "Looking at the system's impact on Missouri's local and regional economies, it is clear that the investment in higher education is a necessity for the economic and social vitality of Missouri and its people."

Short URL: https://blogs.umsl.edu/news/?p=73410