Eye on UMSL: Remembering citizen soldiers on Veterans Day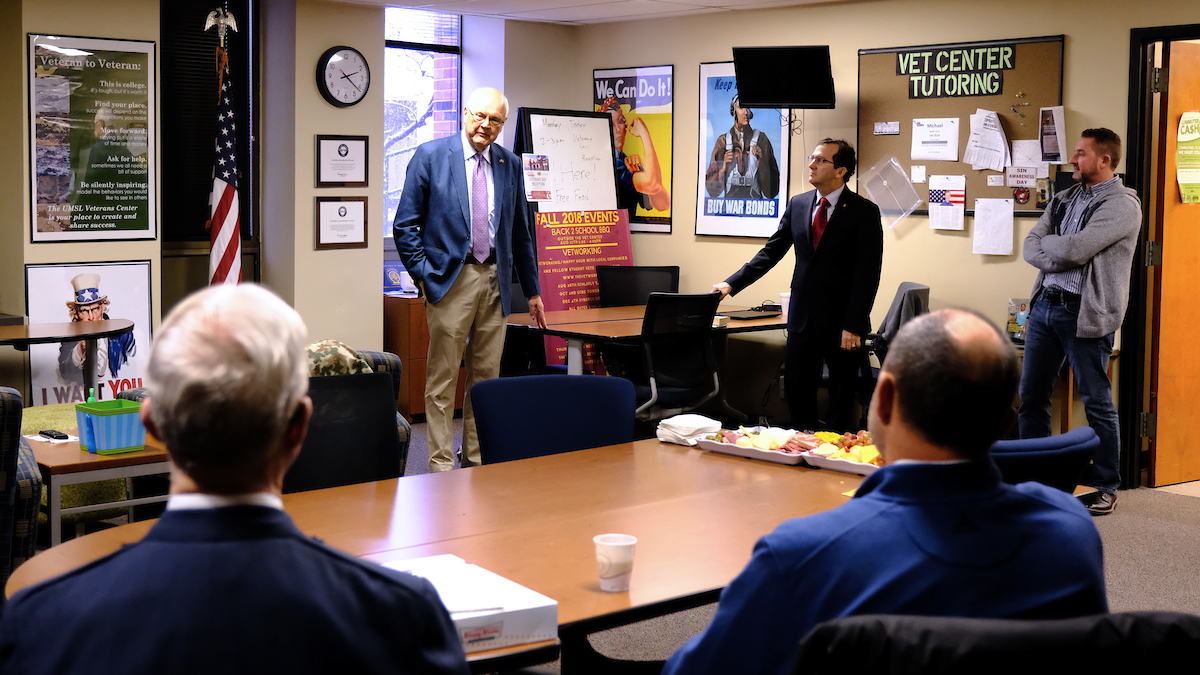 James Wright (left), the former president of Dartmouth College and the author of the 2012 book "Those Who Have Borne the Battle: A History of America's Wars and Those Who Fought Them," spoke to a small gathering of faculty, students, alumni and staff Monday afternoon as the University of Missouri–St. Louis commemorated Veterans Day with a reception in the Veterans Center in Clark Hall.
In researching the book, Wright, a historian and marine veteran, conducted more than 300 interviews with wounded veterans during visits to military hospitals, and he makes those "citizen soldiers" the focus of his text, telling the "the long, often troubled relationship between America and those who have defended her," as the jacket of the book reads.
"War is about who lives and who dies," Wright told those in attendance at the Veterans Center. "We can put all of the dramatic and political and romantic fluff around it that we want, but war at its basic is about who lives and who dies.
"But then who tells the story? My concern is that increasingly the story is not told enough. We don't realize what it is that we're asking them to do. Sometimes war is a necessary thing. I'm not a pacifist. But I would feel more comfortable if those who want to send our young to war really have an appreciation of what it is that we're asking them to do and the sacrifices that they may make on our behalf."
Wright was scheduled to deliver the Primm Lecture on "Experience and Memory: Enduring Vietnam" at 7 p.m. Monday in the Lee Auditorium at the Missouri History Museum.
This photograph was taken by UMSL photographer August Jennewein and is the latest to be featured in Eye on UMSL.

Short URL: https://blogs.umsl.edu/news/?p=76769