Des Lee Fine Arts Festival attracts students from across the St. Louis region
High school and middle school students from across the St. Louis region descended upon the Blanche M. Touhill Performing Arts Center over two days last week to take part in the annual Des Lee Fine Arts Festival at the University of Missouri–St. Louis.
The festival, organized by the Des Lee Fine Arts Education Collaborative, is designed to be an opportunity to enrich the students in art and music, including band, choir and orchestra.
More than 800 students from the Archdiocese of St. Louis and the Bayless, Ferguson-Florissant, Hazelwood, Jennings, Lindbergh, Normandy, Orchard Farms, Ritenour, St. Charles, St. Louis, University City, Warren County and Wright City school districts took part in the event. Tuesday's activities were arranged for high school students. Middle-schoolers attended Wednesday.
"It is so important to create a safe and creative space where they can mix, mingle, learn together as teenagers, making music and art together, along with making new friendships," said Michael Smith, the E. Desmond Lee Endowed Professor of Music Education at UMSL who serves as the director of the Des Less Fine Arts Collaborative.
Smith celebrates the festivals as an way to expose students to higher-education opportunities and to showcase UMSL.
"Many of these students have never been on a university campus before, and they just do not yet have much of a vision for themselves ever going to college," Smith said. "After working with our fine UMSL faculty through these festival days, conversations are begun and new connections are made. They see the campus. They meet UMSL students and faculty. They have a great day in the beautiful Touhill Performing Arts Center. They give a big, culminating concert. And they see the big building posters that proclaim that UMSL 'transforms lives.' Seeds for that potential transformation are planted through experiences such as the Des Lee Fine Arts Festival."
Here are a few of the scenes from this year's high school festival last Tuesday: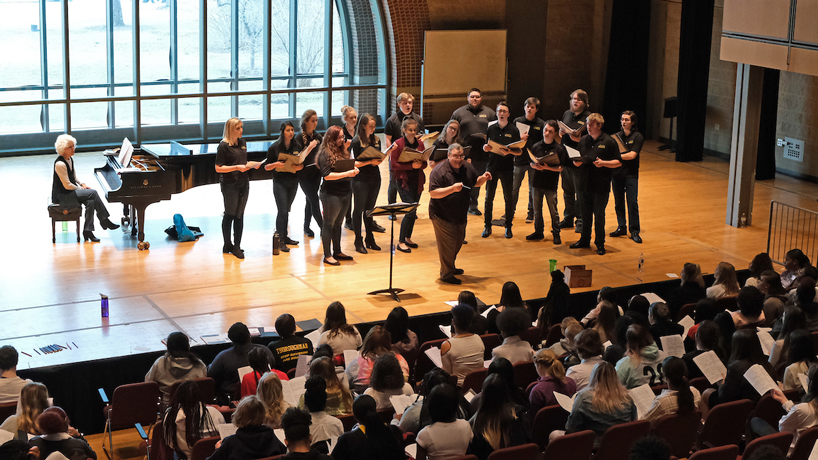 Members of UMSL choral groups, under the direction of Associate Professor Jim Henry, lead high school students in a song inside the E. Desmond and Mary Ann Lee Theater. The high school students performed at a concert concert later Tuesday.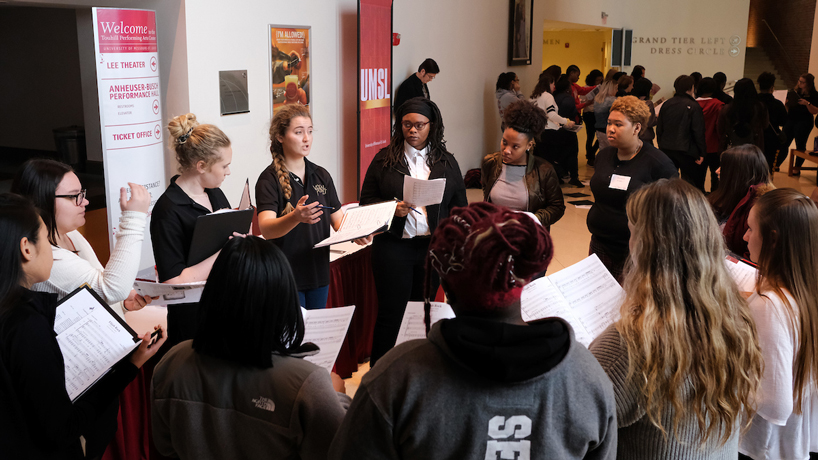 Sophomore music major and Vocal Point a capella group member Sophie Loban (center, with right hand raised) answers a question from a high school student during a breakout session in the lobby outside the Lee Theater. UMSL students, including Loban, acted as teachers during the sessions.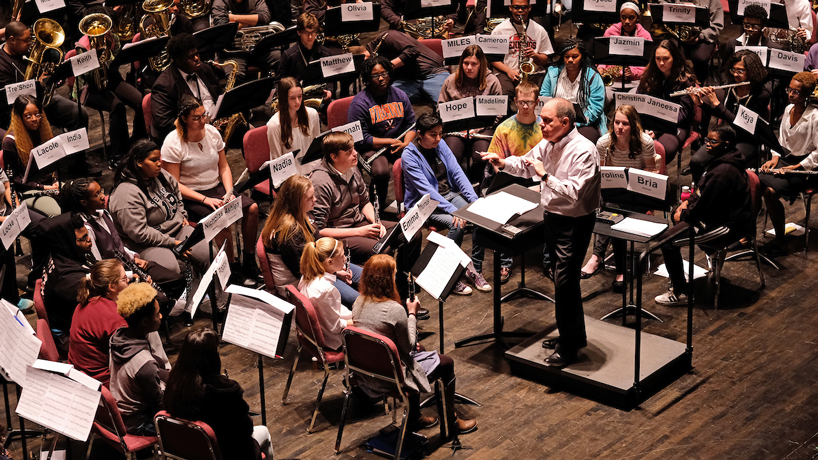 UMSL Director of Bands Gary Brandes instructs high school students during a rehearsal for Tuesday night's concert inside the Anheuser-Busch Performance Hall.

Short URL: https://blogs.umsl.edu/news/?p=78258