Media Coverage: February 2019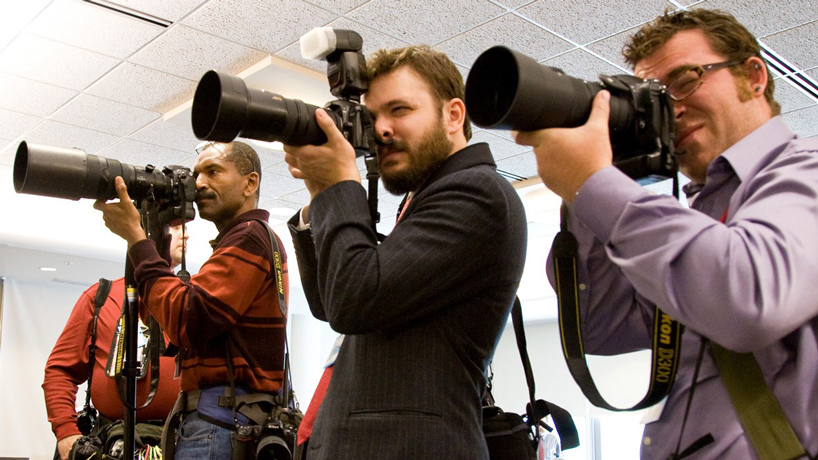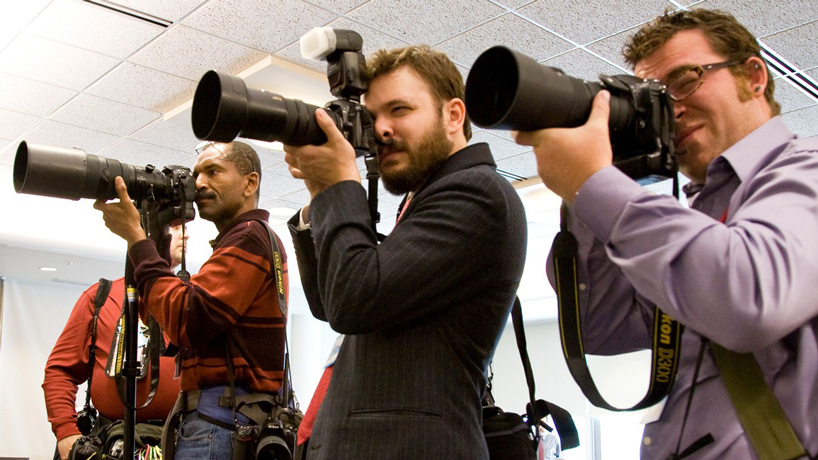 The University of Missouri–St. Louis makes a significant impact on the St. Louis area. Stories about the university, its scholars and their expertise are often covered by local and national news media.
Media Coverage highlights some of the top stories but does not serve as a comprehensive listing. Notice a clip we missed? Email us at umsldaily@umsl.edu.
Featured Stories
– Carl Bassi, professor and director of research for the UMSL College of Optometry, graced TV, radio and print media outlets for the better part of February, discussing his role in helping develop the Triple Track putting technology, which Callaway licensed and added to a new line of ERC Soft golf balls that it released to the public Feb. 8. Bassi appeared in tandem with Triple Track inventor Ray Barrett on a KSDK (Channel 5) report, as well as on The Charlie Brennan Show on KMOX Radio. Bassi was also quoted about the putting system in stories for the St. Louis Business Journal and Golf Digest, which profiled Triple Track after Phil Mickelson used a ball bearing it while winning this year's PGA Tour event at Pebble Beach, California.
– Professor of Criminology David Klinger continued in his role as one of the nation's foremost experts on police-involved shootings. He talked with The Washington Post about the need for more detailed, historical data to give more context to its yearly accountings of police shooting deaths, analyzed the fatal police shooting of a California rapper for NBC News and served as an expert witness for the city of Omaha, Nebraska, in a wrongful-death case brought by the family of a man shot by city police, as reported in the Omaha World-Herald.
– Education alumna Therese Shain, a special education teacher at Bayless Elementary School, was the only educator in Missouri and one of only 33 nationwide to earn a Milken Educator Award for excellence in her field. Shain's school surprised her with the honor at a Feb. 13 assembly attended by First Lady of Missouri Teresa Parson, state Commissioner of Education Margie Vandeven and Lowell Milken, chairman and co-founder of the Milken Family Foundation, which gives out the awards.
– St. Louis Public Radio consulted with Professor of Criminology Beth Huebner for stories on two issues facing the region. One story focused on the shortage of correctional officers in the area and the effect it could end up having on public safety, and the other had to do with options available to people facing trial in St. Louis and how Huebner and St. Louis County are working together on a pretrial release program that is getting some positive results.
– "Why Culture Matters Most," the new book by Professor of Economics David Rose, outlines his belief that culture is the key to creating and maintaining the type of high-trust society that deters polarization and allows free market democracy to flourish. Both The Charlie Brennan Show and The Marc Cox Morning Show on KFTK (97.1 FM) had Rose on as a guest to discuss his findings.
Media Coverage
Laura Benedict, business administration alumna
St. Louis Post-Dispatch: author of the new mystery novel "The Stranger Inside"
Edward Bennett, professor of optometry
American Optometric Association: importance of clean hands in handling contact lenses
Marvin Berkowitz, Sanford N. McDonnell Endowed Professor in Character Education
Deseret News: the importance of moral education in schools
Xavier Blackwell, leadership education coordinator for Office of Student Involvement
The St. Louis American: op-ed on why he chose education as his career path
Antionette Carroll, media studies/communication alumna
Graphic Design USA: founder of Creative Reaction Lab
Jonathan Chen, College of Optometry cornea/contact lens resident
Contact Lens Spectrum: co-author of article on "specialty lens options for visual rehabilitation in post-penetrating keratoplasty patients"
Deborah Cohen, associate professor of history
University of Kentucky News: book on Braceros featured in online guide supplement to university's Braceros Photo Exhibit
Niyi Coker, E. Desmond Lee Endowed Professor of African/African-American Studies
This Day: speaker at a festival in Nigeria about telling stories in a digital era
Bill Dey, business administration alumnus
Sedalia Democrat: inducted into Smith-Cotton High School Athletic Hall of Fame
John Dudash, former student
Furniture World: named CEO of Raffel Systems
Karen Englert, education alumna
St. Louis Business Journal: member of 2019 40 Under 40 class
Jean Evans, history alumna
KOAM News: new executive director of the Missouri Republican Party
Derek Farmer, business administration student
World-Grain.com and Powder/Bulk Solids: joined Scoular Co. as director of operational safety
Shannon Favazza, business administration alumna
St. Louis Business Journal: member of 2019 40 Under 40 class
Alberto Friedmann, education alumnus
Indiana State University Newsroom: named a fellow at Royal Society of Medicine in London
Patrick Hickey, public administration student
St. Louis Public Radio: running for post as Ward 10 alderman in St. Louis
Terry Jones, professor emeritus of political science
St. Louis Post-Dispatch, St. Louis Post-Dispatch, KMOX, KTRS (550 AM), The Webster Journal and FloValley News: analysis of Better Together's proposed city-county merger plan
St. Louis Post-Dispatch: analysis cited in letter to the editor critical of Better Together
Shea Kerkhoff, assistant professor of education
Riverfront Times: disadvantages of students who don't have internet access at home
David Kimball, professor of political science
St. Louis Public Radio: analysis of Better Together provision calling for a local faculty member to determine council districts
St. Louis Business Journal: the difficulty in a potential recall effort of Mayor Lyda Krewson
Sandra Langeslag, assistant professor of psychology
NPR: distraction as a valuable coping mechanism for getting over a breakup
Christopher Lehmuth, management information systems alumnus
St. Louis Business Journal: member of 2019 40 Under 40 class
Robert Loggins, business administration alumnus
Knoxville News Sentinel: marketing professional hosting seminar on how to optimize LinkedIn profile
Greg Mackey, accounting alumnus
PR Web: promoted to corporate controller at Doe Run Company
Michael Martorana, optometry alumnus
Insider Louisville: profiled for work at Falls City Eye Care
Krystal Matson, optometry student
Vision Monday: recipient of the Dr. Larry J. Alexander Scholarship for Education
Bill Mendelsohn, director of charter schools and partnerships
St. Louis Post-Dispatch and American School & University: charter schools filling a need for quality public education in St. Louis
Lauren Obermark, assistant professor of English
St. Louis Public Radio: "St. Louis on the Air" guest, discussing the academic field of rhetoric
Joe Parks, distinguished research professor
American Enterprise Institute: panelist for event on the opioid crisis
Miles Patterson, professor emeritus of psychology
Psychology Today: research into intimacy levels in nonverbal interactions cited
Elaine Queathem, business administration alumna
St. Louis Business Journal: co-founder of Savvy Coders, which trains people in computer coding and web design
Robert Ray, former professor of music
West End Word: founder of IN UNISON Chorus, celebrating its 25th year
Scott Ream, optometry alumnus
The Rolla Daily News: appointed to State Board of Optometry by Gov. Mike Parson
Dave Robertson, Curators' Teaching Professor and chair of the Department of Political Science
Springfield News-Leader: what cutting debate time over federal nominees could mean for district court judges
Springfield News-Leader: electoral side effects of Republicans introducing  petition to get "right to work" in state constitution
Springfield News-Leader: potential political ramifications of state tax withholding error
Richard Rosenfeld, Founders Professor of Criminology and Criminal Justice
Politifact Florida: consulted for analysis of Rep. Matt Gaetz's statistics on murders committed by illegal aliens
The Macon Telegraph: analysis of Macon, Georgia, crime data versus national trends
Jennifer Siciliani, teaching professor of psychology
St. Louis Public Radio: "St. Louis on the Air" guest, discussing the new St. Louis selfie museum
Steve Stenger, business administration alumnus
KSDK (Channel 5): his change of opinion on city-county merger
Bob Sundvold, Tritons men's basketball coach
KFNS (590 AM): discussing team's best start to season since 1971-72
PowerMizzou.com: reflections from when he was a MU assistant coach on Derrick Chievous
Todd Swanstrom, E. Desmond Lee Endowed Professor in Community Collaboration and Public Policy
St. Louis Post-Dispatch: economic effects of a possible city-county merger
Richard Todaro, business administration alumnus
Globe Newswire, Thorold News and StreetInsider.com: appointed to board of directors for WidePoint Corporation
Blanche Touhill, chancellor emeritus
Ste. Genevieve Herald: board member for French Colonial America organization
Cathy Vatterott, professor of education
KSDK (Channel 5): tips for reducing homework stress
Chicago Tribune (The Doings Hinsdale): rethinking homework for elementary school students
Gregory Ward, grounds supervisor
HEC-TV: feature on UMSL campus tree inventory funded by Missouri Department of Conservation grant
Nick Wenande, optometry alumnus
The Mitchell Daily Republic: profile of he and his family after moving back to South Dakota
Luigi Wewege, business administration alumnus
Digital Journal: senior VP of Caye International Bank, named Best Private Bank in Belize for 2019
Dixie Williams, director of admissions
The Griffon News: leaving Missouri Western for UMSL
Luke Wittenberg, business administration alumnus
APN News: appointed Commercial Lines Insurance Advisor at POWERS Insurance and Risk Management
Dan Younger, professor of art
West Newsmagazine: judge of this year's FOCUS photo contest
Other Campus News
KTTN.com, KMOV and Fox 2: UMSL a venue for event for cannabis business hopefuls
KMOX and Fox 2: coverage of event for cannabis business hopefuls
Broadway World St. Louis and AdVantage: UMSL scholarship opportunities available to St. Louis Teen Talent Competition winners
St. Louis Public Radio: Proud to Be First Scholars Program referenced in profile of first-generation student at Washington University in St. Louis
Columbia Missourian: UM System President Mun Choi noted a 1.2 percent increase in UMSL applications for 2019
St. Louis Business Journal: Sisters of the Good Shepherd convent, part of a community development corporation UMSL oversees, seeking redevelopment proposals
St. Louis Post-Dispatch: Iyanla Vanzant coming to the Touhill
Missouri S&T News: UMSL to host "Public Reporting of Exploration Results, Mineral Resources and Reserves" conference
St. Louis Post-Dispatch and Fox 2: UMSL taking part in "Wake Up to a Sweeter Commute" event with Metro Transit
St. Louis Post-Dispatch and Riverfront Times: George Balanchine's "Rubies" ballet coming to the Touhill
St. Louis Magazine, St. Louis Post-Dispatch and Riverfront Times: Wayne McGregor's dance show "Autobiography" coming to the Touhill

Short URL: https://blogs.umsl.edu/news/?p=78546