Print Fair draws collectors and dealers of paper arts to UMSL campus
Those in the market for an ornately hand-painted greeting card can find what they're looking for at the 13th annual St. Louis Fine Print, Rare Book & Paper Arts Fair. So can those who are seeking something a little more grandiose, such as a first-edition fine press book from centuries past.
All of that rich variety will be under the J.C. Penney Conference Center roof this weekend for the Print Fair, presented annually by the St. Louis Mercantile Library at the University of Missouri–St. Louis.
"There really is something for every budget," Julie Dunn-Morton, endowed curator of fine art collections at the Mercantile Library, said on Tuesday's episode of "St. Louis on the Air" on St. Louis Public Radio | 90.7 KWMU. "Even in terms of the maps and prints, you can find things for under $100, things for $50. Then there are things that have lots of zeroes behind them."
This year's Print Fair brings 25 local and national dealers and artists to UMSL's campus to showcase wares that range from finely illustrated books to prints by John James Audubon, Works Progress Administration artists and old masters; original watercolors and historic photographs.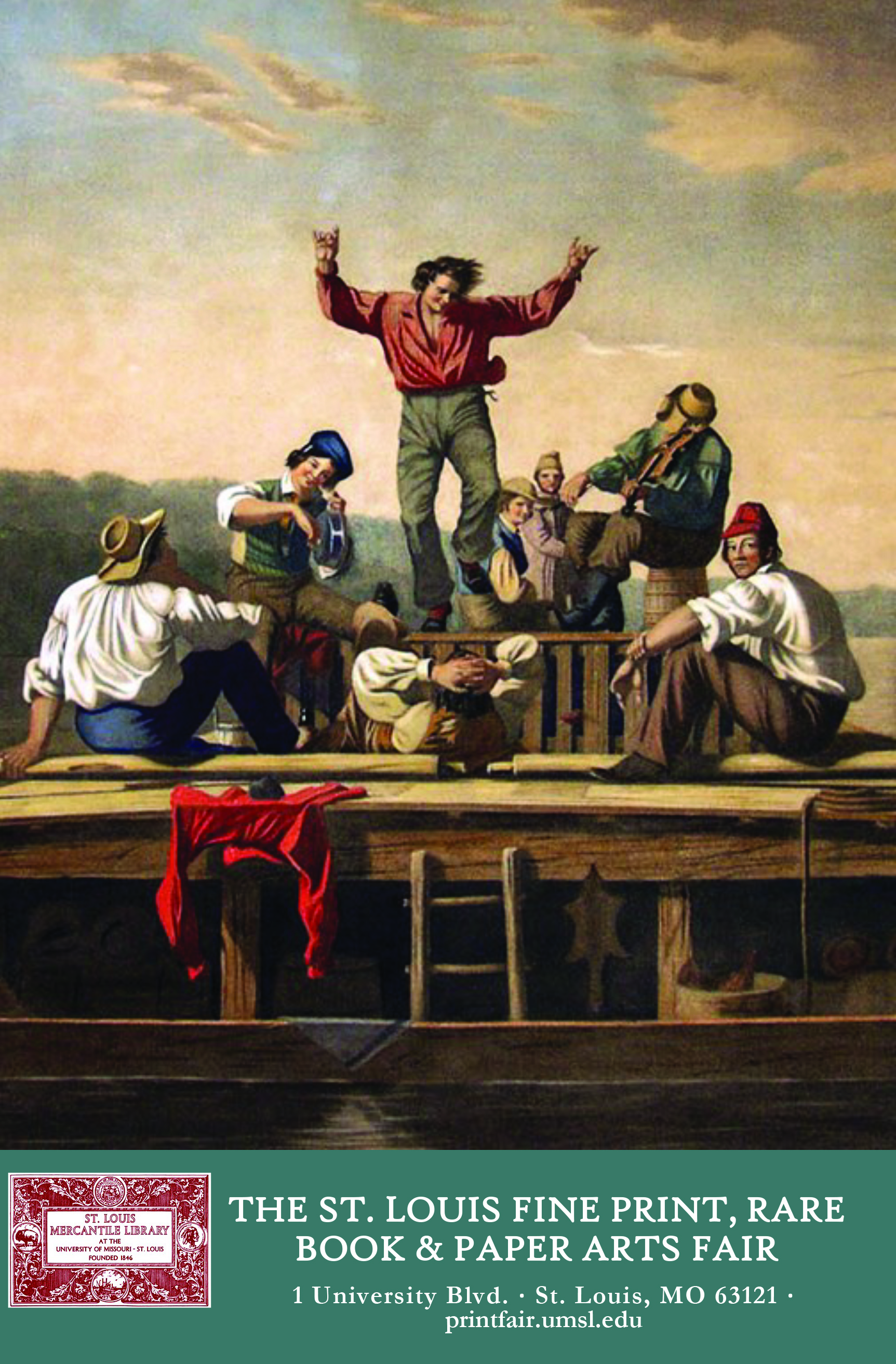 A preview party to benefit the Mercantile Library will be held from 6 to 9 p.m. on Friday. A silent auction will include prizes such as tugboat trips, paintings and prints, specialty gift baskets, artists' studio tours, private art collection tours and much more. Tickets are $50 for individuals and two for $90. Mercantile Library members pay $40 for an individual ticket and $70 for two with a membership card. Young collectors, ages 35 and under, pay $25.
The Print Fair will continue from 10 a.m. to 5 p.m. on Saturday and 11 a.m. to 4 p.m. on Sunday with free admission both days. Artists will hold demonstrations throughout the day Sunday. Parking is free, and there will be a café on site Saturday and Sunday.
Dunn-Morton told "St. Louis on the Air" host Evie Hemphill that the fair always serves as a valuable opportunity for collectors to meet and add to their portfolios.
"We're fortunate to have two venues, so you can sort of pace yourself going through," Dunn-Morton said. "In the lobby, the dealers, if they're book dealers, will open up some of the really attractive books with illustrations, just something to entice the eye and draw you in. Those book dealers are always in the center and, on the perimeter, we have the booths with high walls so print dealers, artists and map dealers can hang things. If you look across the room, you may see some amazing print or very dramatic historic map that sort of draws your eye.
"Then you get to catch your breath a little bit going up the stairs or the elevator. We usually have one of our watercolor artists right at the top of the stairs, which makes it very enticing and makes it clear there's more to see upstairs."
Art dealers expected to be on hand include Susan Teller Gallery (New York), Stevens Fine Art (Arizona), Philadelphia Print Shop West (Colorado), Conrad R. Graeber Fine Art (Maryland), Jeannot R. Barr Prints & Drawings (New York), Kodner Gallery (St. Louis) and McCaughen & Burr Fine Arts (St. Louis). Book dealers include De Wolfe & Wood Rare Books (Maine), Anthony Garnett Fine Books (St. Louis) and Rod Shene Books, Art & Ephemera (St. Louis).
This year's fair will also feature three local artists: Barbara Martin Smith (watercolors), Juliette Travous (pastels) and Erin Blumer (watercolors), who are bringing originals and prints of their landscape paintings. Travous and Blumer are scheduled to provide artist demonstrations Sunday.
Blumer, a 2014 UMSL BSBA graduate, is participating in the fair for the first time this year.
"It fits in with the arc of traditional artwork, so that's where that interest is for me besides the fact you make a lot of great connections at this type of thing," Blumer said on "St. Louis on the Air." "You have a lot of serious collectors. And so, from the perspective of building your career as an artist, that's a very valuable experience."
Advance tickets for the Friday evening benefit are recommended. Call 314-516-6740 or email dunnmortonj@umsl.edu. For more information, visit printfair.umsl.edu.
Media Coverage
St. Louis Public Radio

Short URL: https://blogs.umsl.edu/news/?p=79685