Media Coverage: April 2019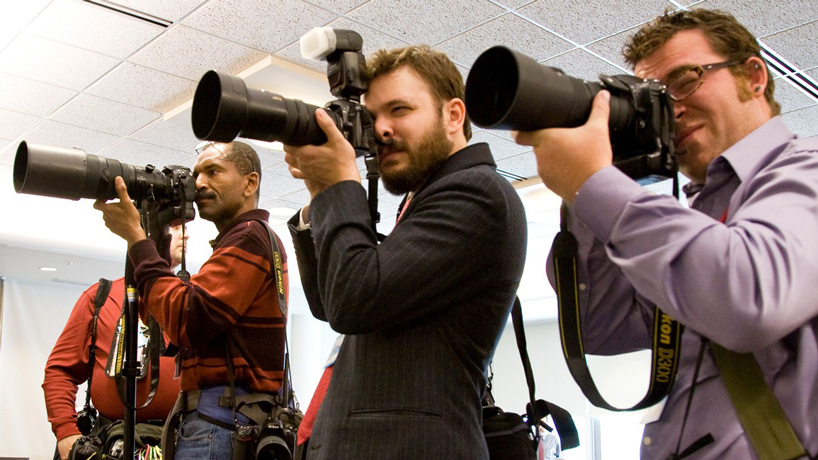 The University of Missouri–St. Louis makes a significant impact on the St. Louis area. Stories about the university, its scholars and their expertise are often covered by local and national news media.
Media Coverage highlights some of the top stories but does not serve as a comprehensive listing. Notice a clip we missed? Email us at umsldaily@umsl.edu.
Featured Stories
– Professor Emeritus of Political Science Terry Jones continued to receive recognition for his analysis of the Better Together St. Louis city/county merger proposal and effort. Jones served as a guest expert for municipal forums held about Better Together in University City, Creve Coeur and Chesterfield, and Governing Magazine, KMOX Radio and the West End Word all used Jones as a source for stories on the progress of the proposal. Jones also co-authored a paper with Mark Tranel, director emeritus of UMSL's Community Innovation and Action Center, and another local scholar criticizing Better Together's economic projections for a merged St. Louis that was covered in the St. Louis Post-Dispatch, St. Louis Business Journal, South County Times and by The Associated Press. A reader even suggested in a St. Louis Post-Dispatch letter to the editor that Jones would be a great candidate for a working group to provide an official analysis of the proposal.
– Hannah Perryman, a liberal studies alumna and former All-American pitcher for the Tritons softball team, was featured in an NCAA.com article that listed nine Division II softball records that may never be broken. Perryman threw six perfect games for UMSL during the 2015 season and, while she also currently holds the Division II records for career perfect games (nine) and strikeouts (1,725), her single-season mark seems untouchable.
– Professor of Criminology David Klinger provided his expert opinion on two police use-of-force cases: one that earned national attention and one closer to home. The Washington Post quoted Klinger about the need for periodic re-evaluation of departments' use-of-force policies in real-life situations in the aftermath of an officer punching a teen in Broward County, Florida, and the St. Louis Post-Dispatch consulted Klinger for his analysis of a recent officer-involved shooting in Ladue, in which the officer's attorney is claiming the officer meant to draw her Taser when she drew her gun.
– The annual St. Louis Fine Print, Rare Book & Paper Arts Fair is coming to campus in early May, and Julie Dunn-Morton, endowed curator of fine art collections at the Mercantile Library at UMSL, stopped by "St. Louis on the Air" on St. Louis Public Radio | 90.7 KWMU to discuss this year's edition. Dunn-Morton was also quoted in a Town & Style St. Louis article hailing the Mercantile Library as a "historical treasure," and the St. Louis Post-Dispatch also recognized the library as the oldest library west of the Mississippi River.
– When news broke of St. Louis County Executive Steve Stenger's federal indictment and subsequent resignation, local outlets called upon Curators' Teaching Professor of Political Science Dave Robertson to make sense of what just happened and what could be coming next. The St. Louis Post-Dispatch quoted Robertson, and St. Louis Public Radio included Robertson in a roundtable discussion following the news. Robertson also lent his expertise on a pair of other topics during the month, talking with the Post-Dispatch about congressional "show" votes being an inevitable part of the political process and the Springfield News-Leader about the political currents behind the state proposal to enact a "Victims of Communism Memorial Day."
Media Coverage
Nick Barber, biology alumnus
San Diego State University News Center: highlighting his work as biology professor researching endangered American tallgrass prairies
Matt Barry, business administration alumnus/former Tritons golfer
Net News Ledger: made a hole-in-one at a Q School tournament
Carl Bassi, professor of optometry
Golf Digest and PGATour.com: Callaway releases new ball with putting technology UMSL helped develop
Edward Bennett, professor of optometry
Contact Lens Spectrum: co-author of story highlighting this year's Global Specialty Lens Symposium
Linda Birtley, administration of justice/sociology alumna
Richmond Biz Sense: joined Union Presbyterian Seminary as director of the Office of Institutional Effectiveness
Stephen Blake, adjunct assistant professor of biology
EurekAlert!: co-author of paper on giant tortoise migration changing due to climate change
Joey Dordoni, international relations student/SGA president
St. Louis Public Radio: quoted in story on possibility of concealed carry coming to UMSL campus
Susan Feigenbaum, professor emeritus of economics
Town & Style St. Louis: profiled for role in launching UMSL's Proud to Be First Scholars Program
Jim Flynn, business administration alumnus
The Galesburg Register-Mail: named CEO of Unity Medical & Surgical Hospital in Mishawka, Indiana
Cynthia Gerdes, education alumna
Sporting KC: named Blue KC Sporting Samaritan for March for her battle with lung cancer
Alyssa Gill, modern language student/vice president of Turning Point USA chapter
St. Louis Public Radio: quoted in story on possibility of concealed carry coming to UMSL campus
Barbara Harbach, Curators' Distinguished Professor of Music
Wisconsin Public Radio and Wisconsin Public Radio: composed orchestral suite as score for 1915 silent film "Hypocrites"
Maya Harris, SUCCEED Program coordinator of vocational experiences
Fox 2: discussion of Veteran & Disability Vendor Fair
Jimmy Holloran, education alumnus
The PE Hub Network: joined ParkerGale Capital as a principal
Amy Johnston, senior educational leadership coordinator, Center for Character and Citizenship
Emirates News Agency: speaker at United Arab Emirates Moral Education Programme
LaWanda Jones, business administration alumna
Missouri S&T News: new member of S&T Academy of Civil Engineers
John Kazanas, education alumnus/former Tritons assistant baseball coach
Cronkite News: profiled in role as regional amateur scout for Chicago White Sox
Duk Kim, political science alumnus
SaukValley.com and Clinton Herald: St. Ambrose University professor leading discussion on U.S.-Korea relations
Lyda Krewson, general studies alumna
Ladue News: St. Louis mayor featured in "Persons of Interest" profile
Dan Lauer, founding executive director of UMSL Accelerate
PR Newswire: callout for 2019 Ameren Accelerator applicants mentions partnership with UMSL Accelerate
Martin Leifeld, former vice chancellor for advancement
St. Louis Magazine: profile on his book "Five Minutes for Fundraising: A Collection of Expert Advice From Gifted Fundraisers"
Lisa Merritt, assistant teaching professor of nursing
NewsWise: member of Faculty Leadership Network selection committee of 2019 AACN bootcamp participants
Dan Myers, optometry alumnus
Benzinga: joins team at Mind-Eye Institute
Robert Paul, professor and director of Missouri Institute of Mental Health
National Center for Biotechnology Information: co-author of study on "Mapping abnormal subcortical neurodevelopment in a cohort of Thai children with HIV"
Daniel Pierce, studio art/anthropology/history alumnus
Northwest Missourian: interviewed for research into archaeological history of Excelsior Springs
Robert Ray, former professor of music
Daily Journal: Mineral Area College Singers part of performance of Ray's "Gospel Mass" at Carnegie Hall
David Rose, professor of economics
St. Louis Post-Dispatch: op-ed on how to combat the growing political divide
Richard Rosenfeld, Founders Professor of Criminology and Criminal Justice
The Crime Report: author of story on who is watching the nation's crime data
Andy Runzi, education alumnus/former Tritons baseball player
Leader Publications: strategy session with Jefferson High School baseball coach helped spur JHS team to hot streak
McKenzie Schuessler, political science student/vice president of College Democrats
St. Louis Public Radio: quoted in story on possibility of concealed carry coming to UMSL campus
James Shuls, assistant professor of education
Columbia Missourian: analysis of study tracking integration in charter schools
Phi Delta Kappan: co-author of editorial on state pension subsidies undermining equity
Joel Sjerven, social work student
The St. Louis American: author of op-ed on schools needing more social workers
Tamara Sunkett, education administration alumna
Call Newspapers: named principal at Oakville High School
Bryce Summary, political science alumnus
The Missouri Times: profiled as part of Show Me Victories polling firm
Kenneth Thomas, Founders Professor of Political Science
Wall Street Journal: research cited in op-ed advocating for limiting competition for corporate subsidies
Fernando Tormos-Aponte, Scholars Strategy Network postdoctoral fellow
The St. Louis American: co-author of editorial about movement to end cash bail
Thom Tusinski, secondary education alumnus/former Tritons baseball player
Call Newspapers: inducted into the Greater St. Louis Amateur Baseball Hall of Fame
Jim Vann, optometry alumnus
Fulton Sun: receiving Outstanding Alumnus Award from Callaway County Chapter of the Mizzou Alumni Association
Cathy Vatterott, professor of education
Motherly: debate over whether to ban homework in elementary school
Allen Wagner, associate professor emeritus of criminology and criminal justice
CityLab: 1997 research into crime rates on closed vs. through streets in St. Louis cited
Christopher Walter, business administration alumnus
National College Access Network: profiled for path through college coming from a community underrepresented in higher education
Mark Wessels, education alumnus
eMissourian: won seat on Washington, Missouri, City Council
Luigi Wewege, business administration alumnus
Digital Journal: senior VP of Caye International Bank, named Impact Company for 2019 by DotCom Magazine
Letisha Wexstten, graphic design student
Columbia Tribune: presented UMSL EQ Accelerator-winning business idea to Curators
Jim Widner, teaching professor of music
St. Louis Jazz Notes: final concert at this year's Jazz Festival of Greater St. Louis in his honor
The La Porte County Herald-Argus and La Porte County Life: guest artist at LaPorte High School Jazz Fest
Dan Younger, professor of art
West Newsmagazine: judge for FOCUS Photo Exhibition
Julio Zegarra-Ballon, business administration alumnus
Ladue News: profile of his fair-trade product business Zee-Bee Market
Ray Zepp, former student
St. Louis Post-Dispatch: profiled for his service as rescue pilot in Vietnam
Other Campus News
Riverfront Times: John Cusack coming to the Touhill in June
Houston Chronicle: cites UMSL research in op-ed promoting ranked-choice voting
St. Louis Post-Dispatch, Riverfront Times and West End Word: St. Louis Ballet's production of "Coppelia" coming to the Touhill
St. Louis Jazz Notes: Toby Foyeh and Orchestra Africa coming to the Touhill
St. Louis Public Radio and Missouri Business Alert: EQ Student Accelerator pitch competition winners interviewed
BioSpace: UMSL's efforts mentioned as part of St. Louis' growing life sciences market
Columbia Tribune and Columbia Missourian: annual giving at UMSL up 28 percent
St. Louis Post-Dispatch: comedian Loni Love to perform with Marlon Wayans during Mirth Week at the Touhill
Webster University News: two UMSL teams participated in Deloitte cyber challenge
KSDK (Channel 5): coverage of youth crime prevention conference at UMSL
St. Louis Public Radio: UMSL practicum students helping out with staging "#1 in Civil Rights" exhibit at the Griot Museum of Black History
Business Wire: UMSL noted as partner of Invest STL
Vision Monday: UMSL hosting "Flex Your Superpowers" Women in Optometry Leadership Summit
St. Louis Post-Dispatch: Minorities for Medical Marijuana group holding weekly training program at UMSL
St. Louis Magazine: National Geospatial-Intelligence Agency hoping to sign development agreement with UMSL
Columbia Missourian: freshman application numbers up at UMSL
Idaho State Journal: UMSL study cited in op-ed about benefits of public transportation
Markets Insider: Online Schools Report names UMSL among Best Online Criminal Justice Bachelor's Degrees
Ed Scoop: UMSL one of schools in Gateway Higher Education Cybersecurity Consortium
Silicon Prairie News: applications open for Ameren Accelerator, with partner UMSL Accelerate
Riverfront Times: multimedia dance project "Shadowland – The New Adventure" coming to the Touhill
Vision Monday: panel speakers set for UMSL-hosted Women in Optometry Leadership Summit
St. Louis Magazine: St. Louis Storytelling Festival Grand Finale Showcase coming to the Touhill
St. Louis Post-Dispatch: interview with comedian Marlon Wayans ahead of his Mirth Week performance at the Touhill
ABC FOX Montana: UMSL mentioned as part of St. Louis' ranking on list of best cities for first-time home buyers
St. Louis Public Radio: UMSL literary magazine Natural Bridge partnering with Boulevard for "Three Writers and a Comedian" event

Short URL: https://blogs.umsl.edu/news/?p=79723