They chose UMSL: Scenes from New Student Orientation
While assembled in the Millennium Student Center Thursday morning, a large group of new students learned of the types of people they'd likely meet in the coming hours. Welcoming. Ambitious. Diverse.
Those are the qualities of others who have chosen the University of Missouri–St. Louis.
The MSC Century Rooms were filled with welcoming, ambitious and diverse people Thursday for New Student Orientation. Those gathered began the morning by watching UMSL's Choose Your Word campaign video and by hearing from Associate Provost for Student Success Beth Eckelkamp, who added another adjective to the list.
"I would say that successful people choose UMSL," she said. "We admitted you because we know that you can be successful here. We expect great things from you, and we are really excited about the academic journey that is ahead of you."
Campus photographer August Jennewein captured some of the exciting, informative and helpful sessions during orientation, which is organized by the Office of New Student Programs.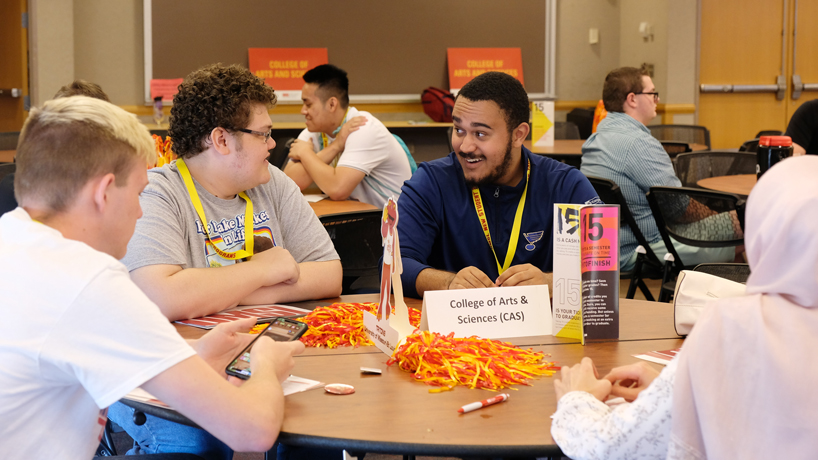 The orientation program focused on academic success, campus traditions and helping all new students become part of the UMSL community. "At Orientation, we provide a welcoming and inclusive atmosphere, connecting students to university resources, faculty, staff and current student leaders," Director of New Student Programs Megan Green Simonds said. "We hope to acquaint new students with institutional expectations and values, promote learning and discovery both inside and outside of the classroom, and foster pride in the UMSL community."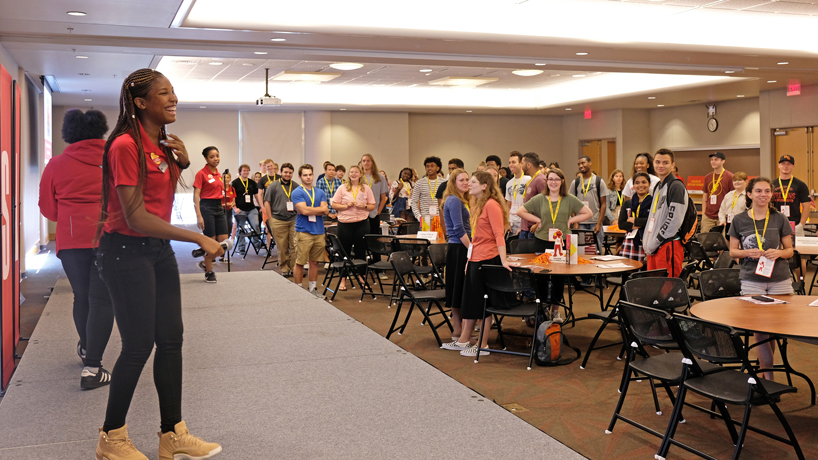 Nursing major Donyell Nelson warmed up the crowd of new Tritons in the MSC Century Rooms. The team of 10 Orientation Leaders dedicated their summers to offering guidance and support to incoming first-year and transfer students.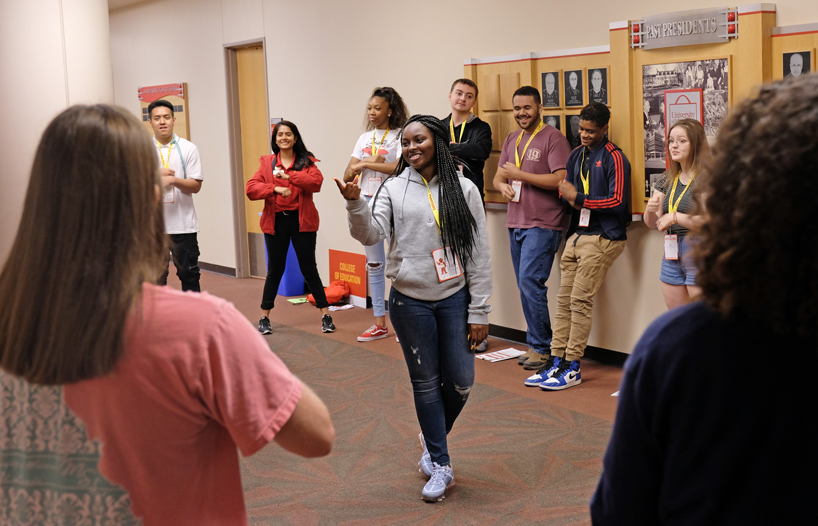 While there was a lot of information about UMSL life squeezed into the one-day event, the New Student Programs staff also allotted plenty of time for fun. Orientation Leaders and new students split into groups for engaging activities and to get to know one another in smaller settings.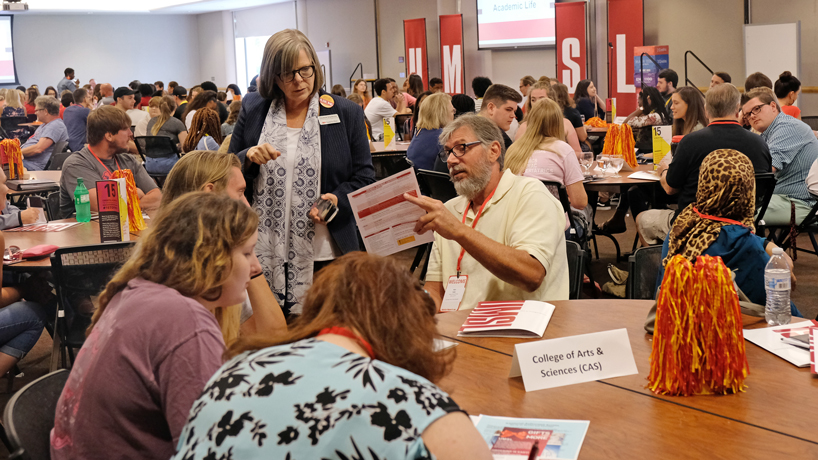 Eckelkamp (center) and other UMSL faculty and staff members were on hand throughout the day to answer questions from students and their families. Interested family members had their own itinerary throughout the day, which included a welcome event, a session on how to guide students from college to successful careers, a walking tour of campus and a coffee break with administrators.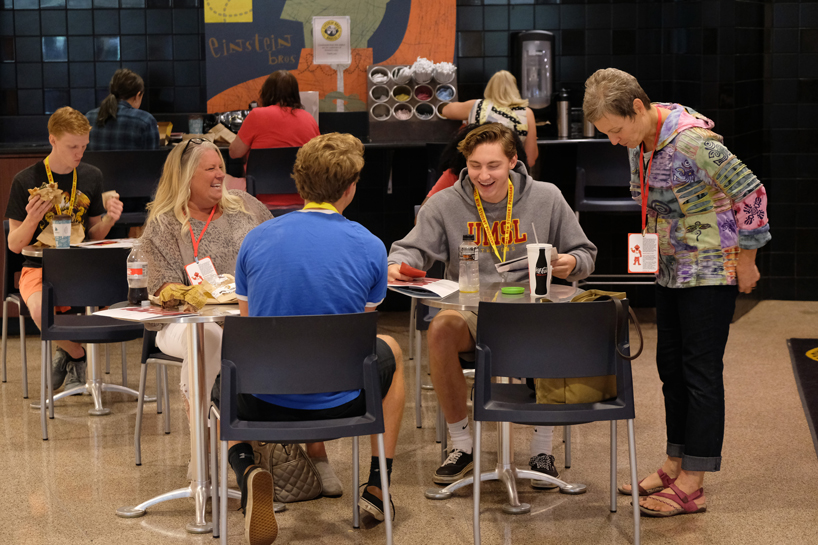 Of course, a trip to UMSL wouldn't be complete without stopping at one of the university's dining amenities, including Einstein Bros. Bagels on the second floor of the MSC.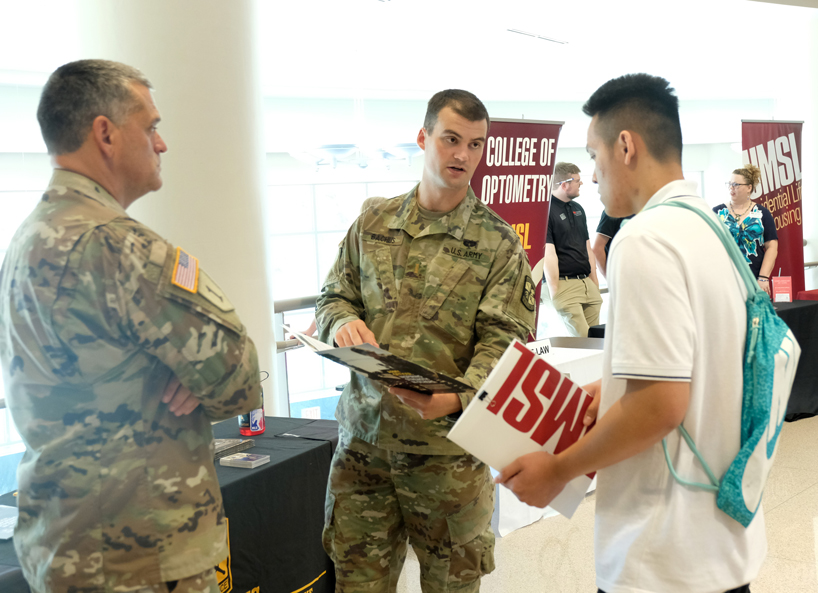 Representatives from more than 20 campus units were available during the afternoon to discuss the many resources available to UMSL students.
To help new Tritons become more familiar with campus, Orientation Leaders offered tours of north and south campus through the convenience of the UMSL shuttle.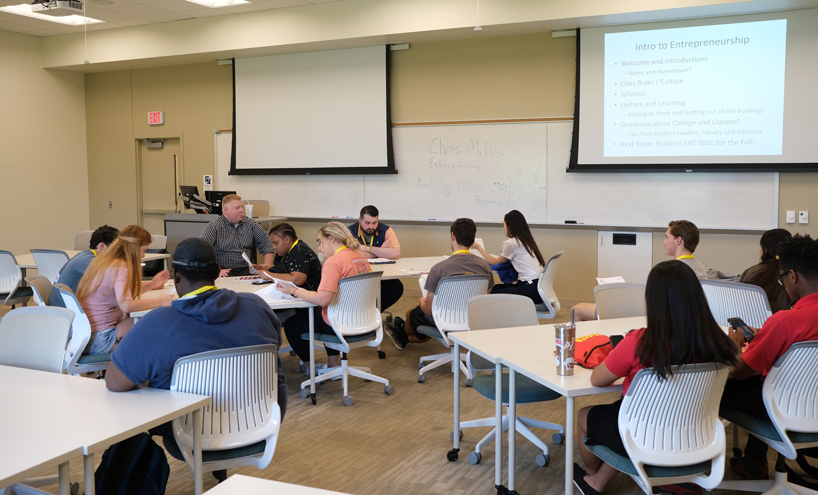 College of Business Administration Professor Chris Miller introduced students to what life would be like in a few weeks when they start taking classes inside Anheuser-Busch Hall.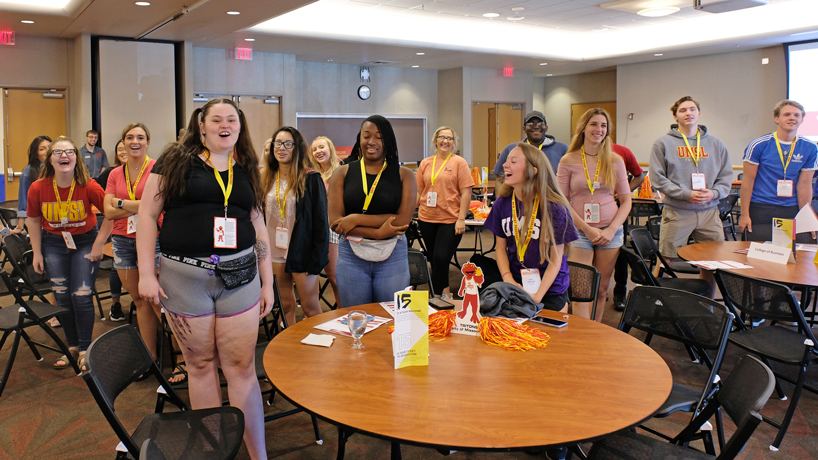 Above all, orientation provided a glimpse at the success students will soon find at UMSL.
When the new Tritons arrive on campus in August, they will have plenty more opportunities to integrate themselves into campus life. The first such program is Triton Take-Off Weekend Aug. 16-18, which includes a variety of welcome events and sessions that will kick-start the beginning of a great first year.
"Our New Student Programs team is committed to ensuring that all new students not only have an outstanding orientation experience," Simonds said, "but that they feel prepared and excited to start their UMSL experience."

Short URL: https://blogs.umsl.edu/news/?p=81190