UMSL community gathers to welcome new students on Move-In Day 2019
When Rebecca Grossheim pulled up to her new home at the University of Missouri–St. Louis Friday, she received a warm greeting.
A few men's basketball players were there and ready to assist with her move. They grabbed plants and plastic totes from her car and then navigated the busy stairways of Oak Hall. Within a matter of minutes, Grossheim was unpacked and ready to settle into her new life and room at UMSL.
This was just one of the many scenes Friday morning as new students arrived on South Campus. Parents, first-year students and UMSL volunteers filled Oak Hall for Move-In Day 2019, and campus photographer August Jennewein was there to capture some of the busy but joyous moments.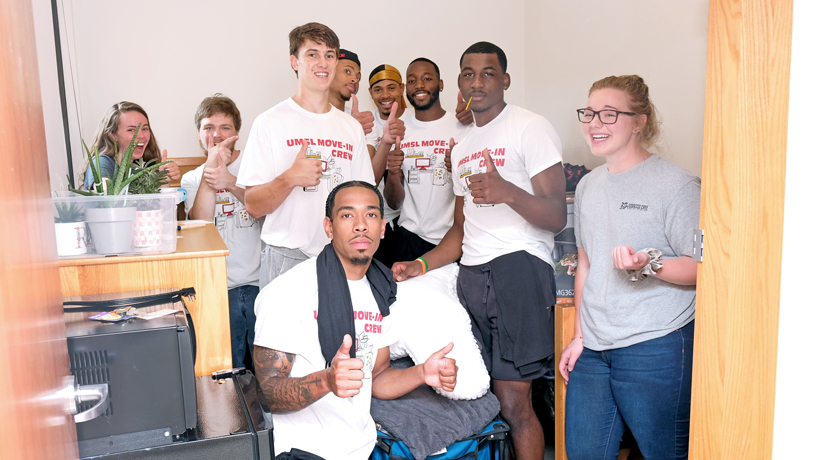 "It was good to have all this help," said Grossheim, a business major from Alton, Illinois. "It was done really fast. We moved my sister in a couple weeks ago, and it took like an hour."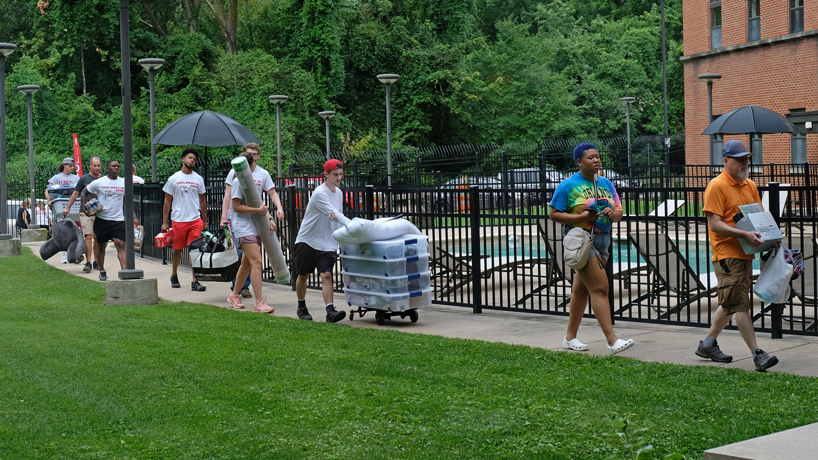 Luggage, laundry baskets and other necessities flowed through the lawn and entryways of Oak Hall as students arrived ahead of Monday's classes.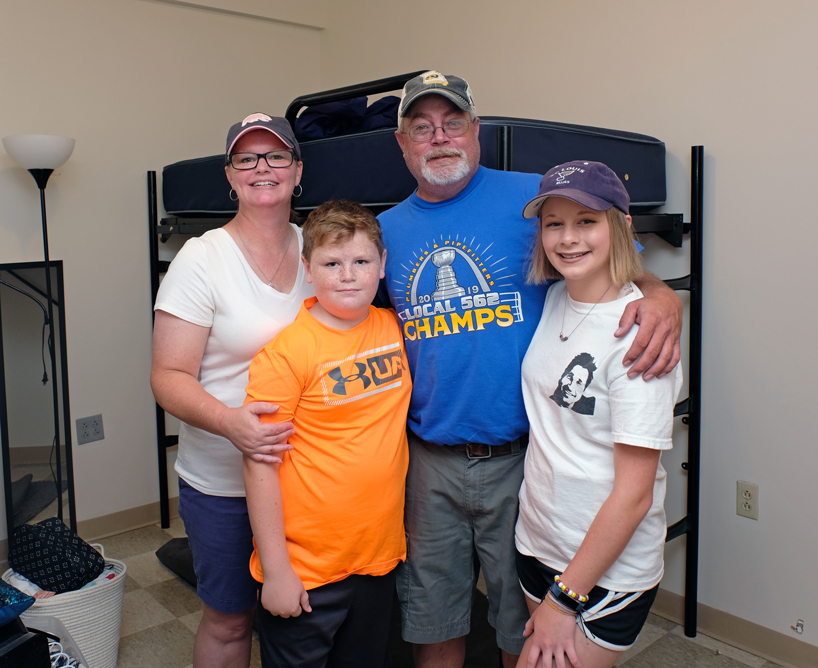 Ashton Hartman (right) and her family traveled from Fulton, Missouri, for Friday's move. The political science major, who has ambitions of becoming a legislator, is eager to study in the busy hub of St. Louis.
"Everything is centrally located, and everyone here is so nice and welcoming," Hartman said. "I'm excited about this next step, but it's a little nerve-racking."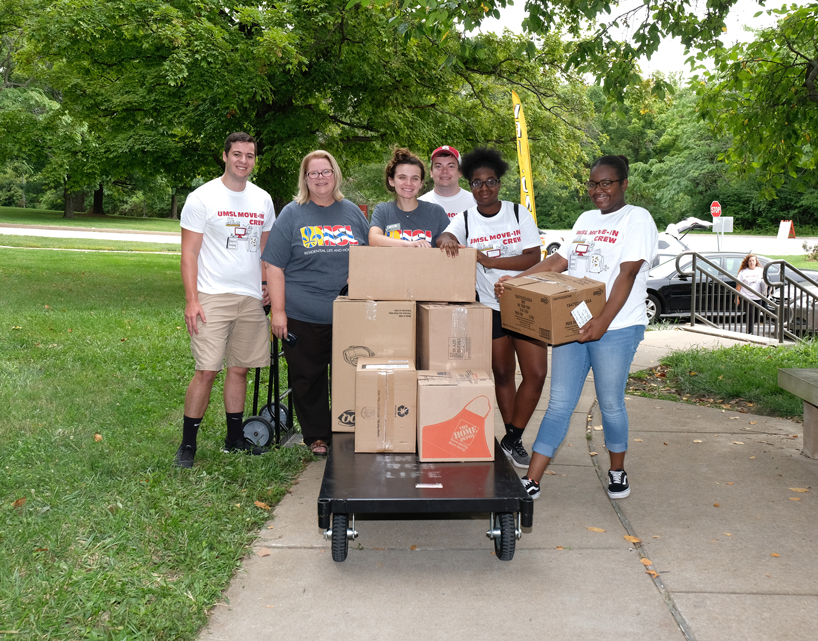 Faculty and staff members also welcomed and assisted new students in the moving process. Kristin Sobolik (second from left), provost and executive vice chancellor for academic affairs, was among the crowd.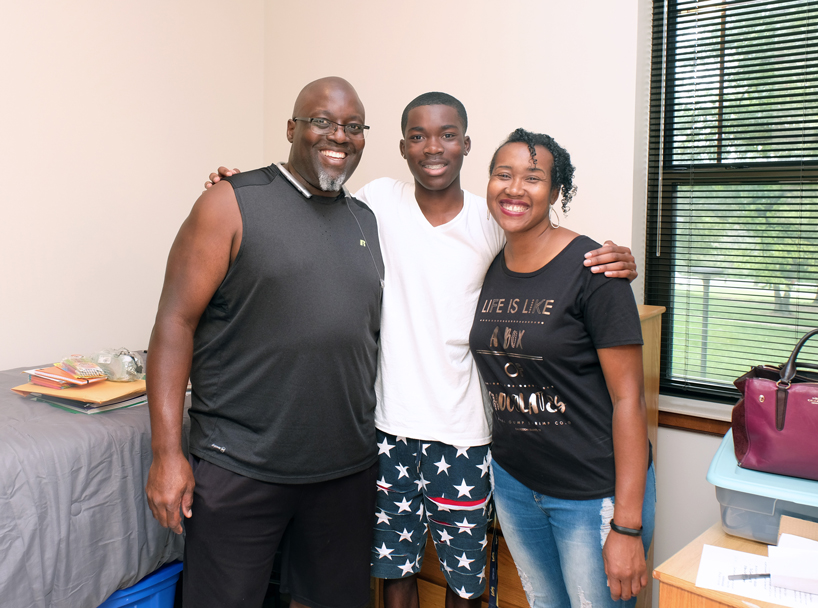 Lorne St. Christopher II pulled an all-nighter preparing for the move. But with the help of his parents, the Opportunity Scholar and engineering major was able to move in swiftly.
"I'm excited for him," Lili St. Christopher said. "I think he made a good choice with UMSL."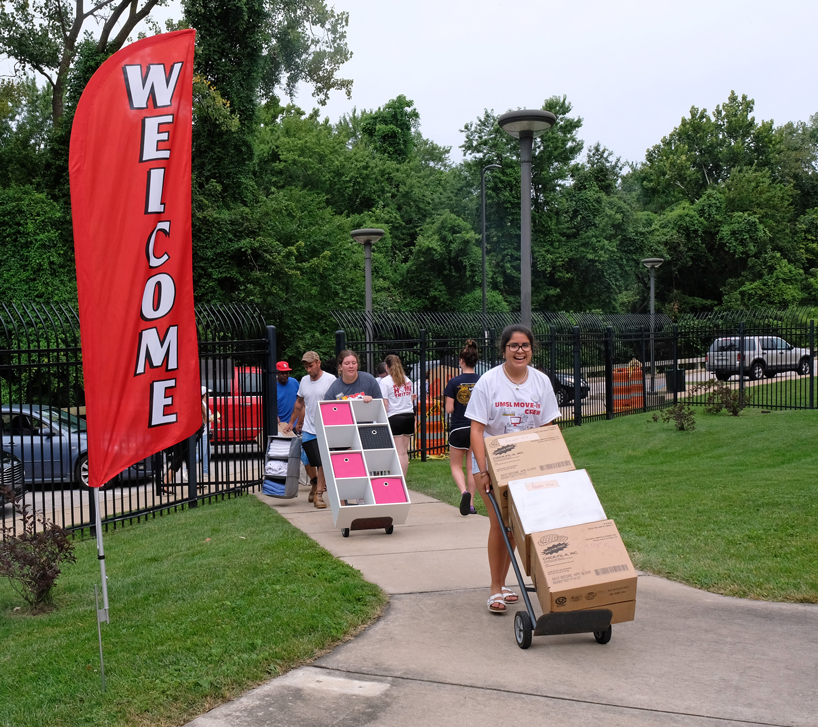 Volunteers met new students and their families curbside Friday and helped them bring items to their rooms.
A group of excited returning students greeted new Tritons with smiles and words of encouragement as they entered Oak Hall. Nursing major Hunter Stroup was among them and encouraged students to dive into campus life.
"I lived in the dorm my freshman year, but I wasn't involved my first semester," she said. "I went out and joined a couple of organizations my second semester, which opened up doors to meet new people and feel more connected on campus. It really makes a difference."
Students will have plenty of opportunities to learn about campus organizations in the coming weeks, particularly through the Fall Involvement Expo from 11 a.m. to 2 p.m. Aug. 28 outside the Thomas Jefferson Library.

Short URL: https://blogs.umsl.edu/news/?p=81565