Hundreds gather to wish Chancellor Tom George and Barbara Harbach well in retirement
Chancellor Tom George and Curators' Distinguished Professor of Music Barbara Harbach will end 16 years at the University of Missouri–St. Louis when they retire at the end of this week.
George will step away as UMSL's longest-tenured chancellor. He has overseen the university as it has conferred more than 45,000 degrees, secured research grants totaling nearly $340 million and received another nearly $350 million in philanthropic support and transformed the campus with six new buildings and the relocation of Express Scripts – now Cigna. He has also been a three-time recipient of the Higher Education Excellence in Diversity Award.
Harbach, a noted composer, has served as the director of the School of Fine and Performing Arts and chair of the Department of Music.
Faculty, staff and administrators as well as alumni and friends from across the region – and beyond – gathered Friday afternoon in the Terrace Lobby of the Blanche M. Touhill Performing Arts Center for a retirement reception to say their goodbyes and acknowledge the lasting impact both George and Harbach have had on UMSL and St. Louis. Campus photographer August Jennewein was on hand to capture some of the scenes.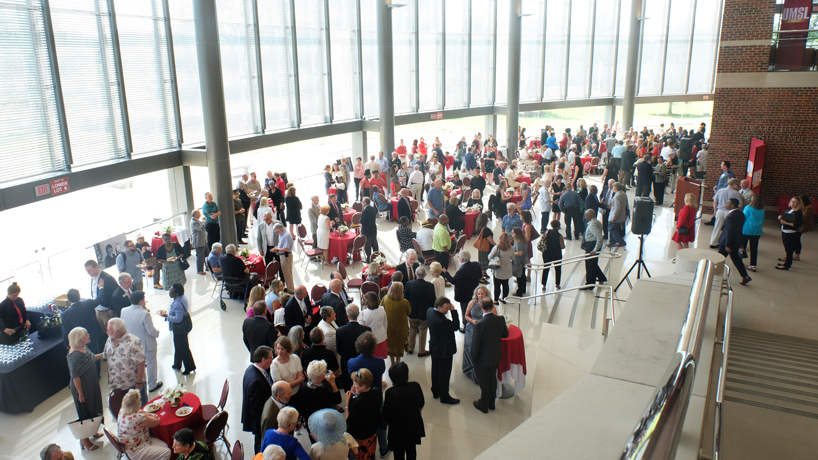 A crowd of about 400 people gathered in the Terrace Lobby for the event, which featured food, drink and music – plus nitro ice cream from Ices Plain & Fancy, courtesy of the American Chemical Society.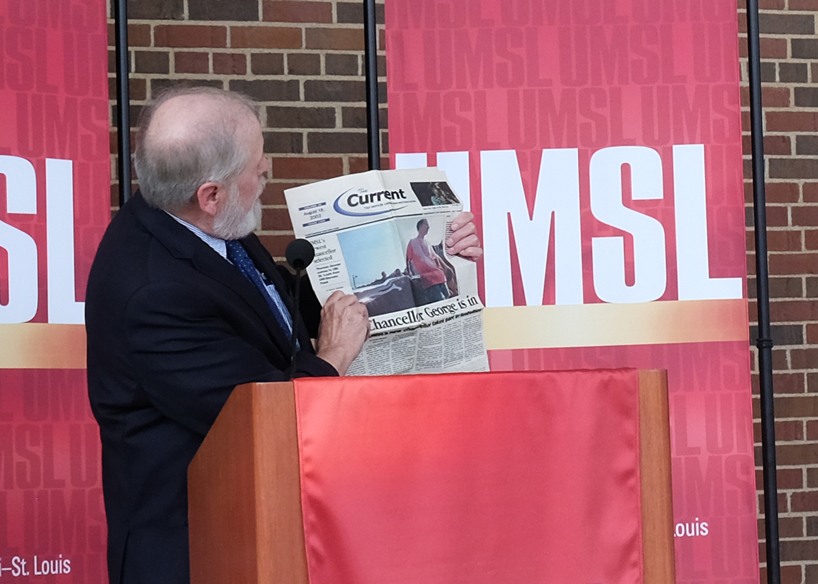 Retired Communication Professor Michael Murray held up a 2003 edition of The Current student newspaper from when George began his tenure as chancellor.
Nancy and Ken Kranzberg, prominent philanthropists is support of the arts in St. Louis, befriended George and Harbach during their time in St. Louis and came to wish them well.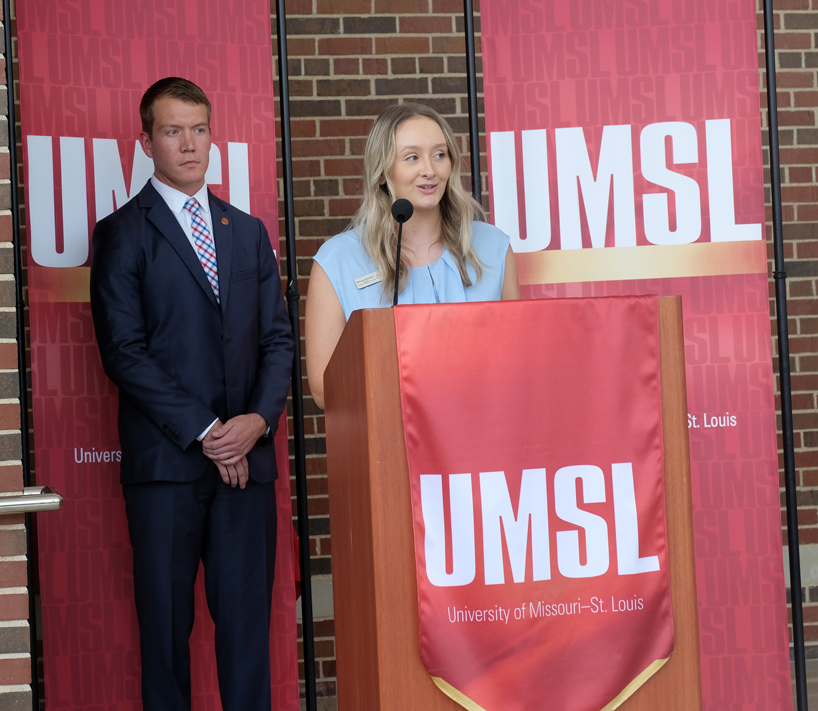 Student Government Association presidents past – Cameron Roark (at left) – and present – McKenzie Schuessler – spoke about the connection George has had with students during his time as chancellor. Schuessler also announced the university's establishment of the Chancellor Thomas F. George Promise and Opportunity Scholarship fund, which will assist future UMSL students in need.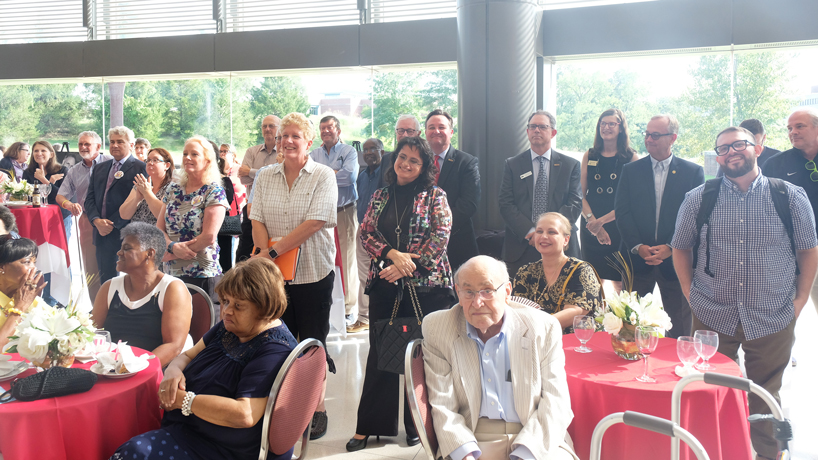 Among the out-of-town guests was Professor Liliana Braescu (standing in the center), who authored a book with George when she was part of the faculty of West University of Timisoara in Romania.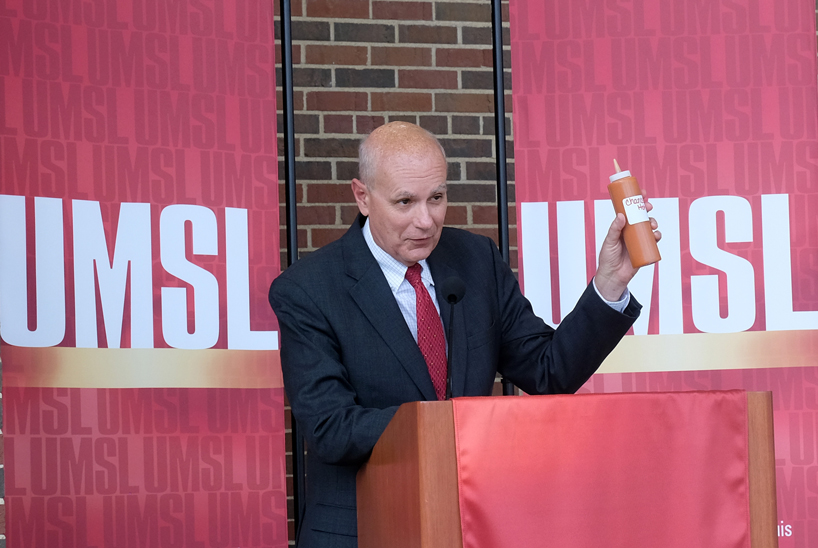 UMSL alumnus Tom Minogue, chairman of Thompson Coburn LLP and a past president of the Chancellor's Council, told the crowd about the warm reception he and other members of the council came to count on whenever they visited George and Harbach's residence. The hospitality included sharing George's secret hot sauce.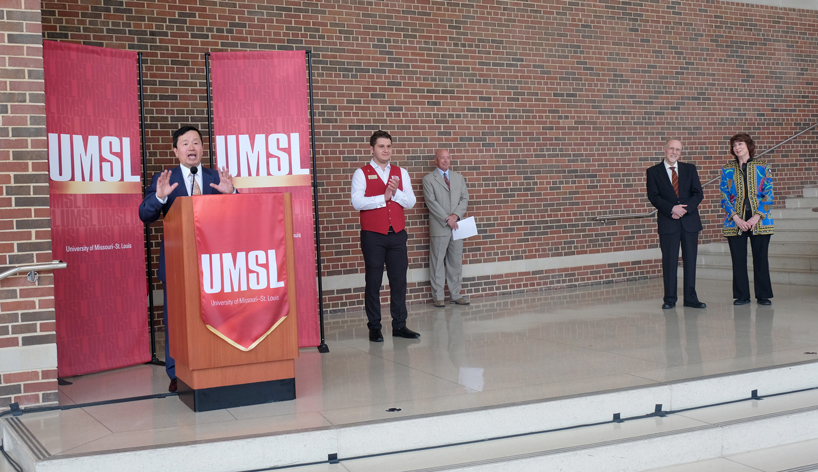 University of Missouri System President Mun Choi spoke of the lasting mark George and Harbach have left on the university. "There is no doubt that you two have been a power couple at UMSL," he said. "Your presence and influence here will be truly missed. Thank you for the work you have put in that has helped transform this institution and move it towards an undoubtedly bright future."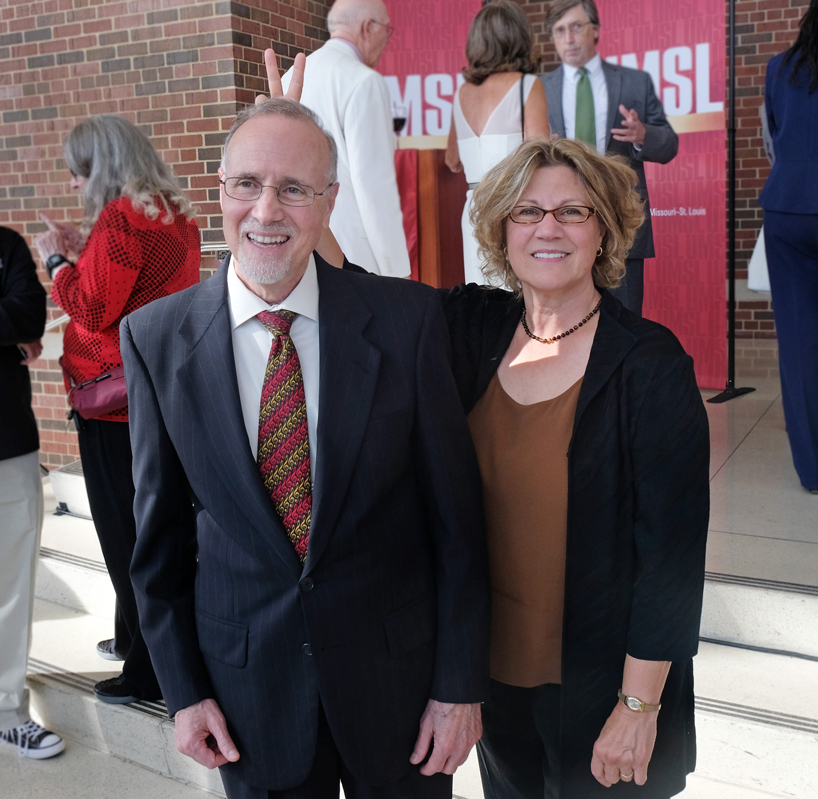 George enjoyed a light moment with his sister, Betty-Ann Lynerd, a retired professor of music at Moody Bible Institute, who was in town from Chicago.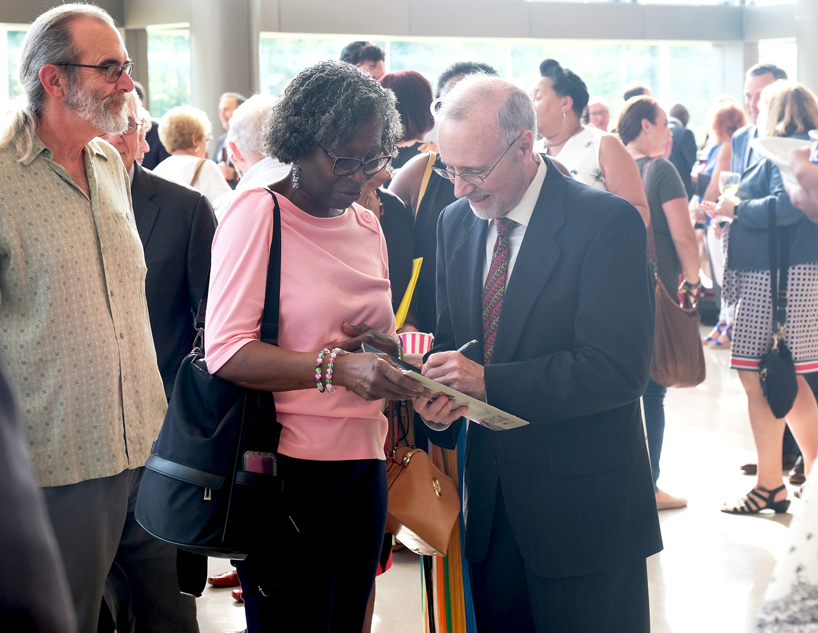 George signed a copy of the spring issue of UMSL Magazine for Cassandra Pinkston, CEO of the Higher Education Consortium of Metropolitan St. Louis. George was featured on the cover of the issue, which included a story about his 16-year tenure and pending retirement.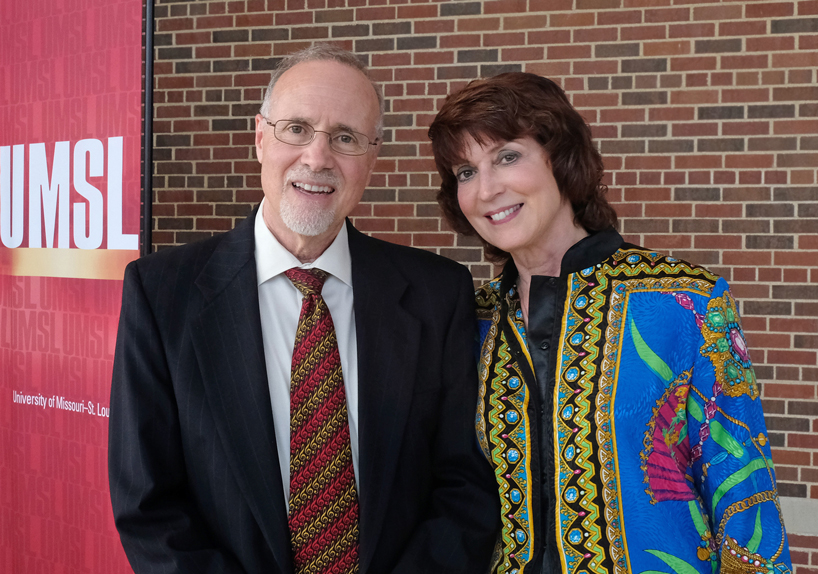 George and Harbach will be retiring to the Southwest.

Short URL: https://blogs.umsl.edu/news/?p=81712