Students celebrate new school year with fun, friendship and food
The first two weeks of the fall semester at the University of Missouri–St. Louis provided ample opportunity for students to get reacquainted and form new friendships with events such as Serendipity Sendoff, the Welcome Back Picnic, Paint-a-Palooza, Food Truck Friday and the Fall Expo. Over the past two weeks, UMSL photographer August Jennewein has crisscrossed campus – and a few parts beyond – documenting all the fun.
Find more of his campus photos from the past two weeks on UMSL's Instagram and Flickr feeds and keep checking back for the sights that catch his eye in the year ahead.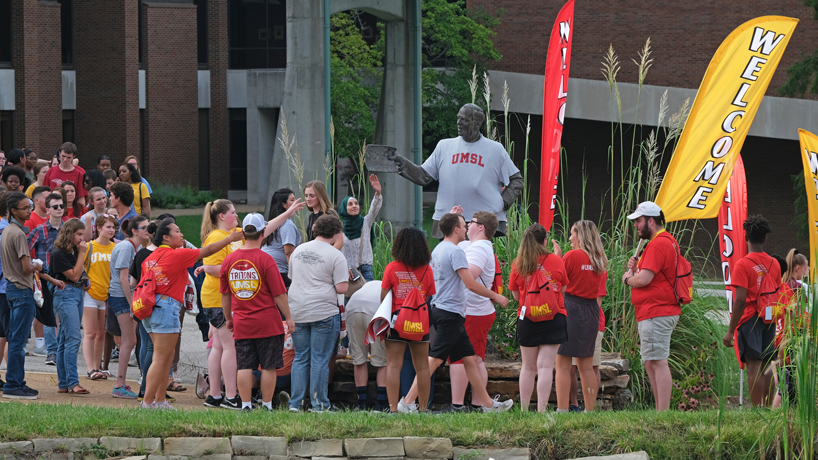 Students gather in front of the Wayne Goode statue on North Campus and rub it for good luck at the conclusion of Serendipity Sendoff.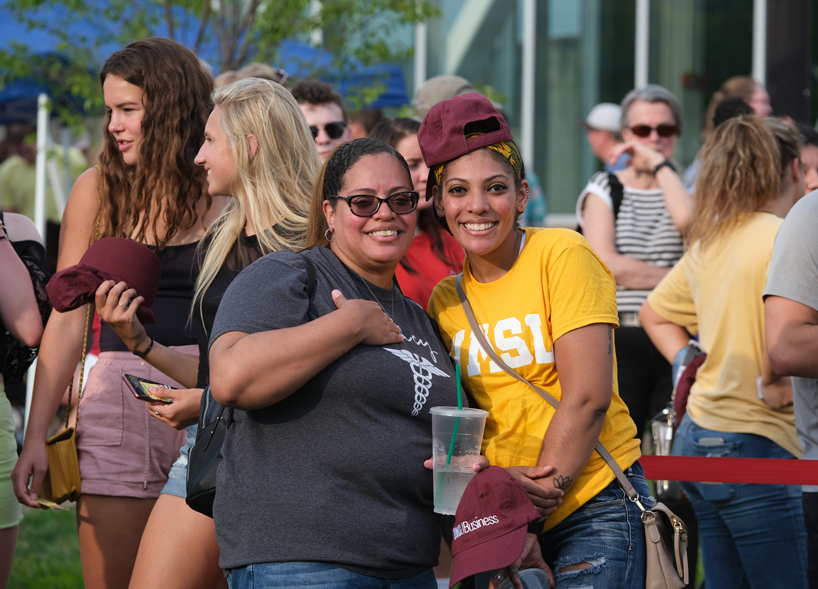 Smiling faces abound as students wait in line for food at the Welcome Back Picnic.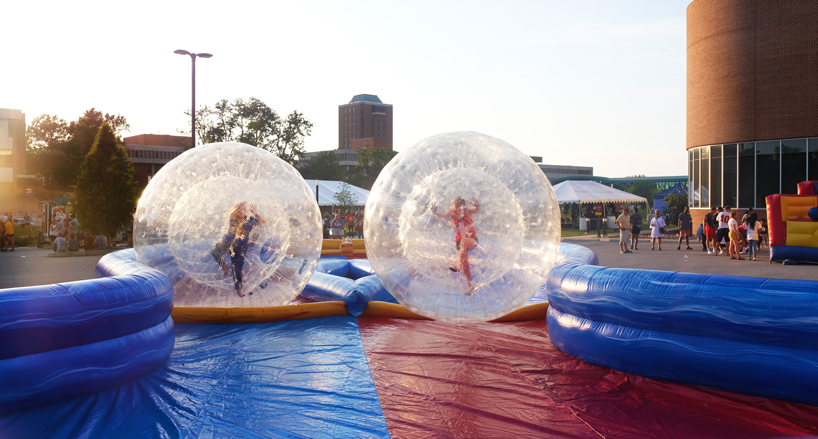 Two students compete in the bubble ball challenge at the Welcome Back Picnic.
Two women wave from in front of the St. Louis Mercantile Library pyramid on the first day of fall classes.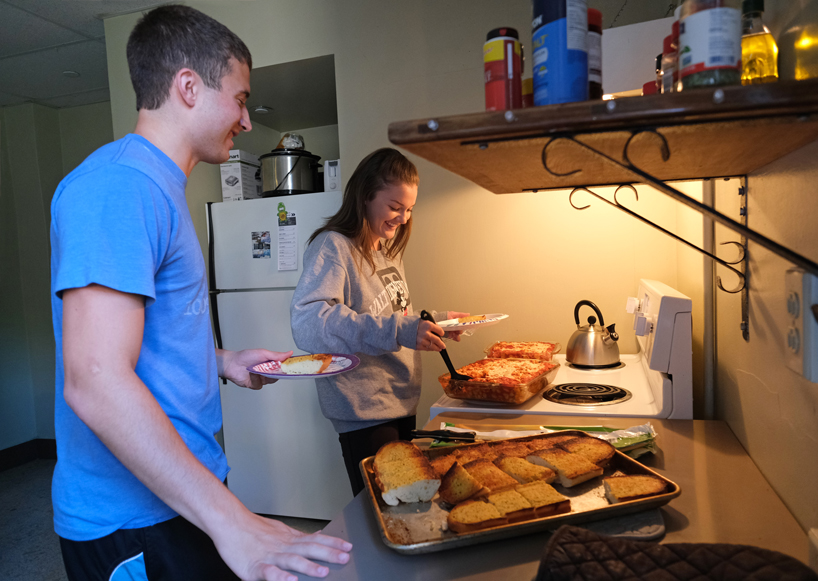 Senior mathematics major Simon Langrehr, at left, and nursing major Madison Koogler dish up dinner one evening at Villa Hall North.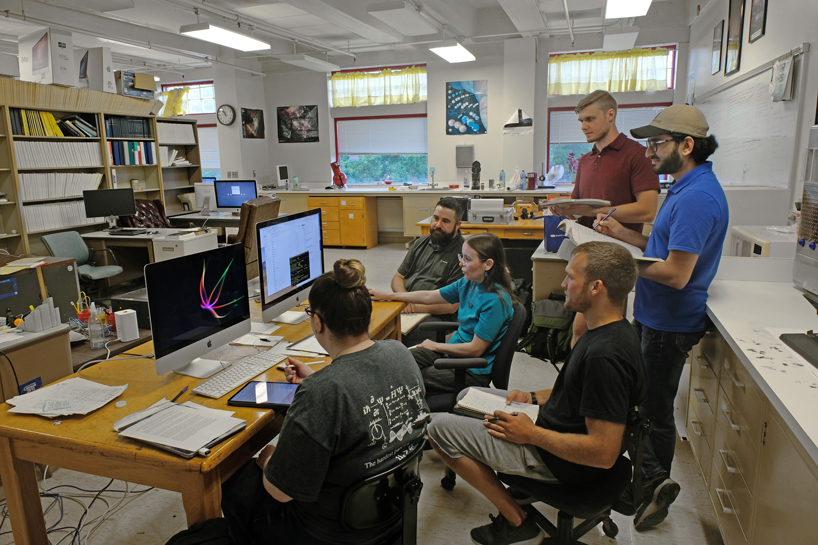 Department of Physics Chair Erika Gibb instructs her students during a class one afternoon in the Research Building.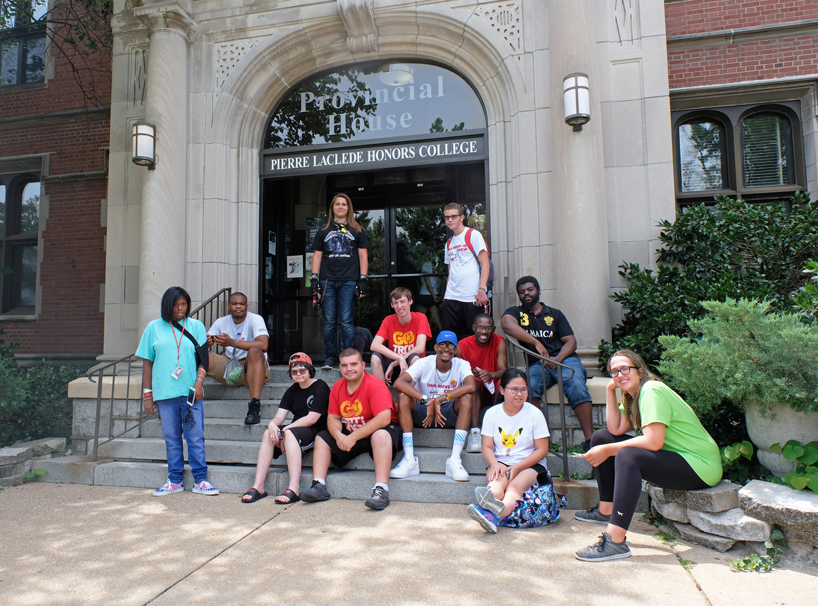 Students in UMSL's SUCCEED Program gather on the steps of the Provincial House on a idyllic afternoon on South Campus.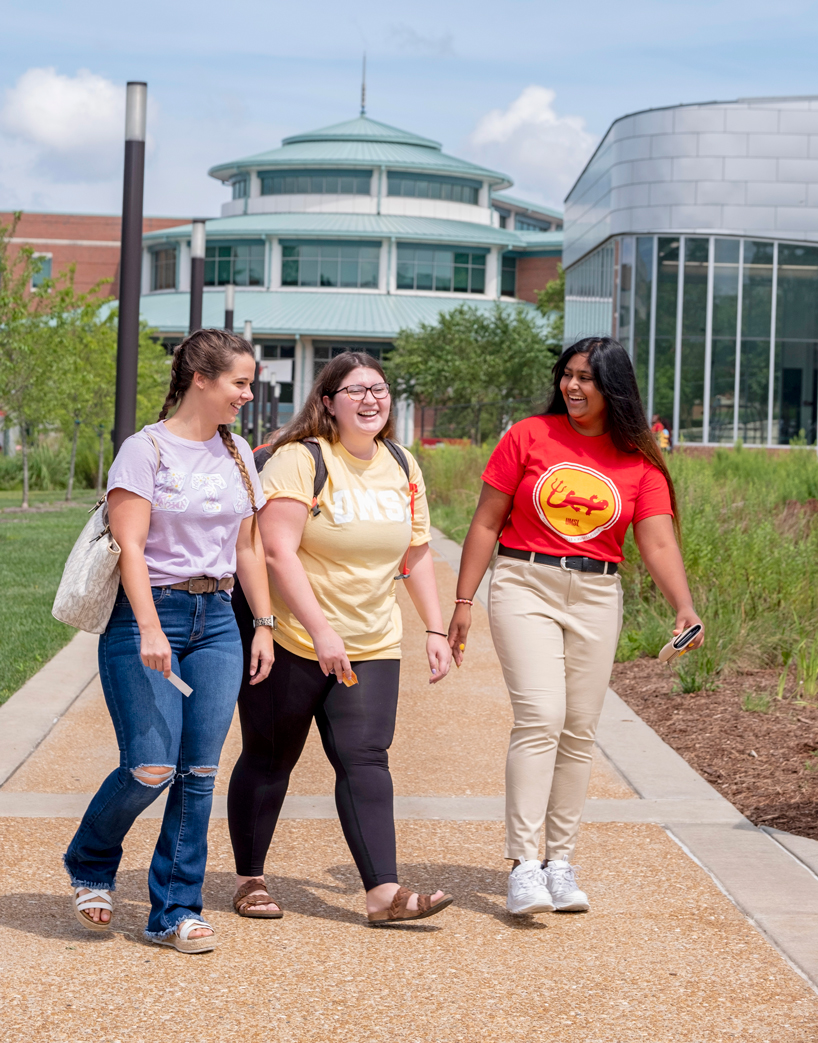 Three friends stroll down the sidewalk outside the Millennium Student Center and Recreation and Wellness Center in between classes.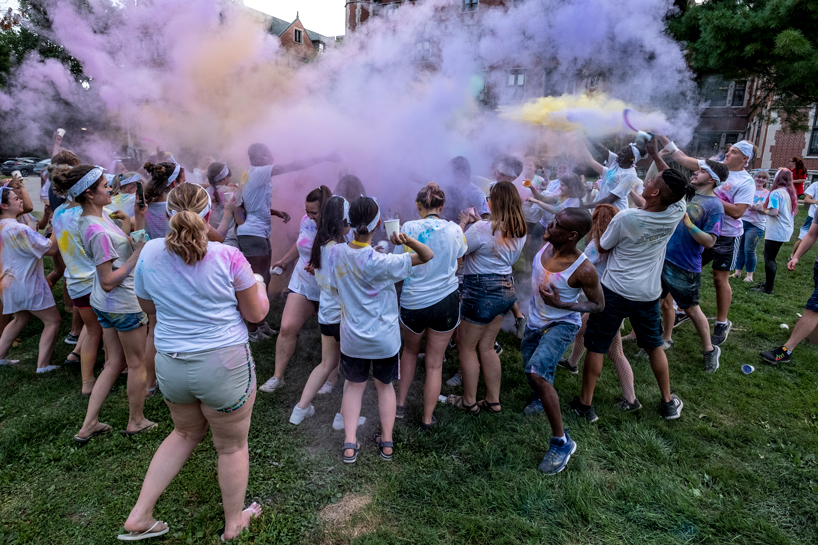 A cloud of color engulfs students as they spray each other during the Pierre Laclede Honors College's annual Paint-a-Palooza.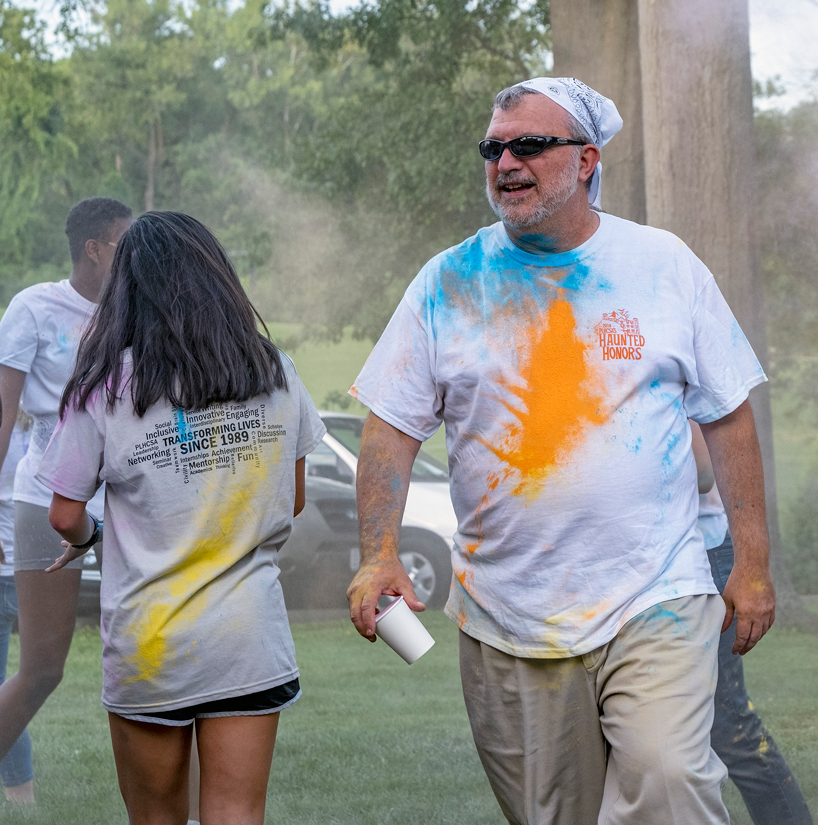 Honors College Dean Edward Munn Sanchez shares in the fun during Paint-a-Palooza.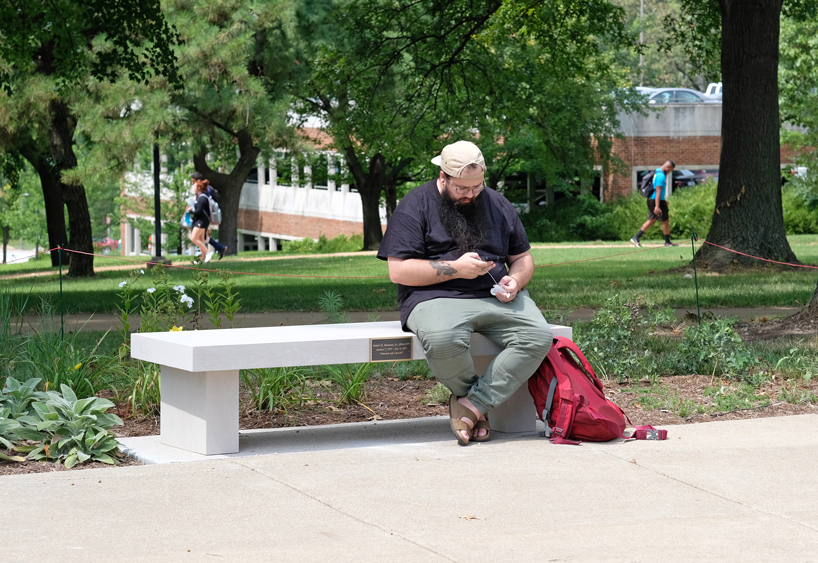 Senior psychology major Samuel J. Huber enjoys a peaceful moment on the newly dedicated Hubert Hoosman Jr. bench on North Campus near Alumni Circle.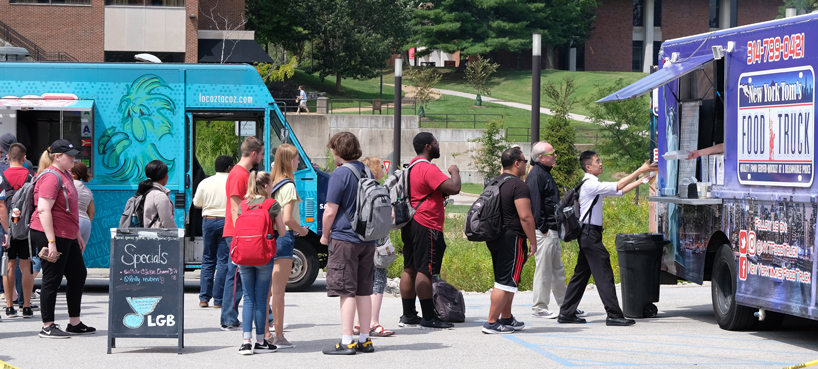 Students line up for a bite to eat during Food Truck Friday outside the Recreation and Wellness Center.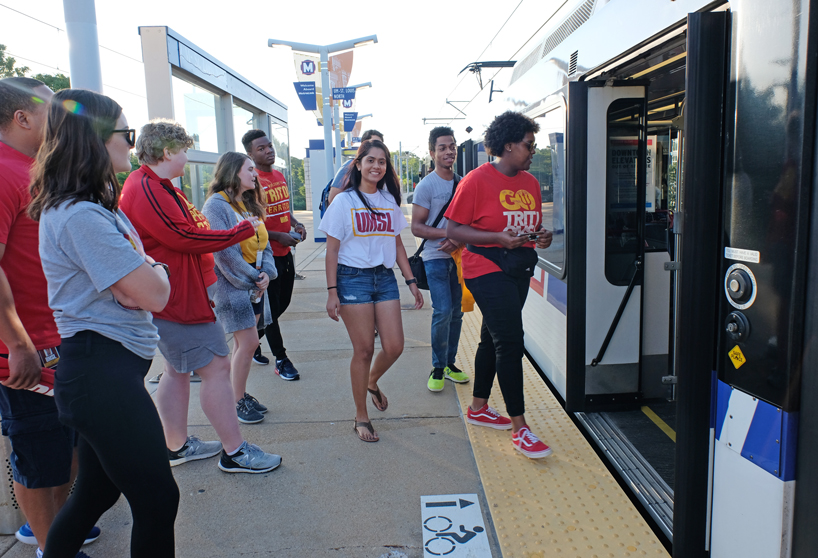 A group of students board an early MetroLink train bound for Grand Station for the College Transit Challenge kickoff event on Aug. 28.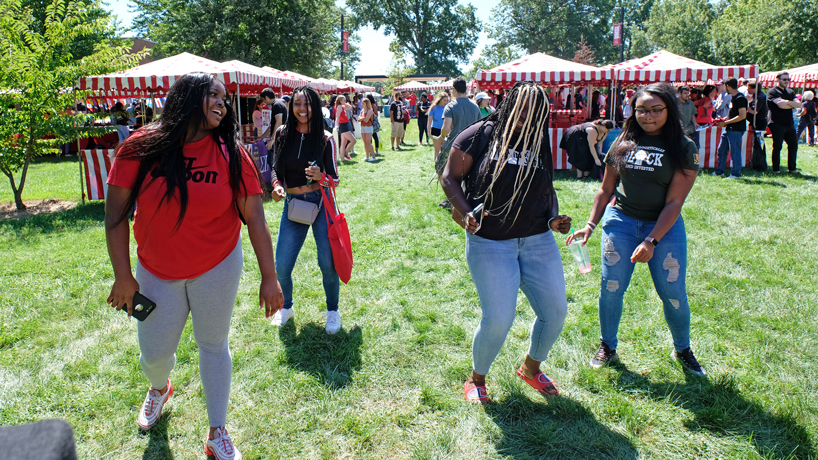 Four students dance to the music at the Fall Expo held on Aug. 28 on the Commons.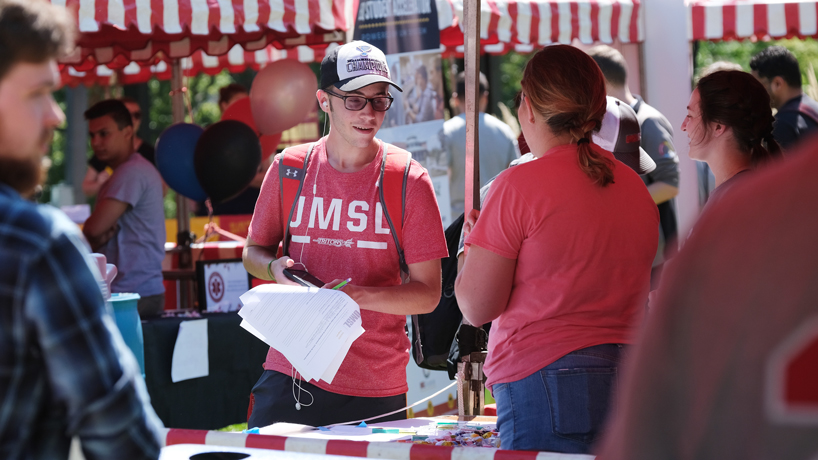 A student stops by one of the booths during Fall Expo.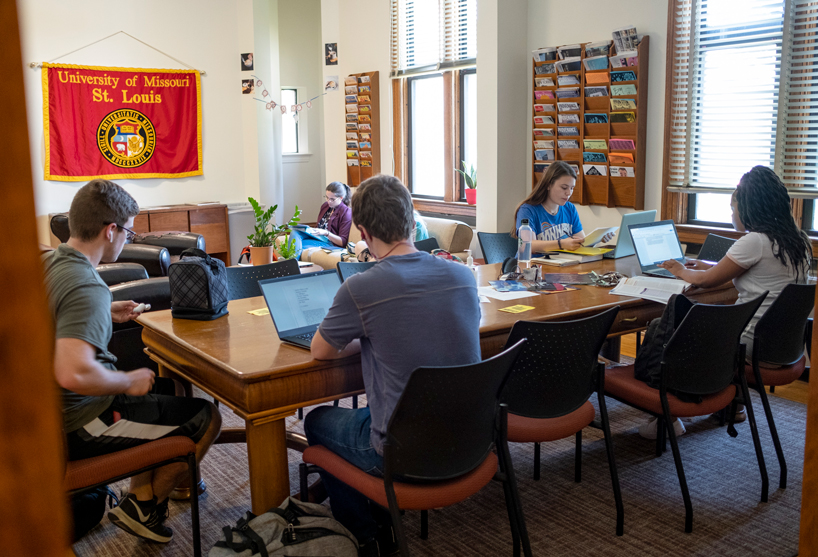 Freshman computer science major Jeremy Dobrzanski (at left) joins fellow students (from left) Maxwell Nieder, Skylar Pinz and Kairah Jones around the table in the commons room at the Pierre Laclede Honors College while Katherin Volandt sits in the distance.

Short URL: https://blogs.umsl.edu/news/?p=81832