EQ Student Accelerator Pitch Competition highlights student entrepreneurship
The audience barely fit in the U.S. Bank Conference Room in Anheuser-Busch Hall on Thursday evening as students presented their business ideas at the University of Missouri–St. Louis' Entrepreneur Quest Student Accelerator Pitch Competition.
Five minutes and a panel of judges stood between 15 UMSL entrepreneurs and the next step toward making their startup a reality.
Advancing through this round meant admission to an eight-week cohort designed to help the students launch their businesses. They'll show their work at a demo day in March, where the top three winners will be awarded $15,000, $10,000 and $5,000, respectively. Above all is the chance to connect with CEOs, startup founders and other mentors.
Ideas ranged from online retail to food to outdoor gear. Majors were just as varied, including a biology student pitching bedding solutions and an English student pitching an online secondhand clothing business.
It's all part of UMSL Accelerate, created to inspire entrepreneurs at UMSL by providing students with coursework, internship and mentorship opportunities and community collaboration.
For Mark Melville, entrepreneurship is about solving problems. His company, Spiked Outdoors, offers drink holders that stick in the ground, making it easy to secure a can or bottle. This helps consumers avoid spilling beverages while attending outdoor events or playing lawn games.
The idea was sparked by a TIKI torch in his yard. It's designed to hold any size can or bottle, is adjustable up or down and is customizable with different colors, patterns and logos. Currently, he's created four fully functioning prototypes, one of which he demonstrated for the judges.
"I'm very passionate about this," Melville said. "It's a lot of fun. I just love creating things. In this program, I want to research more, go out and test the market, find out what to change."
For other students, entrepreneurship presents an opportunity to make a difference in the St. Louis community.
Anna Jarmon's company is one of those. Bottomless Faith would give women facing breast cancer access to resources and information they may not otherwise have.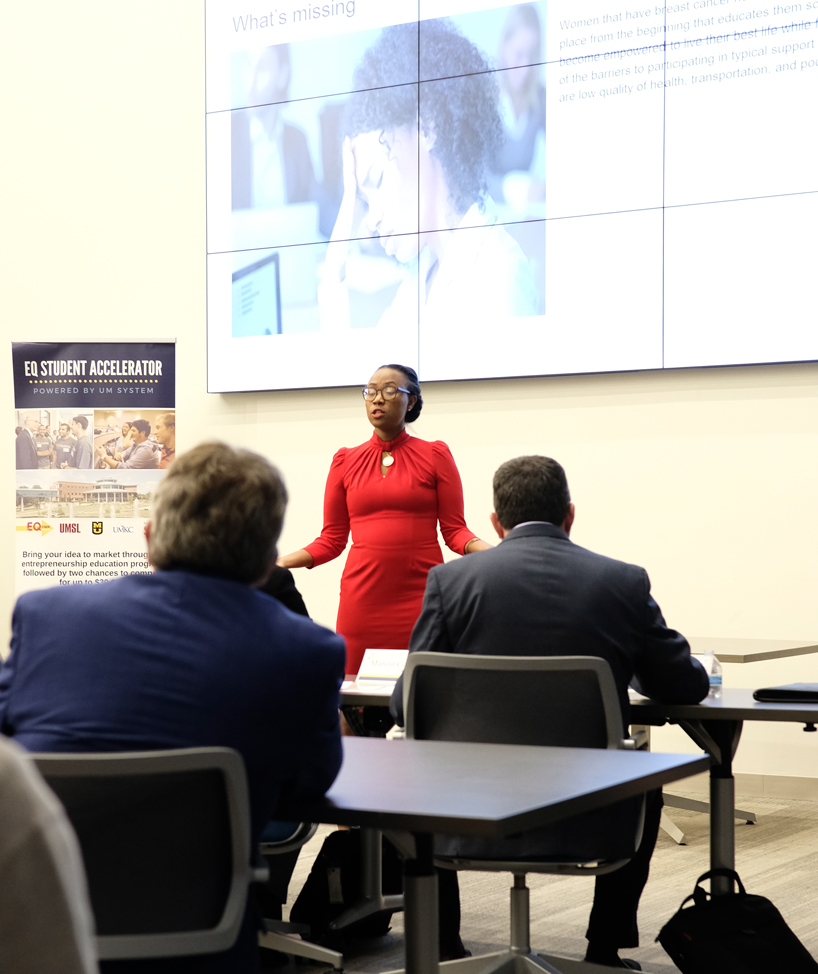 "My mission is to empower them by educating them and connecting them with resources in the community when they get the diagnosis," she said. "My company would put you in a position where you're working with someone to help you get to your end game so you can focus on that mission of surviving breast cancer. You are equipped and empowered to advocate for yourself."
As a breast cancer survivor, Jarmon is especially passionate about her business and understands cancer patients' needs firsthand.
"I didn't know how I was going to live, but I knew that I was going to live," she said of her illness. "My dream was graduation. It pulled me up out of the bed."
Nine other entrepreneurs will join Melville and Jarmon in this year's cohort.
Emily Hass with Plan-to-Plate, a meal-planning app that combines recipes and cost savings
Destini Clark with Tresses Beauty Wonders, an interactive museum designed to educate the public and train beauticians on how to create ethnic hairstyles
Adrianna Gensler with Better Bed Innovations, a twist on a Murphy bed that can fit up to three people and be configured six different ways
Rami Awawda with Hades, a nutritional supplement designed to increase energy levels and decrease post-workout soreness
Epharra Mendoza with STEM Scout Sprouts, an online app designed to inspire and educate young girls on subjects related to science, technology, engineering and math
Brian Trull with PokeNerds, an online community for purchasing Pokemon cards and memorabilia
Emily Delgado with Thin Thrift, an online and pop-up secondhand clothing business
Keven Gilbert with Red Tail Supply Co., specializing in comfortable and functional outdoor backpacks
Terri Brown with Blossom Swim, an online business offering luxury swimwear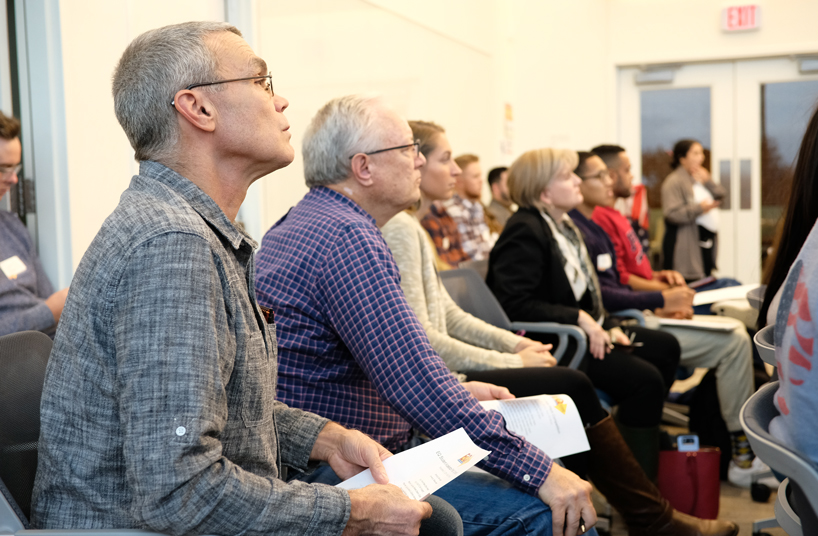 Gilbert won the people's choice award based on votes from members of the audience. He was rewarded with $250 to go toward his business.
"This is a great opportunity to try entrepreneurship in a safe environment," said Tamas Javor, director of UMSL Accelerate. "There's never been a better time to be an entrepreneur at UMSL than now."
Following the eight-week cohort, the 11 students selected will present at the demo day. The top three will then advance to a final pitch competition against other entrepreneurs throughout the UM system.

Short URL: https://blogs.umsl.edu/news/?p=82995