College of Optometry brings Christmas to south city charter school
A collective gasp rang through the Carondelet Leadership Academy gymnasium last Friday when third-grade teacher Lauren Waltz announced that everyone would be getting their pictures taken with Santa. Each class, she quickly clarified above the rising clamor, not each person. Still, merriment remained high.
St. Nick – better known around the University of Missouri–St. Louis campus as Nick Palisch, College of Optometry director of student and alumni services – was at the south city charter school for a special Christmas mission dreamed up and organized by first-year optometry student Shelby Griggs.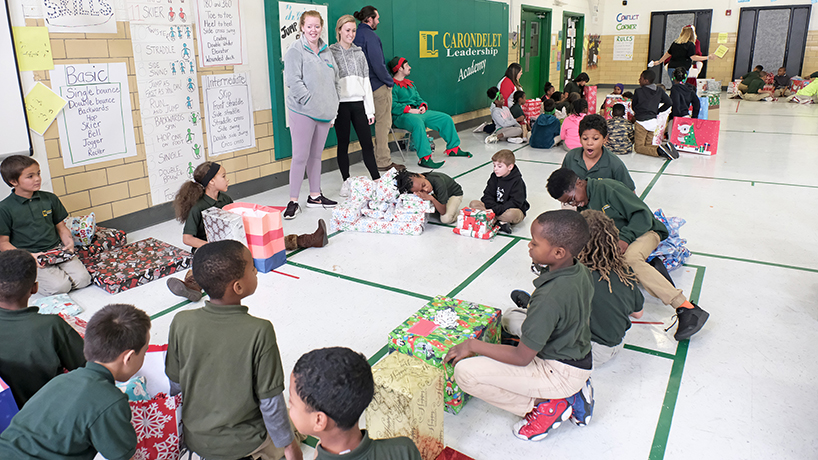 Griggs generally tries to do something charitable around the holidays.
"I do something small every year," she said. "I always feel if I'm going to have a great Christmas, I want to make sure someone else has an even better Christmas because Christmas is best when you're a kid."
Earlier this year, she approached Palisch with the idea of the College of Optometry adopting a single family for holiday gift giving. He connected her with Waltz, whose husband, Aric, is a current optometry student.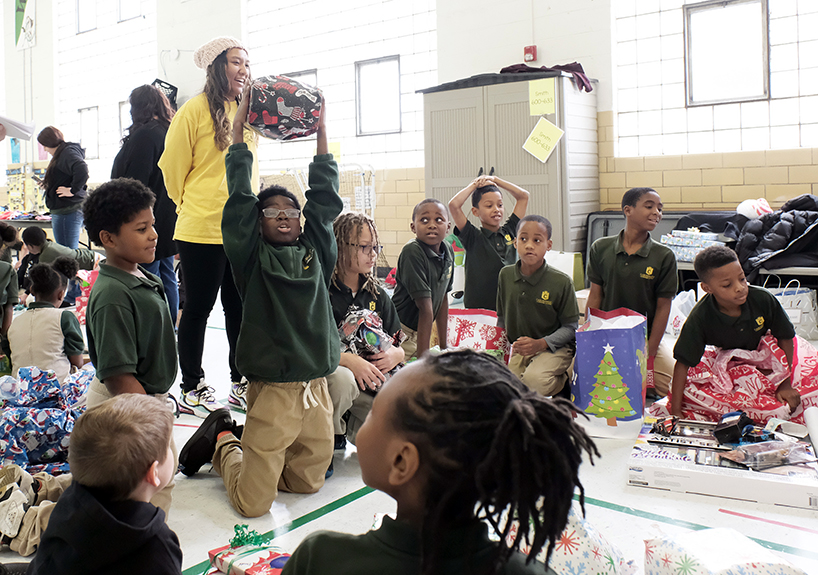 Waltz asked Griggs how many students the College of Optometry was interested in adopting. One class? Two? Before long Griggs found herself agreeing to take on gift giving for the entire third and fourth grade classes – 96 students in total.
"I was like, 'OK, well, if we add up the three classes of optometry students that are in school right now, it's about 140 students,'" Griggs remembers thinking. "I assumed most of them would want to help out with this. 'OK, that's a great idea. Let's go for it.'"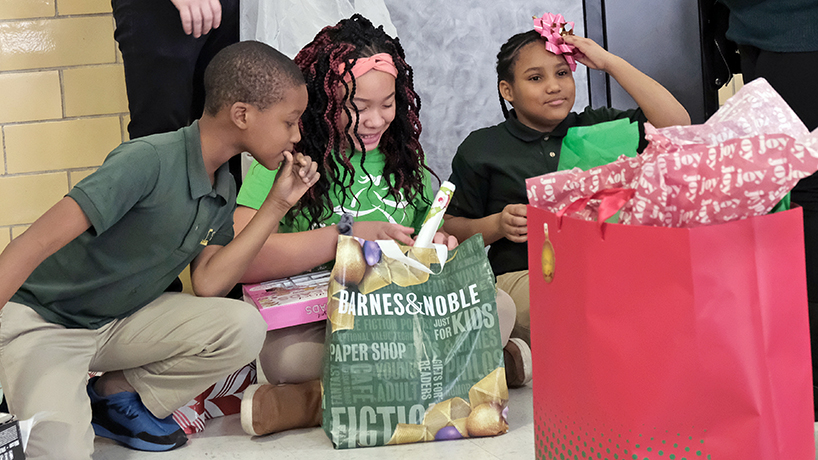 Griggs got to organizing. She had all the students fill out forms with their shoe and coat sizes, gift wish lists and favorite treats. Then she paired each CLA student with an optometry student, faculty or staff member and set a $30 gift limit so that everyone who wanted to could afford to take part.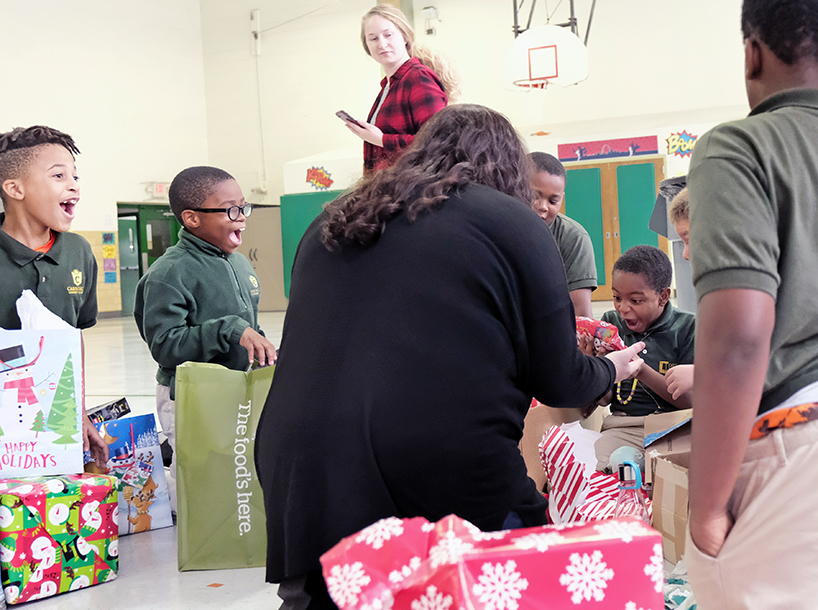 Reading through the CLA students' requests turned out to be an emotional journey for Griggs. There were the normal kid requests such as drawing sets, slime, sports or Avengers gear and school supplies. But other asks tugged at Griggs' heartstrings.
"When I got the lists back from them, it was right after our second midterms week," she said. "I was pretty much in a bad mental state, so I read through these lists and some of them had like, bath towels and kids clothes for my brother."
That's something that Waltz noticed as well.
"One of the things that popped out to me that was a lot of our kids asked for basic needs stuff," she said. "There were a few toys in there, but a lot of them were kitchen stuff or clothes, so that was memorable. They have asked about it every day since they found out about it. They are beyond excited to get to get these because some of them don't get to experience a full-blown holiday."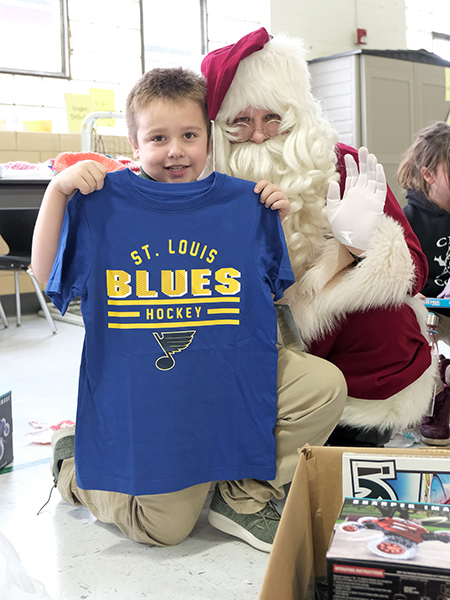 That energy raised to a fever pitch as Waltz and her fellow CLA teachers separated their pupils into classes and first year students Jacob Travis, Caleb Warren, Shelby Griggs, Mallory Mathis, Samantha Butcher, Madison Kaempfe, Madison Howard, Joshua Carli, Aaron Cheng and Matthew Hockett; student support specialist Ryan Molitor; and Palisch began passing out the gifts. The CLA students waited – somewhat patiently – until everyone had received their presents and then began opening one by one.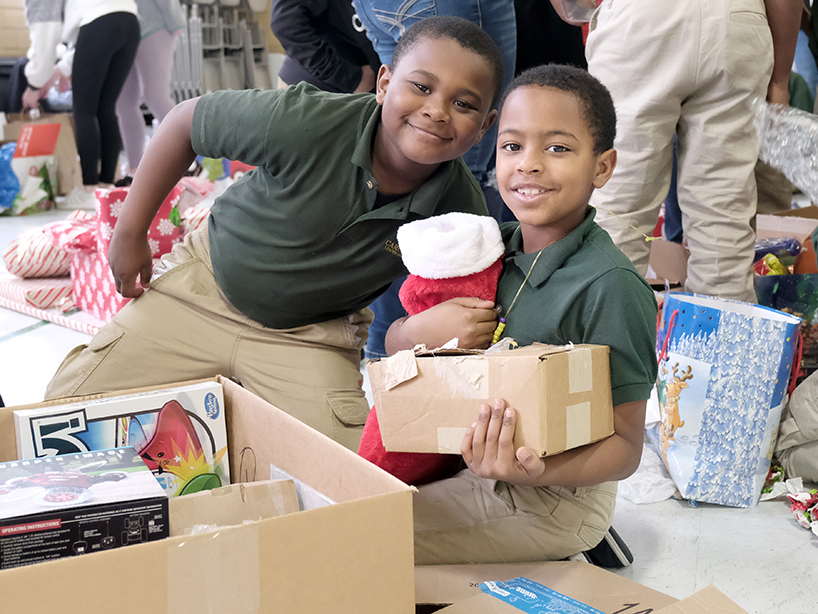 Just as many jubilant looks and exclamations filled the room as the CLA students watched their friends and classmates unwrap gifts as when it was each of their turns.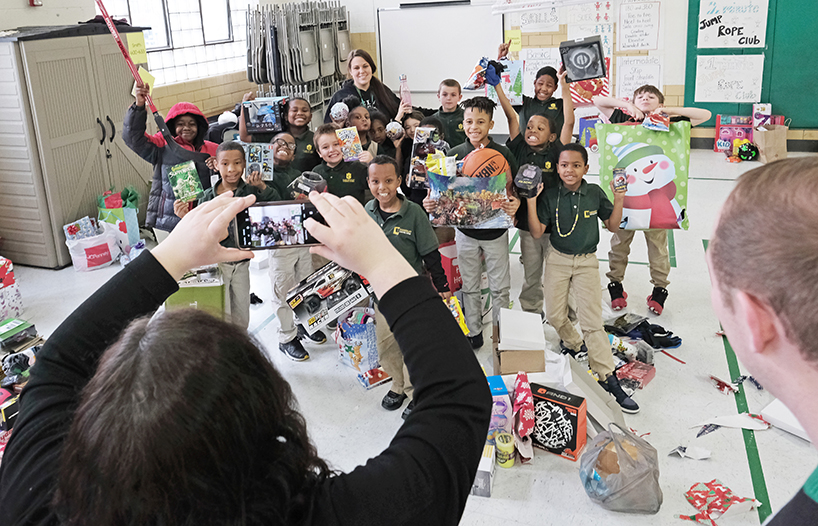 Griggs snaps a shot of one class happily showcasing their haul. The College of Optometry hopes to make this giving an annual college tradition.  That's something Waltz would like as well.
"The College of Optometry has a special place in my heart because of my husband," Waltz said. "They've always been such a good family and support system, and I'm just so glad and so thankful that they chose our kids because they are so deserving."
Waltz (far left) with Molitor (red stripes in back) and Travis (from left), Warren, Griggs, Mathis, Butcher, Kaempfe, Howard, Carli, Cheng, Hockett and Palisch (Santa) helped bring an early Christmas celebration to the 96 third and fourth graders last Friday.

Short URL: https://blogs.umsl.edu/news/?p=83405