Cheers to 2019: A look back at the year that was in UMSL Daily
The past year has been one of transition at the University of Missouri–St. Louis, with no bigger change than in campus leadership with Tom George retiring after 16 years as chancellor.
But the transformational mission of the university has continued, now under the leadership of Interim Chancellor and Provost Kristin Sobolik.
That mission is reflected in each of the following stories. They are a snapshot of the 466 articles published in UMSL Daily during 2019 that highlight the efforts and achievements of students, alumni, faculty and staff. Combined they show the university's impact on the lives of individual students and on the community.
The work continues in 2020.
All photos are by campus photographer August Jennewein unless otherwise noted.
January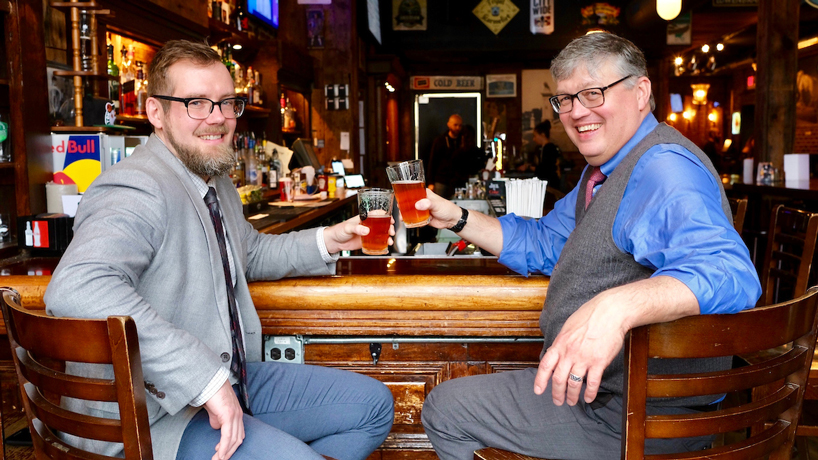 Philosophy Professors Jon McGinnis and Billy Dunaway won a nearly $1 million grant from the John Templeton Foundation to examine the writings of medieval Islamic thinkers for answers to questions of contemporary philosophy of religion.
February
Sarah Cole, who earned her BS in media studies from UMSL in 2008, served as the "hub" of the editorial department for "Spider-Man: Into the Spider-Verse," which earned more than $350 million at the worldwide box office and won the Academy Award for Best Animated Feature.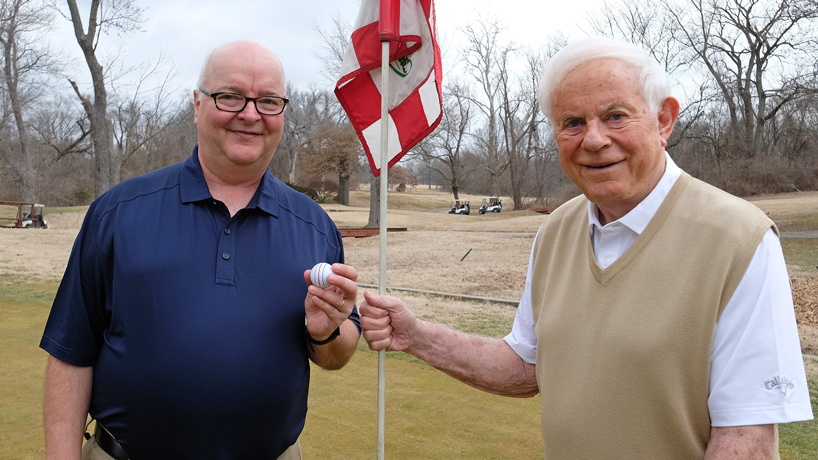 Local entrepreneur Ray Barrett, right, solicited the help of UMSL College of Optemetry Professor and Director of Research Carl Bassi to test the idea that would become his Triple Track golf ball. Bassi and his UMSL colleagues were able to show Barrett's invention increased putting accuracy by nearly 12 percent from 10 feet out. Callaway has since licensed the design for use on some of its golf balls.
March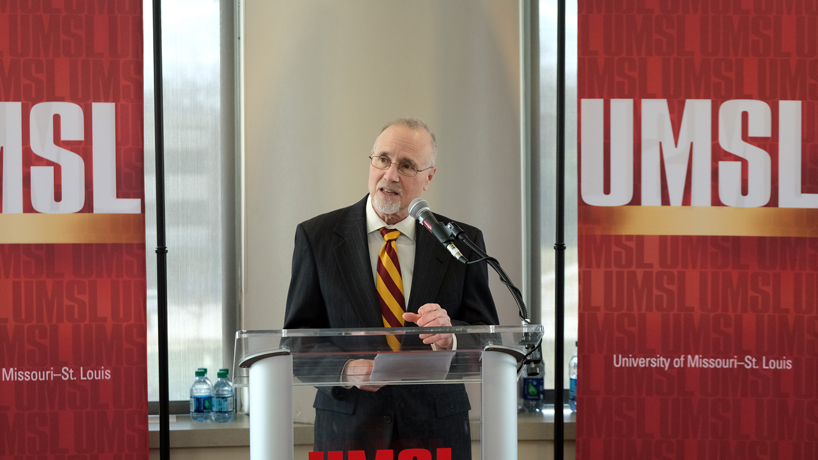 George oversaw the physical transformation of the UMSL campus during his 16 years as chancellor, helping the university grow as an engine for research and expand its global reach. He focused on the university's core mission to educate the workforce of the St. Louis region. George announced his retirement on March 21.
April
A group of 20 students took part in the inaugural Civil Rights Tour over spring break. It was a three-day, 10-site crash course through Memphis, Birmingham, Selma and Montgomery that allowed participants to study the history of some of the most impactful moments of the 20th century and think about how their repercussions are still being felt today.
A witty sense of humor and a longtime love of basketball have made 2008 College of Business Administration alumnus and former Office of Admissions representative John Nichols – or rather his online alter ego, LaJethro Jenkins – a known social media personality among NBA fans. His hot takes on games, athletes and life in general have attracted an audience on Twitter that now stands at 31,000.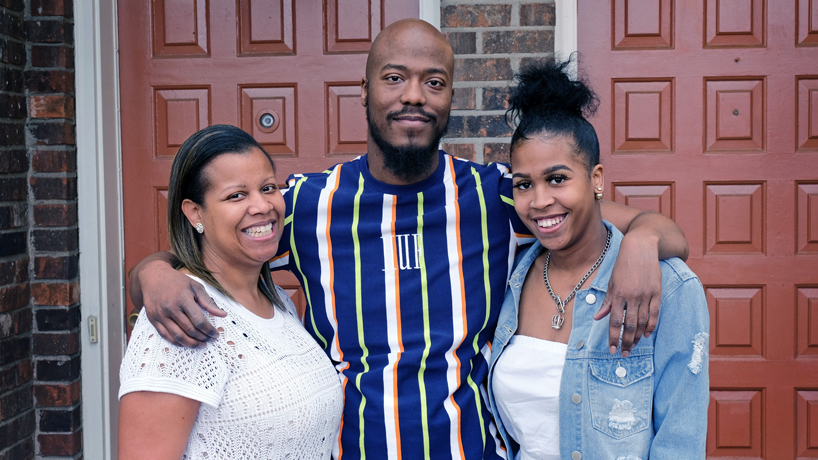 Jennifer Simms (left), who holds a BSBA and PhD from UMSL and has worked in the university's IT department for 20 years, has always served as an example of perseverance and sacrifice for her children Chris Spearman (center) and Christian Simms. Those lessons hit home as Chris fought kidney disease and Christian donated her kidney to lift Chris out of end-stage renal failure in 2016.
May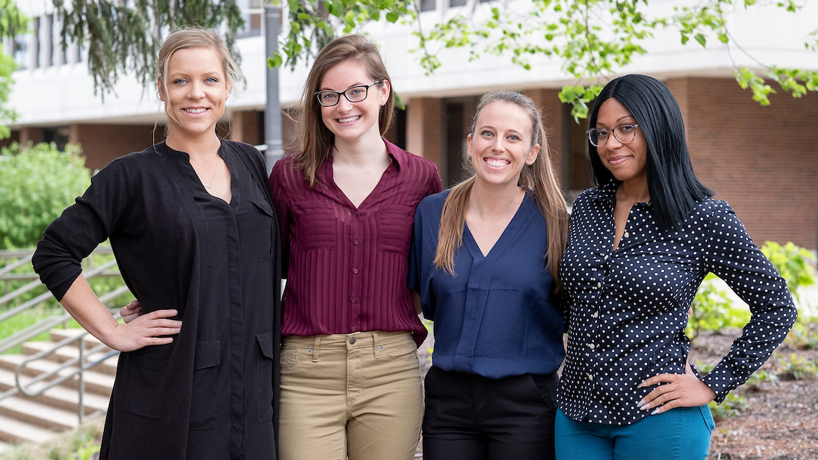 Criminology and Criminal Justice PhD students (from left) Kristina Thompson Garrity, Jennifer O'Neill, Paige Vaughn, Cherrell Green and Jennifer Gerlomes Medel (not pictured) all received national recognition for scholarly work.
Madison Bick graduated summa cum laude with a degree in nursing last spring and headed to Nashville, Tennessee, to continue her education in the Vanderbilt University School of Nursing Nurse-Midwifery/Family Nurse Practitioner program, which U.S. News & World Report rates as top ten in the United States.
June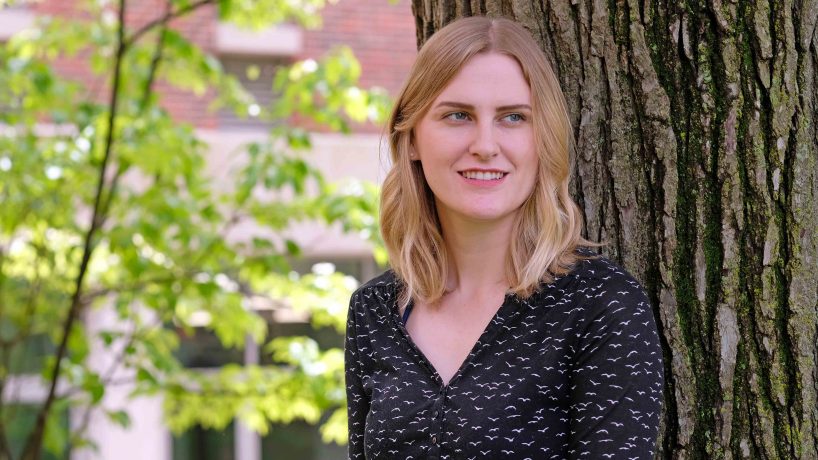 Biology doctoral candidate Sage Rohrer was among approximately 1,500 graduate students chosen to receive a prestigious National Science Foundation Graduate Research Fellowship. The fellowship will support her research of Galápagos penguins.
College of Education alumna Melanie Adams was named director of the Anacostia Community Museum in Washington, D.C., one of the 19 museums in the prestigious Smithsonian network after spending the past three years as deputy director of learning initiatives at the Minnesota Historical Society.
July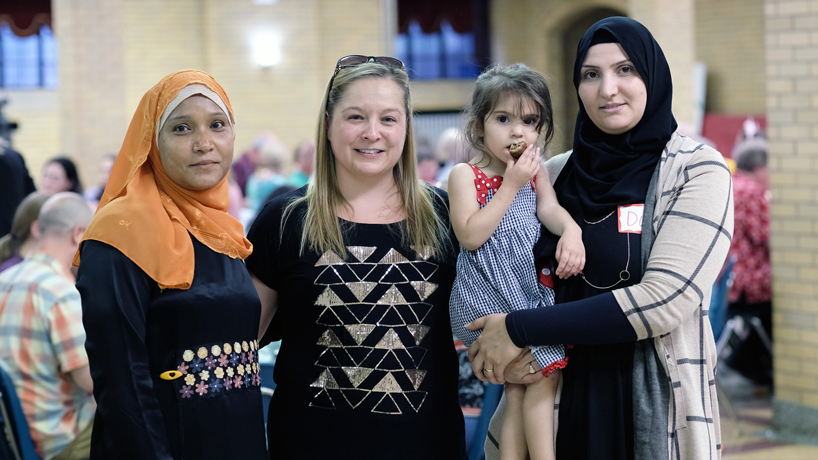 College of Business Administration alumna Jessica Bueler (second from left) founded the nonprofit Welcome Neighbor STL in 2016 to improve the lives of refugees settling in St. Louis. She's helped 30 women, including Badur Mohmaed (at left) and Duaa Alzatari (at right) earn meaningful incomes through the organization's frequent supper club events.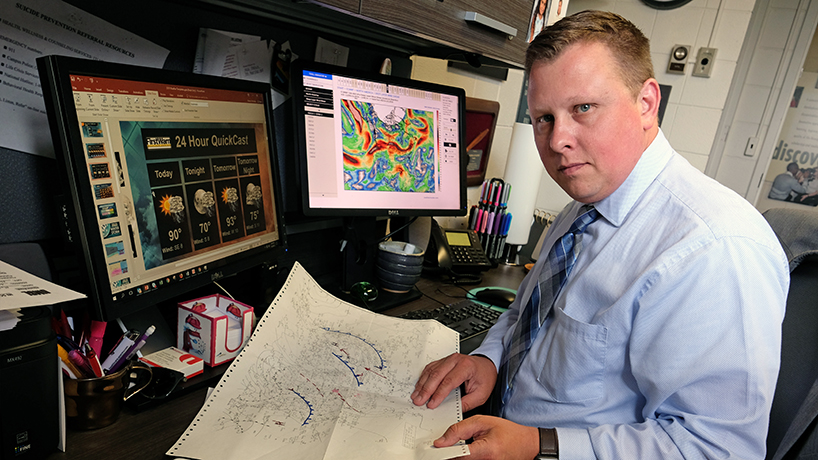 Nick Palisch, a seven-year UMSL employee, oversees admissions, recruitment and student services for the College of Optometry. He's become an optometry everyman, just as likely to be overseeing event planning or reassuring worried students as setting up tables and talking UMSL. But his first passion was meteorology, and he wakes at 4:30 a.m. daily to put together a forecast for community newspapers and his Facebook page, Firstwarn Weather.
Alumnus Nate Oatis founded a nonprofit after-school program – the Excelsior Program – aimed at using mixed martial arts as a platform to teach meditation and mindfulness and instill resiliency in at-risk middle and high school students whose lives too often are filled with trauma. Oatis earned his bachelor's degree with a double major in anthropology and economics in May.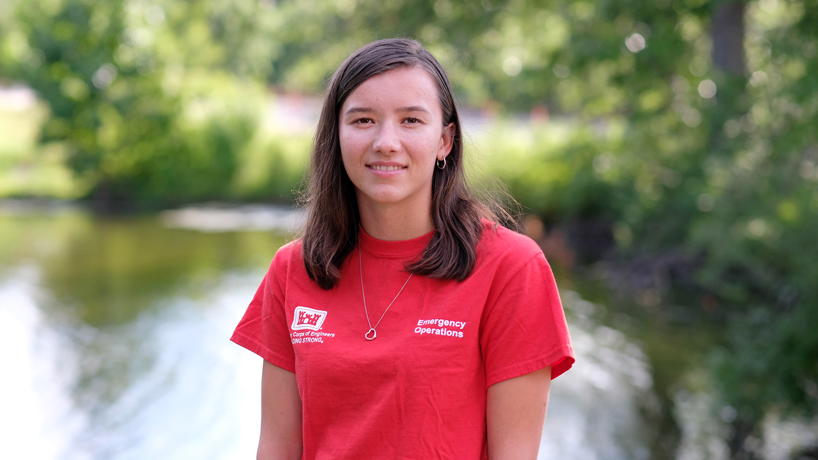 Kelly Sextro was one of several UMSL/WUSTL Joint Undergraduate Engineering Program students who helped fight near-historic flooding last summer with the U.S. Army Corps of Engineers. As a geotechnical student intern, she was been busy helping maintain levees due to the high water levels.
August
In Jim Widner's last act before retiring from a 16-year career as director of jazz studies at UMSL was to lead the UMSL Jazz Ensemble on its first European Tour. The group played the Vienne Jazz festival on July 11, opened the Umbria Jazz Festival on July 12 and finished its tour on July 15 at the Big Band Festival in Ronciglione, a small town outside Rome.
September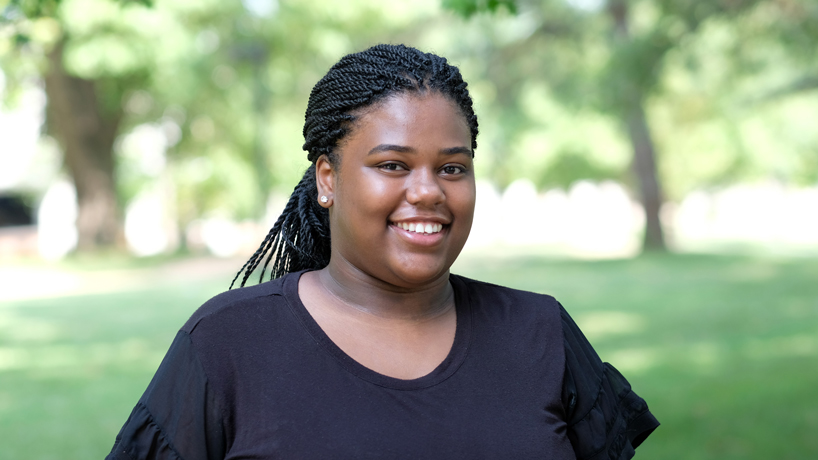 In just two years, senior liberal studies major Alexis Bates has become a seasoned international traveler thanks to her participation in four UMSL study abroad programs. Between the summers of 2017 and 2019, she journeyed to Belgium, China, France, the Netherlands and the United Arab Emirates.
October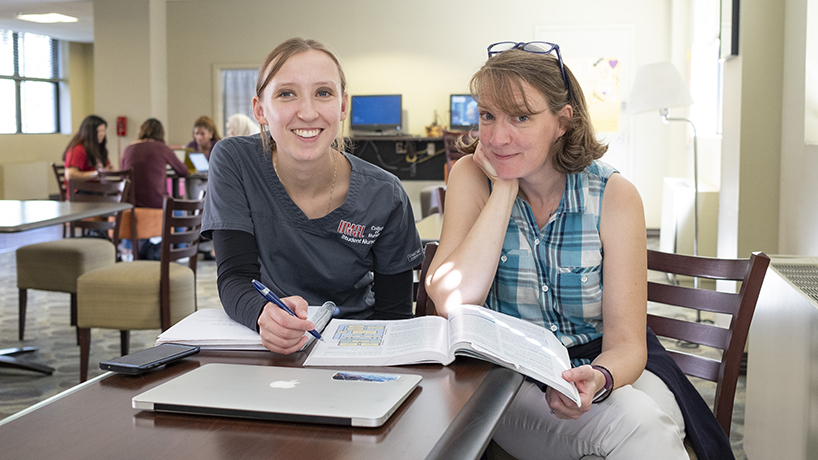 Mother and daughter Kristen and Clare Vogt were working on their BSN degrees simultaneously. Clare completed the traditional program and graduated in December, and Kristen is two semesters into the 15-month accelerated program. Though their paths to UMSL diverge widely from one another, both have carved out new passions and aspirations thanks to their educations.
November
Alumna Ameena Zia worked on policy for then-St. Louis County Executive Charlie Dooley as the youngest-ever appointee to the St. Louis County Executive Cabinet while pursuing her PhD in political science. She now lives on the East Coast, where she serves as a U.N. representative to the Economic and Social Council Civil Society Network.
December
Infrared technology helped Anne Austin, assistant professor of anthropology, identify numerous tattoos on seven mummified bodies at Deir el-Medina, an Egyptian archaeological site. According to her findings, the mummies date back at least 3,000 years. The discovery drew attention from numerous media outlets nationally and internationally.

Short URL: https://blogs.umsl.edu/news/?p=83404