Media Coverage: January 2020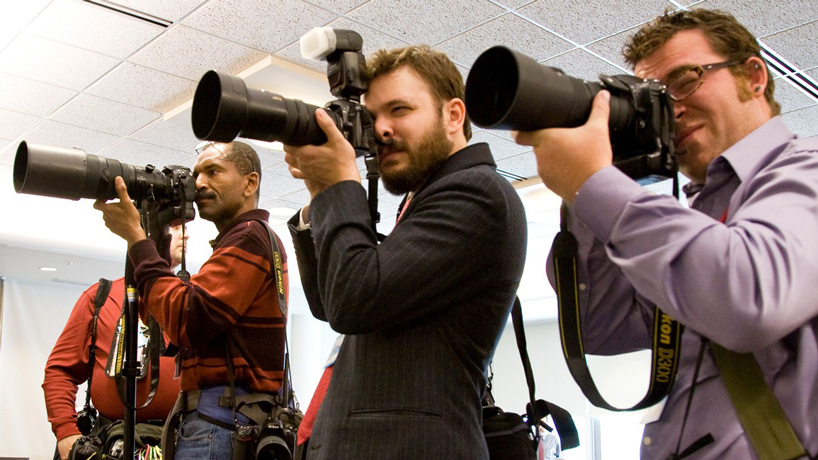 The University of Missouri–St. Louis makes a significant impact on the St. Louis area. Stories about the university, its scholars and their expertise are often covered by local and national news media.
Media Coverage highlights some of the top stories but does not serve as a comprehensive listing. Notice a clip we missed? Email us at umsldaily@umsl.edu.
Feature Stories
The St. Louis Business Journal spoke with Kevin Cox Jr., a biology alumnus, about being named a Hanna H. Gray Fellow by the Howard Hughes Medical Institute. The fellowship aims to eliminate racial disparity among STEM fields – a cause to which Cox is dedicated.
Both St. Louis Magazine and St. Louis Public Radio interviewed Jill B. Delston, associate teaching professor of philosophy, about her new book "Medical Sexism." In it, Delston explores the link between invasive procedures for female patients and access to birth control, as well as the ramifications.
The Los Angeles Times tapped Lea-Rachel Kosnik, professor of economics, to help explain why gas prices rise sharply but come down more slowly.
Media Coverage
Anne Austin, assistant professor of anthropology
Science News for Students: Infrared technology reveals hidden tattoos on Egyptian mummies
Carl Bassi, professor of optometry
Golf Digest: Odyssey aims to make better putters
Luke Bobo, education alumnus
Blog Talk Radio: Race, economics and apologetics
Susan Brownell, professor of anthropology
The Gulf Times and The Peninsula: Delivered keynote address at the "Digital Transformation of Sport Media" conference
Bryan Cather, history alumnus
Syncopated Times: Obituary
Michael Costello, associate teaching professor of finance and legal studies
St. Louis Jewish Light: Launched Israel trip for business students
Rachelle Crowe, biology alumna
Alton Telegraph: first woman to lead Senate judiciary panel
Maria Ellis, music alumna
St. Louis Public Radio: Leading new children's choir
Alayna Epps, music student
St. Louis Post-Dispatch: Sang at MLK Day celebration
Thomas Eyssell, professor emeritus of finance and legal studies
Washington Missourian: Spoke on the golden age of cars in St. Louis
Jaleh Fazelian, associate dean of libraries, Thomas Jefferson Library
St. Louis Public Radio: Local Iranian Americans discuss tense international moment
Jennifer Fisher, assistant teaching professor of education
Mind Matters: Crossroads of academics and art
Jennifer Fletcher, nursing alumna
EMS1: Planning for patient safety
Lucy Grimshaw, public policy student
St. Louis Public Radio: Civil rights tour
Tom Hoerr, scholar in residence of education
St. Louis Post-Dispatch: The importance of reaching all communities
Adaron Jackson, Director of the David and Thelma Institute for Jazz Studies 
Town & Style: Student Standout: Daniel Herrera, member of JazzU
Jessireé Jenkins, public policy alumna
Broadway World St. Louis: Named grants and programs coordinator for the Arts and Education Council
David Kimball, professor and graduate director of political science
Philadelphia Inquirer: "Blue shift" voting pattern
Cleveland.com: Partisan redistricting fight in Wisconsin
Lauren Lappin, assistant softball coach
Athens News: On National Girls and Women in Sports Day panel
Janet Lauritsen, Curators' Distinguished Professor of Criminology and Criminal Justice
The New Yorker: The trouble with crime statistics
Angie L. Leahy, accounting alumna
The Source: Named associate vice chancellor for finance and controller at Washington University in St. Louis
Anita Manion, assistant professor of political science
KDSK: Analysis of Soleimani killing
Courtney McDermott, assistant teaching professor of social work
St. Louis Public Radio: Civil Rights tour
Jon McGinnis, professor of philosophy
Daily Nous: Honorable mention in Journal of the History of Philosophy Article Prize
Marie Mora, economics professor and associate provost for Academic Affairs
Bloomberg: Minorities being driven away from economics
Jerome Morris, E. Desmond Lee Endowed Professor of Urban Education
St. Louis Post-Dispatch: Celebrating Black Educators 2020 event announced
Natalie Raney, music alumna
The Willits News: Featured cellist in Ukiah Symphony Orchestra's "Baroque Revisited"
Dave Robertson, Curators' Teaching Professor and chair of the Department of Political Science
Atchison Globe and Southeast Missourian: Abortion key issue in Missouri 2020 governor's race
David Rolfe, business alumnus
Guru Focus: Large-cap growth success with Wedgewood Partners
Sonya Rooney, museum studies alumna
The Source: Archivist is the caretaker of university's institutional history
Rick Rosenfeld, Curators' Distinguished Professor Emeritus of Criminology and Criminal Justice
Crime Report and St. Louis Post-Dispatch: Crime data doesn't support St. Louis police strategy
Fox4KC: Increased homicides in Kansas City and St. Louis
Springfield News-Leader: Missouri gun legislation
Joel Sjerven, social work alumnus
St. Louis American: The police residency requirement and racial equity
Dayna Stock, political science alumna and former director and manager of the Sue Shear Institute for Women in Public Life
St. Louis Business Journal and St. Louis Post-Dispatch: Named CEO of the Rome Group
Jacqueline Thompson, assistant professor of theater
Broadway World St. Louis: Metro Theater Company presents GHOST at the Grandel Theatre
Blanche M. Touhill, professor emeritus and chancellor emeritus
St. Louis Post-Dispatch: Citizens of the Year award
Cathy Vatterott, professor emeritus of education
Good Housekeeping: Debate over homework in elementary school
Pamela Westbrooks-Hodge, business alumna
St. Louis American: Appointed to Missouri Board of Education
Sha-Lai Williams, associate professor of social work
St. Louis Public Radio: Civil Rights tour
Rachel Winograd, associate professor of research at Missouri Institute of Mental Health
St. Louis Post-Dispatch: Missouri can't afford to go backward in effort to combat overdose deaths
St. Louis Post-Dispatch: Funding, services for opioid addiction increase, but death toll still high
Philadelphia Inquirer: What's missing from Philadelphia's approach to the opioid crisis
Other News
Advantage News and Alton Telegraph: Helped conduct United Way's Community Needs Assessment
Brookings: How investments in innovation districts can combat the country's regional divides
Columbia Missourian: NextGen Precision Health Initiative
The Daily Iowan: Philosophy courses teach important perspectives to view the world
St. Louis Magazine: Reflecting and serving on MLK Day
St. Louis Post-Dispatch: University Singers and the Arianna String Quartet
St. Louis Post-Dispatch: UMSL's men's basketball team soars
St. Louis Post-Dispatch: Unions get bigger in anti-union Missouri
St. Louis Post-Dispatch: UMSL men move up in NCAA Division II poll
St. Louis Post-Dispatch: International wildlife photographer speaks at Blanche M. Touhill Performing Arts Center
University of Wisconsin News: Compassion training for parents may reduce their children's stress
West Newsmagazine: Scenes from the holiday season

Short URL: https://blogs.umsl.edu/news/?p=83906