Which of these 5 Women's History Month events matches your personality type?
Women's History Month started as a week. In 1981, Congress passed Public Law 97-28, naming March 7 as the start of Women's History Week in recognition of the powerful role of women in American History. In the years since, that week has expanded into a month of celebrations across the U.S., including at the University of Missouri–St. Louis.
This year, Ashlee Roberts, associate director of the Office of Student Involvement, has collaborated with offices and individuals across campus to design and implement a not-to-be-missed calendar commemorating women's contributions. There's something for everyone and, in that spirit, we at UMSL Daily have picked a small sample of offerings to highlight.
1. Check out "Overture: A Womxn's Storytelling Experience" if your jam is podcasts, The Moth Radio Hour or advice from people who have been there.
March 3 – This brand-new signature event will kick-off Women's History Month at 6:30 p.m. in the Millennium Student Center Pilot House with an evening of storytelling hosted by alumna Tierra Parks and featuring UrbArts "Second Tuesdays" storytelling hosts Chiffontae Ross and Kameel Stanley of USA Today's "The City" podcast. Audience members will be able to sign up for five-minute performances at check-in. The evening will start with a reception – aka free food – and time to meet and talk with amazing women at UMSL.
2. Check out the "19th Amendment Escape Room: Can You Escape 100 years of Women's History" if you've polished your mental game, are a history buff or if your local escape room is tired of seeing your face.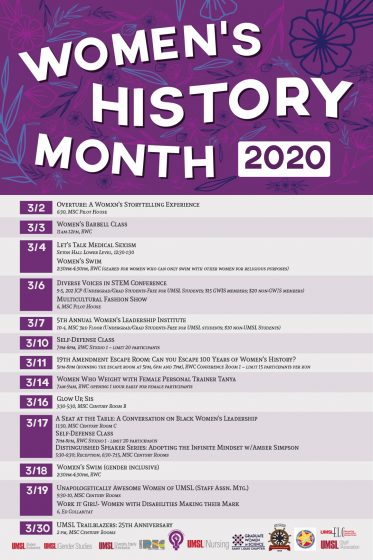 March 11 – The Recreation and Wellness Center will host three rounds of 15 players from 5 to 8 p.m. in Conference Room 1. As the name implies, it's an escape room based on knowing women's history. Learning history is, of course, always fun, but we're betting this will be a standout. You can register for one of the limited spots on MyEngage.
3. Check out "Glow Up, Sis," if you're all about self-care.
March 16 – The Associated Black Collegians will host a women's wellness event sharing self-care tips from 3:30 to 5:30 p.m. in the MSC Century Room B. Join to learn how to make yourself glow in every aspect of your life with presentations on different areas of wellness ranging from mental, physical and financial health to face masks and nutrition.
4. Check out "Work It Girl! Women with Disabilities Making Their Mark" if you're interested in learning about intersectionality.
March 19 – This event, hosted by the SUCCEED Program at 6 p.m. in the Ed Collabitat will feature a panel of women with disabilities to share their experiences navigating the intersection between two often marginalized identities. The speakers will discuss how they navigate professionalism, careers and more. Students from the SUCCEED program will be conducting one-on-one interviews with the speakers as well as a showcase.
5. Check out "UMSL Trailblazers: 25th Anniversary" if you're ready to celebrate the power and contributions of UMSL women.
March 30 – Close out the month at 2 p.m. in the MSC Century Rooms with the annual event to recognize women in predominately male occupations or those who've made noteworthy contributions to UMSL or their professions. The award is given by the Office of Diversity, Equity and Inclusion, and the theme for 2020 is "Valiant Women of the Vote: The Journey to Universal Suffrage."
In the very unlikely chance that you didn't spot an event to suit your fancy, there are 13 more to choose from. We hope to see you at all!

Short URL: https://blogs.umsl.edu/news/?p=84156