Spring Career Fair connects students with potential employers
Sophia Caballero took a few minutes to examine the banners hanging from tables throughout the Mark Twain Athletic Center Friday during the University of Missouri–St. Louis' Spring Career Fair. The dual major in accounting and criminology and criminal justice was prepared to meet with company representatives, especially one from the Central Intelligence Agency.
Caballero and her roommates, marketing major Cinthya Navarro and nursing major Erika Robinson, were among more than 430 attendees searching for internships and jobs. They'd edited resumes, created questions to ask potential employers and rehearsed answering interview questions. Now was their time to stand out.
With 110 companies represented at the career fair, students from every major had plenty to explore. Organizations ranged from small, St. Louis-based firms to national conglomerates.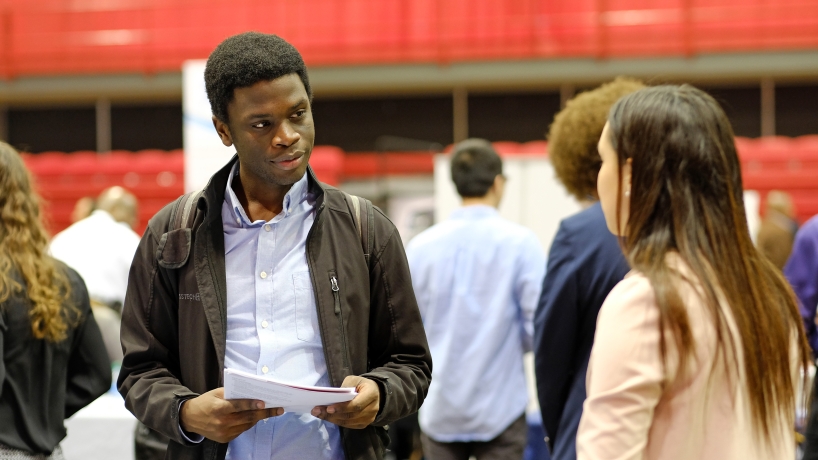 Junior Nkazimulo Sibanda (left) used the career fair to explore internship opportunities and make connections. Ameren, Spectrum and World Wide Technology topped his list, but he looked forward to meeting a range of companies interested in information systems majors.
"There are a lot of opportunities here," he said. "They're giving us a platform or avenue to get to the next point in our careers. It's good to meet with companies, get a feel for the corporate environment. I'm happy that I have this opportunity to get my foot in the door."
Before attending the event, Sibanda had his resume reviewed by UMSL Career Services to ensure it was visually appealing and appropriate for his field. He made sure to highlight his participation in the UMSL Accelerate entrepreneurship program, which caught the attention of an Ameren representative at the career fair.
Hang To (left), a sophomore accounting major, was also searching for internships in order to gain more experience in her field. She took advantage of the Fairs app, which provides a map and list of companies represented. Users can filter organizations to fit their preferences.
The app also gives recommendations for career fair success. To followed the advice and came prepared with an elevator pitch to introduce herself to employers and highlight her skills.
The event also drew attendees from outside UMSL, like Vyctoria Brooks, a graduate student pursuing a master's in industrial-organizational psychology at Southern Illinois University Edwardsville. She'd participated in similar events before, so she came prepared with copies of her resume, professional clothing and plenty of coffee beforehand.
Interested in internships and full-time positions, she'd planned to meet with Ameren and Commerce Bank representatives. Once on site, however, she was drawn to a variety of companies that had not been on her radar.
"I really enjoy this fair," she said. "UMSL's career fair is one of the few career fairs in St. Louis that is actively pursuing students who are looking for internships."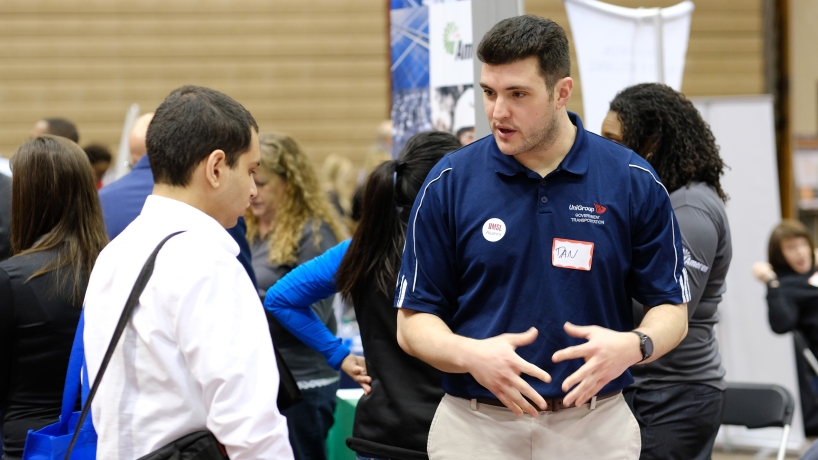 Dan Woodham (right) was on a mission to find summer interns for UniGroup, an international relocation company.
"This is the third or fourth time we've been here," he said. "We get pretty busy in the summer with peak season, so we've got to bulk up and get some interns for the summer to handle the capacity."
Woodham started his UniGroup career as an intern before advancing to his current role as a relocation management specialist handling military relocations. He earned a BSBA with an emphasis in supply chain management from UMSL in 2017.
The career fair gave him an opportunity to showcase UniGroup's culture, a more casual environment where jeans are allowed. Information systems and supply chain management majors seemed especially interested.
The Internal Revenue Service hosted a table to display the widely varied positions available in the department. Although primarily connected with taxes and accounting, the IRS offers positions for a range of degrees, including engineering.
Laura Kiser (left), a 2010 UMSL graduate with a psychology degree, now works as a recruiter for Stifel. The full-service wealth management and investment banking firm has been headquartered in downtown St. Louis for more than 130 years.
Kiser used the career fair as an opportunity to promote her company's growing internship program to a large number of students.
"My mission is to get Stifel's name out there," she said. "We're working to build our internship program, so that is part of coming out here. Obviously, I have some bias toward UMSL. It's always a really well-done fair. We always get a lot of quality students who come and visit our table."

Short URL: https://blogs.umsl.edu/news/?p=84289