Eye on UMSL: Celebrating innovation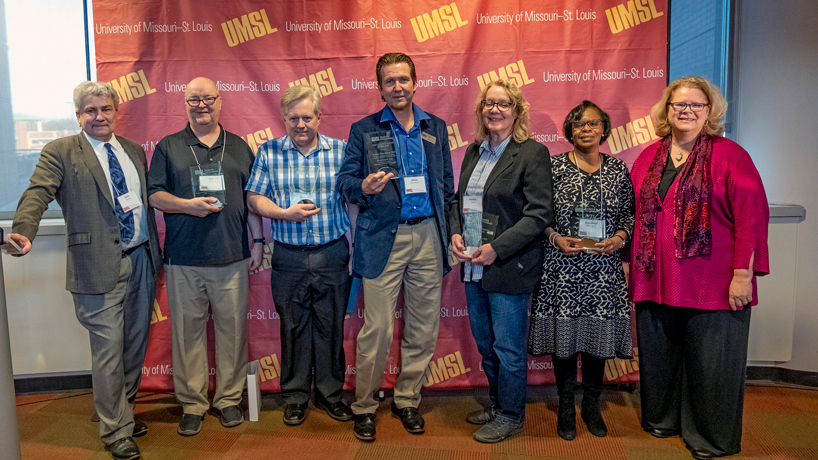 Members of the University of Missouri–St. Louis faculty and staff, as well as graduate students, gathered with friends on March 6 as the Office of Research Administration honored outstanding investigators and inventors at the annual Research and Innovation Reception at the Millennium Student Center. Interim Chancellor and Provost Kristin Sobolik (at right) and Vice Provost for Research Chris Spilling (at left) were on hand to recognize this year's awardees. From left, Spilling; Innovator of the Year Carl Bassi, a Curators' Distinguished Teaching Professor in the College of Optometry; Co-Investigators of the Year Keith Stine and Alexei Demchenko, professors in the Department of Chemistry and Biochemistry; Junior Investigator of the Year Sharlee Climer, an assistant professor in the Department of Mathematics and Computer Science; and Senior Investigator of the Year Brendolyn Bailey-Burch, a senior research associate in the Missouri Institute of Mental Health; Sobolik.
This photograph was taken by UMSL photographer August Jennewein and is the latest to be featured in Eye on UMSL.

Short URL: https://blogs.umsl.edu/news/?p=84383