Triton Emergency Fund supports students financially impacted by COVID-19
Balancing a budget – setting aside savings, covering bills and reducing unnecessary expenses – is widely regarded as a crucial skill for becoming a self-sufficient adult. Unfortunately, when a crisis hits that temporarily closes businesses and leads to job loss, no amount of financial finesse can safeguard a budget from the unexpected loss of income.
With the novel coronavirus interrupting many businesses and prompting a rise in layoffs and furloughs, some students at the University of Missouri–St. Louis are struggling to make ends meet and continue their education.
"A large population of students are always living on thin ice financially," said Robin Kimberlin, director of Student Social Services. "They're just kind of getting by. They've made some sacrifices to go back to school. With a crisis like this, it's like the ice just broke."
The Triton Emergency Fund helps students meet financial obligations during unexpected situations that can prevent them from earning a degree. It's a one-time source of funding that can be used only after other options are exhausted.
"Having the ability to provide quick financial assistance makes a difference," Kimberlin said. "Imagine if you got in a car accident, you had $1,200 in repairs and you didn't have $1,200. But if that's how you got to campus, it totally derails your whole semester. We want to be positioned to help in those situations quickly."
The Triton Emergency Fund – managed by Student Social Services – has existed for several years but is especially crucial as the coronavirus exacts a financial toll on many students.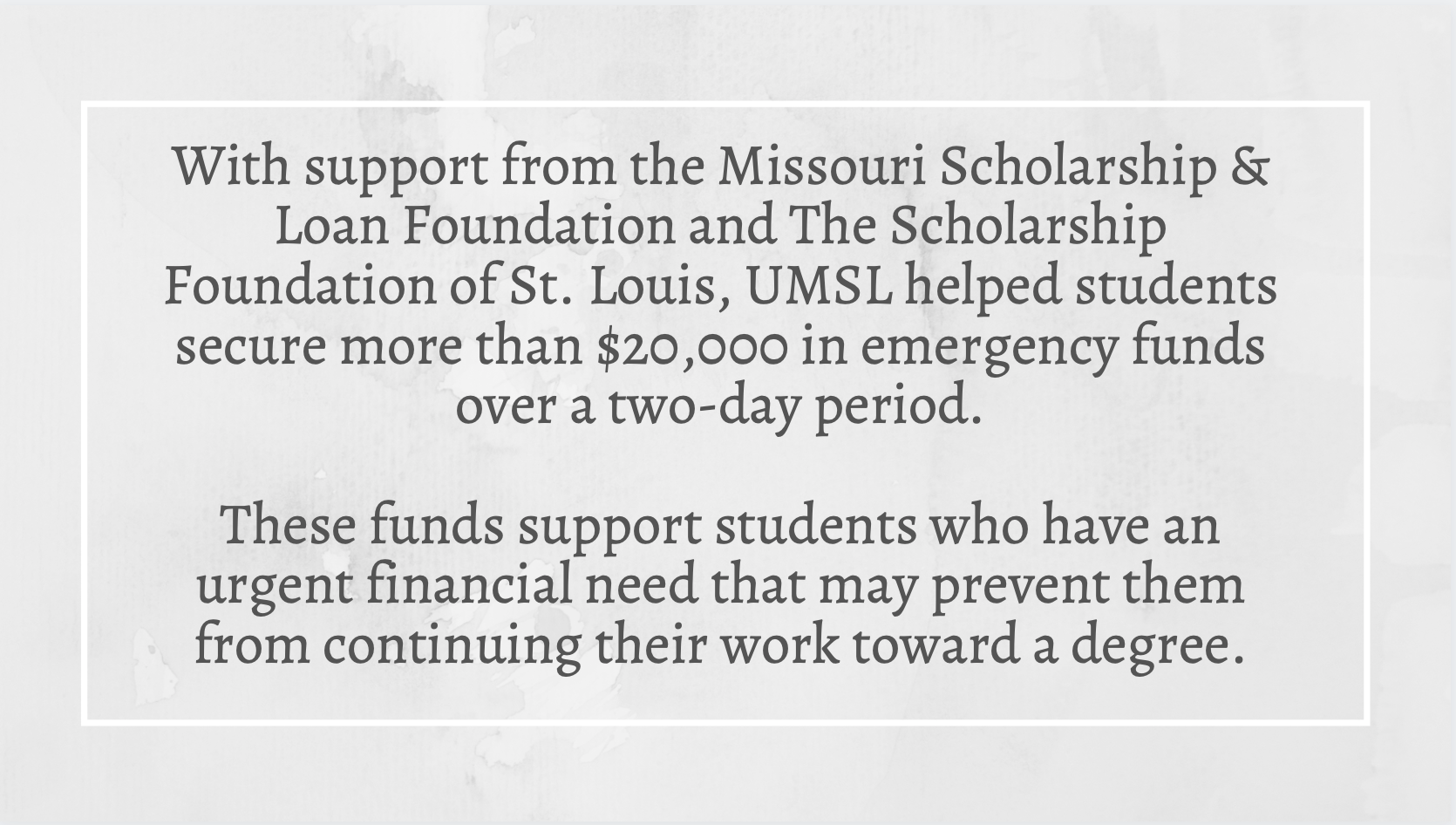 In response to the pandemic, UMSL Advancement is focusing fundraising efforts on the fund.
"Giving is a way for donors to show their values," Director of Annual Giving Maura Connors said. "Especially in a time of crisis, people are looking for a way to help. Giving helps them relieve their own sense of helplessness. The Triton Emergency Fund gives Student Social Services the most flexibility to have the broadest outreach for students in need."
Students who may benefit from the fund are referred to Student Social Services, where a member of the team connects them with community resources and programs, as well as financial aid options for additional scholarships and grants.
Payments primarily go directly to vendors such as landlords and utility companies. It has historically been used to assist students dealing with emergency situations such as house fires, job loss or finding a new place to live due to domestic violence.
Advancement kicked off fundraising for the emergency fund with an email sent to alumni, faculty and staff last Thursday. In just over 12 hours, it resulted in more than $6,000.
"We all have a connection to these students in some way, even if it's indirect," Connors said. "We've had inquiries from faculty, staff and alumni, initiating contact with us and asking how they can help. That really speaks to the human spirit. In a time of crisis, people want to do what they can. The emergency fund is a great way for donors to see the immediate impact of their generosity.
"It's a really powerful thing for donors to know that a gift could help one person keep their lights on, pay part of their rent, provide food for their family. Students have lots of things going on in their life. It's an opportunity for the UMSL community to come together and support them and provide this service from all directions, not just academia."
The fund comprises only one portion of the resources offered by Student Social Services to support Tritons during the transition to remote learning.
Prior to the pandemic, the Triton Pantry combatted food insecurity from a physical location inside the Millennium Student Center, averaging around 400 visits per month. Before staff began to work remotely, Kimberlin and volunteers packed around 75 boxes containing enough food for two weeks, which are available at three locations on campus during the quarantine.
Student Social Services is utilizing tools like Zoom to conduct appointments with students and connect them with resources for everything from rent and access to technology to academic and mental health support.
"The students are our community," Kimberlin said. "We know them, and we're here to take care of them. We have multiple things we can pull together, so we can support them holistically, assess needs and think outside the box about how to help them get their needs met.
"We're here for you. We've got your back. Let us know how we can help and what you need, and we're going to do everything we can. Don't give up."
To make a donation to the Triton Emergency Fund, click here.
To schedule an appointment with Student Social Services, click here.

Short URL: https://blogs.umsl.edu/news/?p=84535