UMSL DNP named top 25 program by Learn.org
A host of unique offerings in the University of Missouri­–St. Louis' Doctor of Nursing Practice program give the degree an edge over its competition.
Despite being a primarily online program, the DNP boasts several three-day intensives to teach skills and enhance relationship building. Then there's the focus on teaching about social determinants of health, which prepare nurse practitioners and leaders to work with disadvantaged populations. Plus, the collaboration with the College of Optometry gives students experience in ophthalmic assessment and treatment.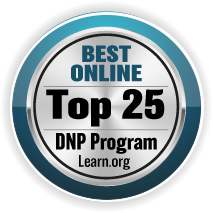 For all these reasons and more, the DNP program has been consistently recognized as a top option. Last week, Learn.org became the latest rankings organization to acknowledge the College of Nursing program's excellence by including it on the list "Best Online DNP Programs."
"I was surprised and thrilled to see this new ranking," DNP Program Director Laura Kuensting said. "Being ranked in the top 25 DNP programs in the nation puts UMSL on a desired list and highlights the benefits of our program."
UMSL was one of two schools in Missouri to be ranked by Learn.org, which evaluated the programs based on quality, cost and value. The program, which graduated its first class in the summer of 2018, prepares nurses to become advanced clinicians and builds expertise in areas of health policy, organizational leadership and management, evidence-based practice and more.
Earlier this year, U.S. News & World Report jumped the program 20 spots year over year to No. 78 on the "Best Nursing Schools: Doctor of Nursing Practice" rankings.
"We have worked tirelessly over the last four years to develop a premier DNP program," Kuensting said. "I am thankful for the expert faculty, administrative and staff support and motivated students who have assisted in the process of building this program. The DNP program is our way of giving back to the St. Louis area and to the entire state of Missouri in advancing the health of our citizens."

Short URL: https://blogs.umsl.edu/news/?p=84920