Hispanic Heritage Month at UMSL: A Q&A with Marité Balogh and Luimil Negrón
From mid-September to mid-October every year, people across the U.S. celebrate the culture, contributions and history of Latinx and Hispanic Americans during Hispanic Heritage Month. At the University of Missouri–St. Louis, the annual celebration features everything from dance to conversation to food and more.
While the celebration always brings to light previously unknown facets of Latinx and Hispanic culture, we at UMSL Daily still had some questions. How did the month get started in the first place? Why is it a seemingly random 30 days? When did UMSL first start celebrating?
To slake that curiosity, we sat down with two UMSL experts, Teaching Professor of Spanish María (Marité) Balogh and doctoral student Luimil Negrón.
Balogh specializes in Latin American literature, diverse cultural special topics and creative writing. She earned her MA from Southern Illinois University at Carbondale and an MFA in creative writing from UMSL. She is the faculty advisor to the Hispanic Latino Association and has been on the planning committee for UMSL's Hispanic Heritage Month celebration since 2017.
Negrón is an EdD candidate and a PhD student, research assistant for E. Desmond Lee Endowed Professor of Urban Education Jerome Morris, former graduate assistant for Latino recruitment and retention in the College of Arts and Sciences and advisor to HISLA. For her dissertation, she's writing an autoethnographic study, in which Hispanic Heritage Month plays a significant part in her student experience. Previously, she earned two master's degrees at UMSL, one in music education and a second in history.
The Office of Student Involvement, HISLA, the University Program Board, the Office of LGBTQ+ Initiatives, the Department of Language and Cultural Studies and the Office of Diversity, Equity and Inclusion coordinated this year's celebration.
How did Hispanic Heritage Month get started?
LN: Hispanic Heritage started as Hispanic Heritage Week during Lyndon B. Johnson's presidency. It was partially a response to criticism from the Latino community that the Johnson administration had not fulfilled its 1964 campaign promises. Basically, people were asking for a week of remembrance so that people would know more about the history of the Hispanic peoples, but they were also asking for policy to help out the Hispanic community. It came at a time when a lot of people were pushing for their rights, trying to make a decent wage, and Johnson gave them the week as a kind of concession. He didn't say that, but that's how it was felt by some people.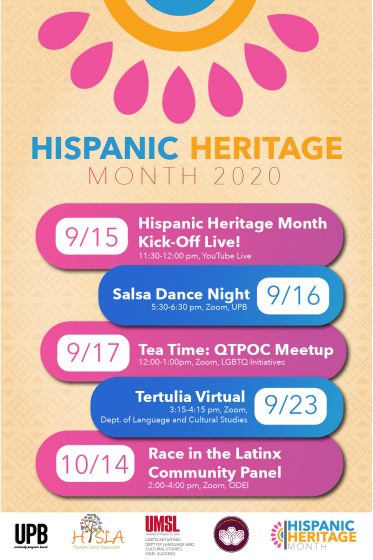 Later, Reagan was the one who made it into a month in '87. Rep. Esteban Torres pushed for a month-long commemoration. He argued that the public should learn of our heritage, know that we share a legacy with the rest of the country. He believed that a month-long celebration would allow our nation to properly observe and coordinate events and activities to celebrate Hispanic culture and achievement. This bill did not pass, but a year later, a similar bill proposed by Sen. Paul Simon did, and Reagan signed it into law on Aug. 17, 1988.
It came at a time when nothing was taught about Latinos in schools. Latino children were going to schools that didn't show them anywhere in textbooks or anything like that, so this was a start. It was really about starting to have a cultural understanding of what being Latino is about. Companies do try to sell to Latinos more during this time, but it does serve a purpose, especially in universities. This is the time of year that Latinx culture tends to be more visible.
What is the difference between Latinx, Latino and Hispanic?
LN: Hispanic is a term used for people who speak Spanish, which includes Spain but not places like Brazil, where people speak Portuguese. The term Latino refers more to Latin America and includes people who do not have Spanish as their language. There's a lot of Latinos in the U.S. that don't speak Spanish, you know. Latinx, it tends to be more of an academic, young people type word mostly. A lot of the older people use Hispanic, and that's what the census uses.
Why does the month start midway through September and then go midway through October?
LN: It's because of how the independence celebrations for all these different countries fall around that time in a 30-day span. So Mexican Independence, I believe, is the 16 – Nicaragua, the 15. It ends around the time of the Día de la Raza, which is an expropriation of Columbus Day. People took Columbus Day and decided we shouldn't be celebrating what he was doing. We need to celebrate our native peoples.
What's UMSL HISLA's relationship to Hispanic Heritage Month?
LN: HISLA at UMSL started actually in '88 to create a Hispanic Heritage Month celebration here. They planned the celebration, basically. Later on, the planning was taken up by the institution, but HISLA is still a significant presence in that. The goal of the organization is really to connect students to campus.
MB: Basically, they wanted to find a way to celebrate Hispanic Heritage Month in a special way.
The kickoff usually involved my dance group – I belong to the folkloric Caribbean dance group, Grupo Atlántico. Because it would be in the cafeteria, usually around lunchtime, they couldn't help but see the program. So that was the challenge this year.
What's the schedule for this year's celebration?
MB: There was a virtual kickoff, where we all collaborated to come up with a list of music. Then they had salsa dance night because, traditionally, that's one of the things that we have during Hispanic Heritage Month. The UPB set that up this year. We had Tertulia Virtual, which is basically a Spanish conversation table.
It has been a tradition at the Nosh to serve different kinds of Hispanic-related foods on Wednesdays, but it's limited to takeout now. We pick different countries to include every year. Sometimes, they've managed to get collaborations from local restaurants, but usually Sodexo has collected recipes from us, people from the different countries, and they prepare them.
Finally, on Oct. 14, we have a panel presentation, Race in the Latinx Community. The director of that panel is going to be Associate Professor Deborah Cohen, an active member of the committee. It was her idea to try to connect the political situation of the country today with the Latinx community.
What do you hope that Hispanic Heritage Month does at UMSL?
LN: The first thing that comes to my mind is that I hope it brings people together. The Latino culture, it's not just one culture because there's so many different countries. But one thing that we have in common is a huge family and community element. I think it is a meaningful thing to bring people together and also to highlight a group of people who tend to be less visible in academia, especially during COVID. Maybe have people think, "Maybe I want to take a Latino Studies course," give them a little taste of what the community and our incredibly rich history is about.

Short URL: https://blogs.umsl.edu/news/?p=86640