Wayne Goode, father of UMSL, dies after battle with leukemia
Wayne Goode was only a few years removed from his own college graduation and a freshman legislator in the Missouri House of Representatives when he drafted legislation that allowed for the transfer of the old Bellerive Country Club from the Normandy School District to the University of Missouri.
The purpose of House Bill 153 was to set the stage to bring public higher education to the St. Louis region. Introduced in January 1963, it contained only 78 words, but they helped facilitate the creation of the University of Missouri–St. Louis and, in turn, unlocked educational opportunity for legions of students to chase their dreams and advance their futures.
More than 105,000 graduates in the 57 years since stand as perhaps Goode's greatest legacy from 42 years representing north St. Louis County in Jefferson City – as a member of the House of Representatives from 1963-1984 and in the Senate from 1984-2005.
Goode, who served on the University of Missouri Board of Curators after leaving elected office, died Sunday after a battle with leukemia. He was 83.
"I am saddened by the news of Wayne Goode's passing and offer my heartfelt condolences to his wife, Jane, and the rest of his family," Chancellor Kristin Sobolik said. "We are all indebted to Wayne for his vision to recognize the transformative power that public higher education could have on the people of St. Louis, no matter their background. The university he helped birth continues to drive the work force in our region and help set the course for inclusive prosperity."
Goode was raised in north St. Louis County and attended public schools in Normandy, graduating in 1956. He left home to attend the University of Missouri–Columbia, earning a degree in finance and banking.
But advocating for education became a central part of his life's work.
"Goode's passion for education policy gave him a reputation as the state's leading (and perhaps only) expert in the state funding formula for schools, which he helped write," the St. Louis Post-Dispatch wrote in an obituary published online Sunday. "His other legislative priorities included the environment, health care and consumer protections. He sponsored bills that led to the state's first hazardous waste disposal law and campaign finance reform, among others."
A statue of Goode was installed in the center of the UMSL campus in 2006. It continues to serve as a meeting place for members of the campus community.
Each fall during Serendipity Sendoff, first-year students process from Alumni Circle down the hill to the statue to sign a wooden Trident and rub the statue for good luck as they begin their UMSL journey.
He never would have predicted himself being remembered and honored in such a way when he was writing his first piece of legislation 57 years ago, much less when he was a student at MU.
"I've been connected to the university a long time," Goode said in the spring 2013 issue of UMSL Magazine celebrating the university's Jubilee. "It will be over 60 years when I complete my Board of Curators term, and when I look back on introducing legislation to create UMSL 50 years ago, I never imagined I'd still be this involved with the university. I'm so happy to have been a part of this."
Goode's family is planning a memorial service to celebrate his life in 2021.
All donations can be made to the Peter W. and Helene M. Goode Memorial Scholarship Fund – a scholarship Goode established in honor of his parents that supports students in the Pierre Laclede Honors College.
Wayne Goode remains a presence at UMSL
Wayne Goode stands on the floor of the Missouri State capitol in Jefferson City.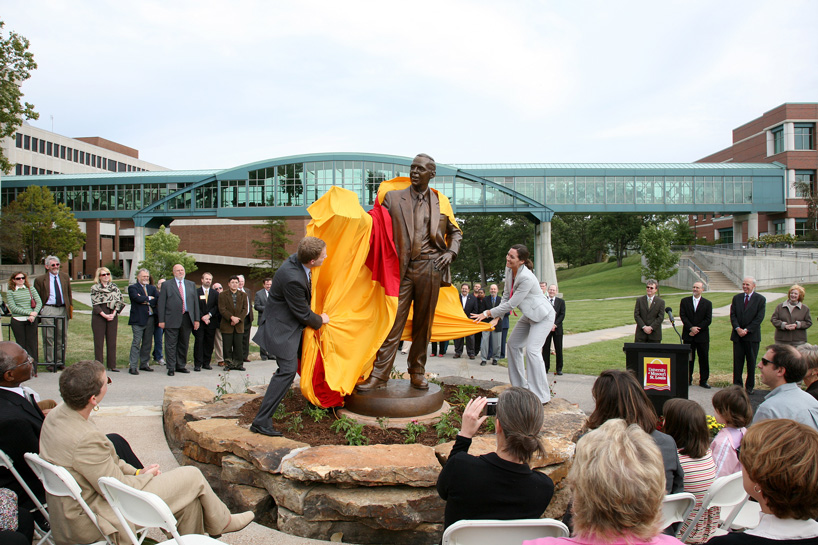 A statue of Wayne Goode was unveiled at the center of the UMSL campus in September 2006.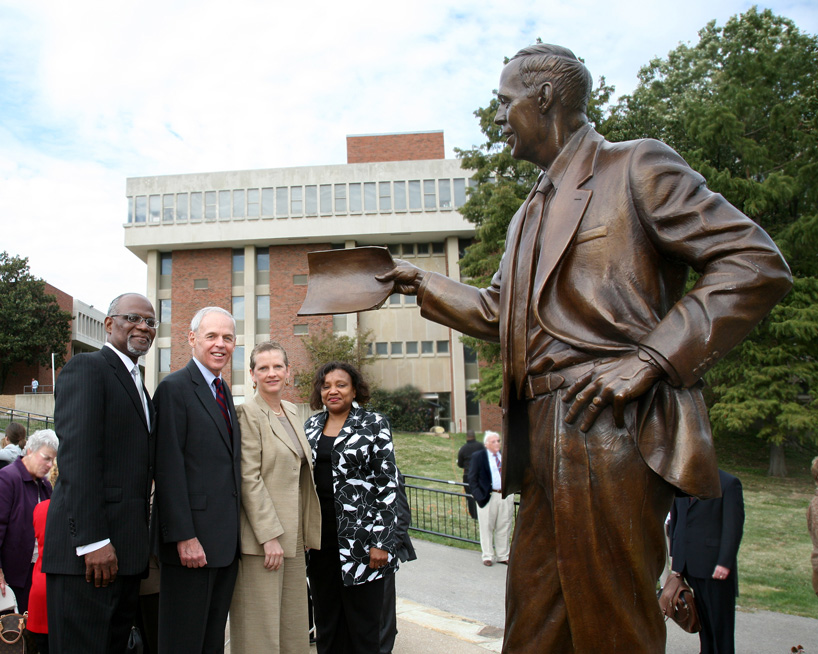 Goode, second from left, stood with St. Louis County Executive Charlie Dooley and then-state legislators Joan Bray and Rita Heard Days after the ceremony.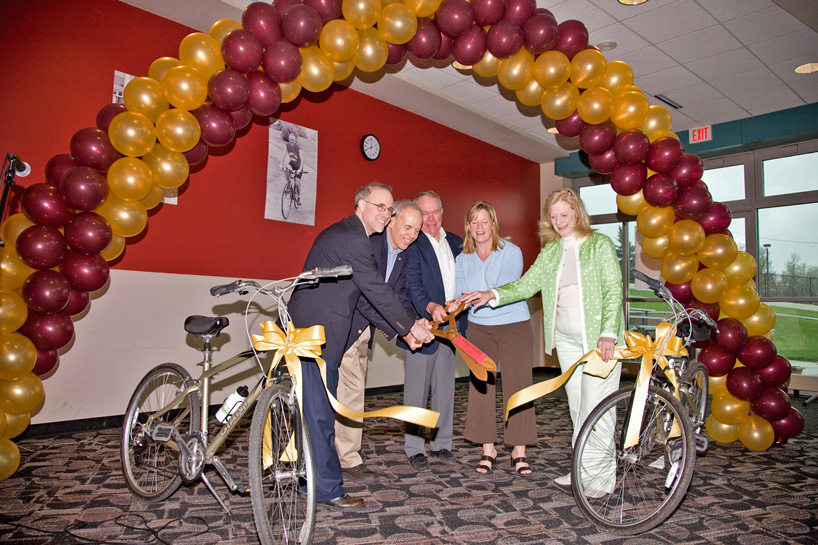 Goode, second from left, joined in a ribbon-cutting ceremony for the establishment of the Wayne Goode Trail, running through the heart of UMSL's campus.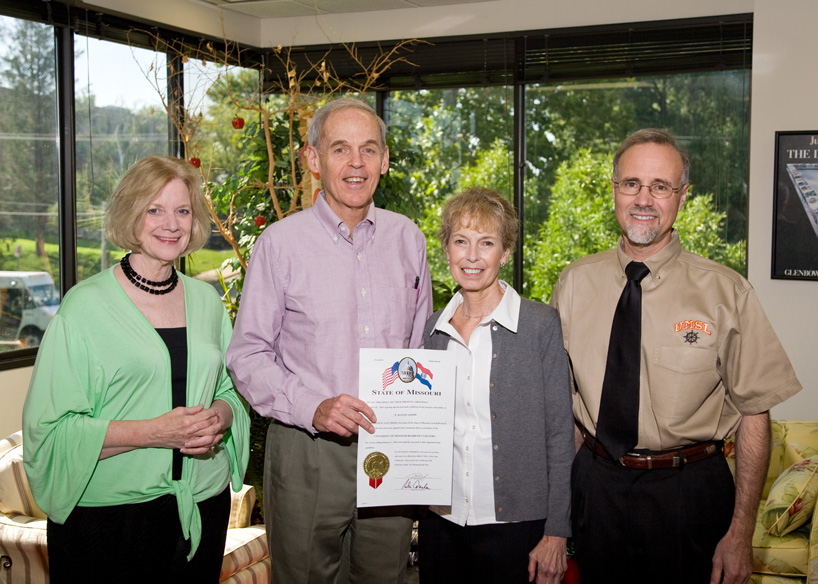 Betty Van Uum (at left) and Chancellor Tom George (at right) joined Goode and his wife Jane at Goode's swearing in a new curator of the UM System in 2009.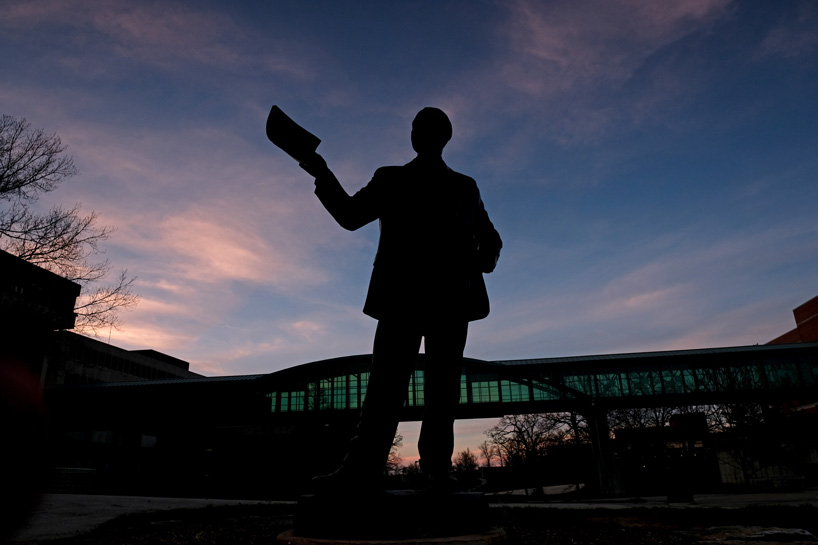 The Wayne Goode statue stands in silhouette against the winter sky at sunset in January 2018.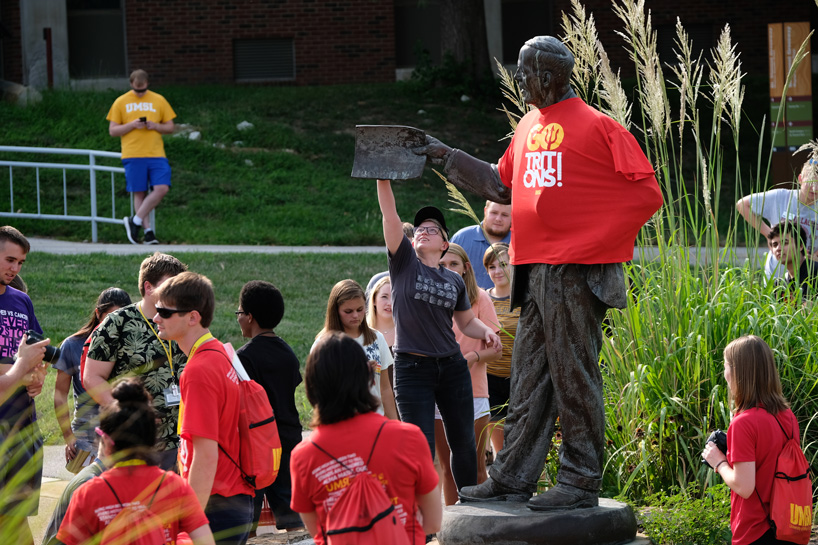 Students congregated around the Wayne Goode statue during Serendipity Sendoff in 2018.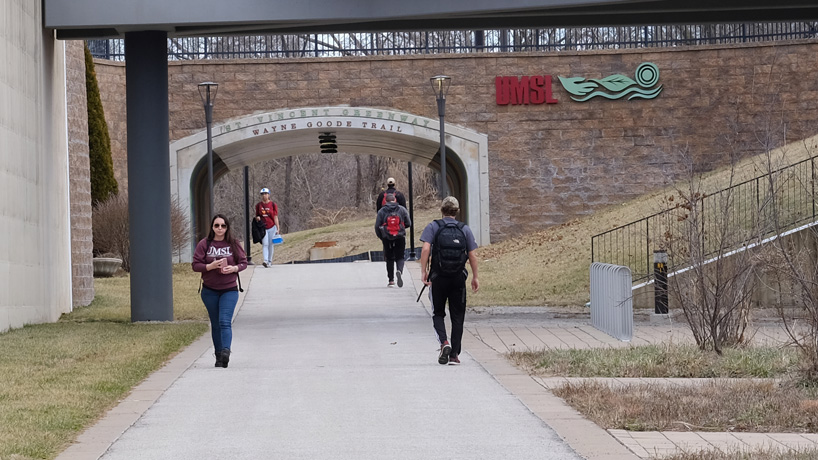 The Wayne Goode Trail cuts through UMSL's North Campus near the Recreation and Wellness Center in 2020.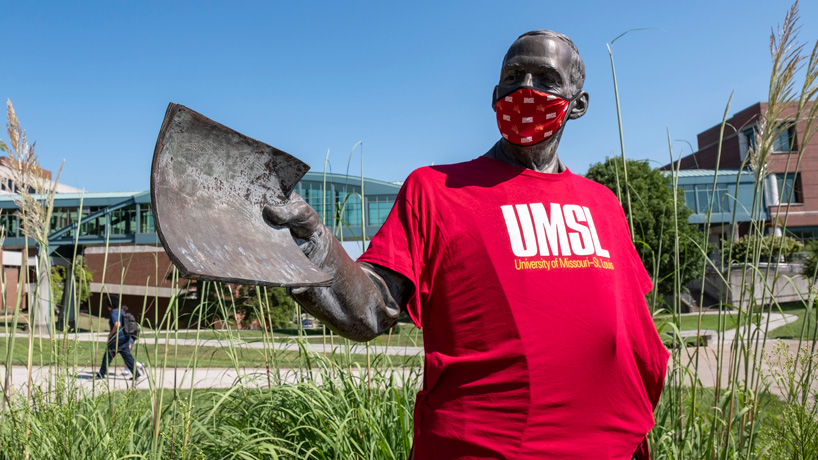 The Wayne Goode statue donned a face mask in August as UMSL reopened for the fall semester amid the COVID-19 pandemic.

Short URL: https://blogs.umsl.edu/news/?p=86692