UMSL ranks 20th on 2020 list of Best Military-Friendly Online Colleges
The University of Missouri–St. Louis has long been lauded for its support of military-connected students.
That isn't limited to the students who choose to attend classes and pursue their degrees on campus. The ratings website OnlineU recently ranked UMSL 20th nationally on its 2020 list of Best Military-Friendly Online Colleges.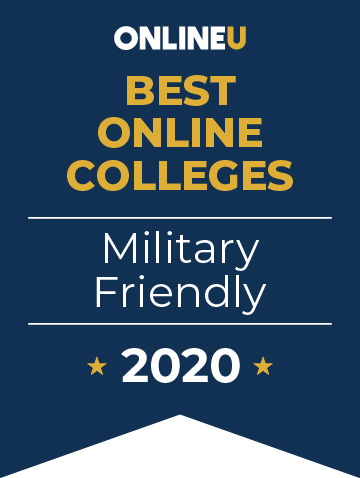 "These 100 online military-friendly schools are dedicated to serving the unique needs of military service members, veterans and their families," the website said in announcing its list. "They all provide strong military communities and support networks for military-affiliated online students."
To be considered, schools had to offer one or more online bachelor's degrees.
OnlineU collected 15 data points from the U.S. Department of Veterans Affairs GI Bill Comparison Tool and used them to determine each institution's score in four categories: military culture, support, financial aid and flexibility.
Military culture rates the level of commitment that each school shows to accommodating military students and creating an environment where they can feel comfortable and succeed. Support considers the services available, including whether there is a dedicated point of contact to assist military-connected students.
The financial aid score factors in incentives such as in-state tuition, scholarships, fee waivers, textbook grants and tuition discounts that institutions provide to military students, whereas flexibility assesses a college's policies on course transfer and prior learning credit.
"It is not a surprise to me that UMSL was evaluated as a Best Military-Friendly Online College nationally," said Jim Craig, an associate dean in the College of Arts and Sciences and chair of the Department of Sociology who served 25 years in the U.S. Army before retiring at the rank of lieutenant colonel. "Accessibility, flexibility and quality are critical aspects of an education for the veteran and military population. UMSL has these qualities to a very high degree. It's what we do best.
"I am proud of this recognition and the awareness of what we provide for this important population of students."
UMSL is home to nearly 400 military-connected students and has been ranked on Military Times' "Best for Vets: Colleges" list for six consecutive years.
The university established the Veterans Center in 2012 to assist military-connected students in the transition from the military to campus life. Joshua Perschbacher leads the center in his role as the director of Veterans Education & Transition Services and acts as UMSL's primary certifying officer for veterans' benefits. He and the rest of the Veterans Center staff are well acquainted with all GI Bill chapters and provide admissions support, GI Bill certification and advising, tutoring, mentoring and employment opportunities.
When students are on campus, the Veterans Center also provides space to connect with other students experiencing similar transitions.

Short URL: https://blogs.umsl.edu/news/?p=87363