Shop UMSL local for the holidays
Everyone knows that supporting local business has never been more pressing. But this year, we recommend shopping even closer to home. You need look no further than to University of Missouri–St. Louis students and alumni to find the perfect gift – from fair trade goods to tasty treats to fascinating reads to adorable kid's goods. So do yourself and your friends and family a favor this year and shop UMSL local.
Best for browsing: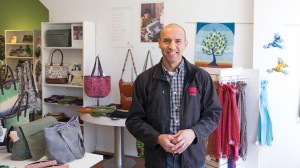 Zee Bee Market
Founded by Julio Zegarra-Ballon, MBA 2013, the handmade, fair trade and sustainable stores located on South Grand and in Maplewood stock accessories, jewelry, ceramics, clothing, décor, toys and much more. Zee Bee Market is open for walk-in shoppers and also offers curbside pickup.
Read more about Zegarra-Ballon in UMSL Daily
AO&Co Market and Cafe
Founded by Ben Poremba, BA 2003, AO&CO has something to delight the tastebuds of any foodie on your shopping list. The market carries deli and grocery items, wine and spirits, coffee and tea, candles, cigars and more. It's open for walk-in shoppers and curbside pickup.
Read about Poremba's beginnings in UMSL Daily
Best for self-care gifts: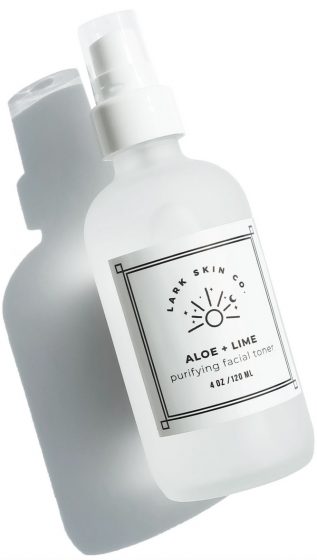 LARK Skin Co.
Lisa Donlan, BA 2010, was inspired to start a clean ingredient skincare company after her mother was diagnosed with cancer. Located in Webster Groves, the shop encompasses all skincare needs and carries a selection of gifts at different price points. There's also a skincare quiz for those who like a bit of guidance. The shop is open and will also ship orders.
AmmBer Candles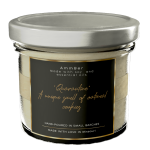 Twin sisters and UMSL students Ammarra and Amber Berry started AmmBer Candles as something to do together during the coronavirus pandemic. Their vegan candles are hand poured and have innovative scents such as campfire s'mores, bow ties & bourbon, and drunken punkin. If that wasn't good enough, the two are the granddaughters of St. Louis rock legend Chuck Berry. The candles are available to be shipped.
Read about Ammarra's path to Organizational Leadership in UMSL Daily
Best for consumption: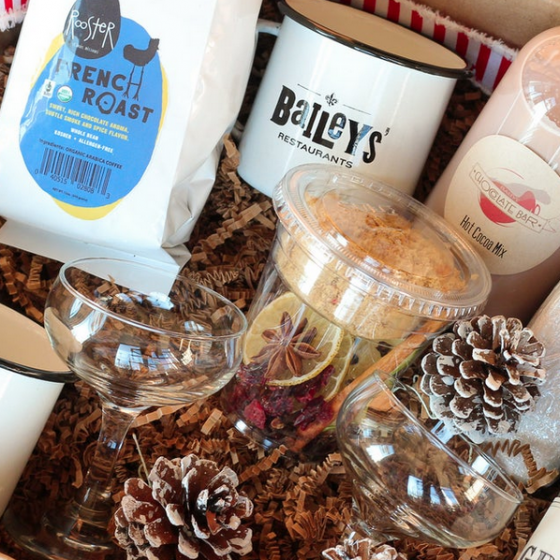 Baileys' Restaurants
When stay-at-home orders made business as usual impossible, College of Education alumna Kara Bailey helped pivot Baileys' Restaurants seven restaurant concepts to curbside pickup and grocery boxes. For the holidays, she's debuted gift boxes full of sweet treats, cocktails and other delectable goodies that are available for pickup from Rooster's South Grand location. If that doesn't strike your fancy, a gift card for a delicious meal always goes down well.
Read more about how Bailey went from educator to restaurateur in UMSL Magazine
Bootstrap Coffee Roasters
Micah Svejda launched the roastery in 2010, right after completing his graduate degree in philosophy from UMSL. Through an online store, he sells high-quality, seasonal coffees as well as a monthly roasters-choice coffee subscription. St. Paul, Minnesota, locals can order pickup from a walk-up window as well.
Read more about the mysteries of coffee in UMSL Daily
Best for kids:
Pretend Friends
Anna and Daniel Clark met studying visual arts at UMSL. Since then, they've settled down together, started a family and launched a creative studio. They offer beautiful and whimsical books, prints and postcards for the young ones in your life. Their artwork is available to be shipped.
Best for paper goods:
Frills paper + goods
BFA student Laura Coggins business started as a blog sharing design, advice, DIYs and family news. That eventually parlayed into a studio focused on details, interesting design, alternative printing techniques and other surprises. You can pick up a wide array of stationary, address stamps, photographs, buttons and more at the online shop.
Best for readers:
Avery Colt Is A Snake, A Thief, A Liar
UMSL MFA in fiction graduate Ron Austin's first book features the misadventures of Avery Colt as he struggles to survive in north St. Louis alongside his family. Charged with urgency and emotion, Austin's prose faithfully renders a community determined to overcome crisis with strength, dark humor, and plenty of heart. The novel won the Nielsen Prize and was published in 2019.
Read about more about Austin, who won a $10,000 Regional Arts Commission fellowship in 2017
But that's not all:
Eats:
Mac's Local Eats from Chris McKenzie, BSBA 2000
Art and jewelry:
ToriTriesIt from Tori Gildehaus, BA 2019
Artwork from Amela Cikota, BFA 2017
Photography
Aurora Photography and Design from Jennifer Butler, BFA 2013
Candles:
M Scents from UMSL students Amra Mehmedi and Elma Mehmedovic
For kids:
Slowly but Shirley, a children's book illustrated by Danielle Ridolfi, BFA 2020
Know of a business or gift that should be included? Send us an email at umslnews@umsl.edu before Dec. 25, and we'll add it in.

Short URL: https://blogs.umsl.edu/news/?p=87548