UMSL among nation's best online bachelor's programs in latest U.S. News & World Report rankings
The University of Missouri–St. Louis continues to be recognized for the quality of its online programs.
U.S. News & World Report ranked UMSL No. 42 nationally out of more than 350 universities in its 2021 list of best online bachelor's programs. That was 10 places higher than in 2020 and ranked second among universities in Missouri.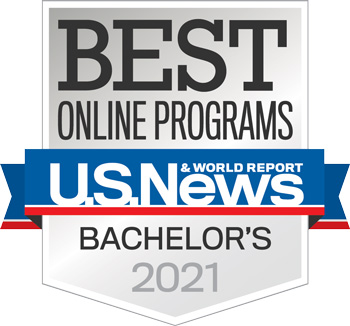 "So many of our students have to juggle the responsibilities of working while going to school, and the quality and flexibility of our online programs are vital to helping them achieve their educational goals," Provost and Executive Vice Chancellor for Academic Affairs Marie Mora said. "We are very proud U.S. News & World Report continues to acknowledge the quality of our programs, which engage and challenge students as they gain the knowledge and skills they need to advance their careers and improve their lives."
UMSL offers 21 of its bachelor's degree programs 100 percent online – everything from business and computer science to nursing and psychology.
Because of the profile of many students enrolled in online programs – i.e. working professionals in their 20s to 40s with some college credit and looking to advance in or change careers – U.S. News does not include measures only applicable to teenage applicants, such as high school grades or standardized test scores, when comparing schools and building its rankings.
"Instead, U.S. News chose factors that weigh how these programs are being delivered and their effectiveness at awarding affordable degrees in a reasonable amount of time," U.S. News staff members wrote in a statement explaining the methodology for the rankings.
Each program is assessed based on engagement, including class sizes and graduate rates; services and technologies, including student indebtedness; faculty credentials and training; and expert opinion.

Short URL: https://blogs.umsl.edu/news/?p=87843