'Chalk With Us' strives to bring awareness of prominent women in history to St. Louis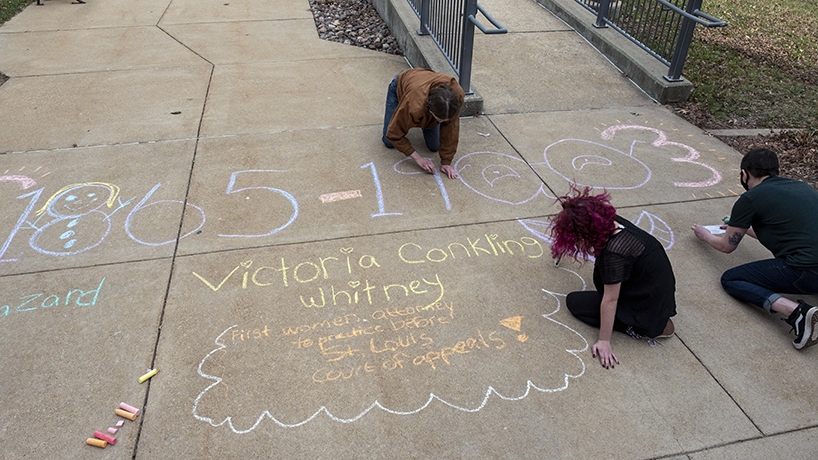 On March 25, 1911, a pile of scraps caught fire at the Triangle Shirtwaist Factory in Greenwich Village in New York. The resulting blaze flared into one of the deadliest in U.S. history, leading to the deaths of 146 individuals, many of whom were women.
A group led by artist Ruth Sergel began commemorating the lives of those women by writing their names and ages outside their buildings in New York in 2004.
Assistant Teaching Professor and Community Engagement Coordinator Rob Wilson and others at the Pierre Laclede Honors College at the University of Missouri–St. Louis took inspiration from Sergal's act to celebrate women and their accomplishments throughout history during a Women's History Month "Chalk With Us" event.
"We decided to take something that was a tragic thing, but really doing something positive to celebrate women here in St. Louis," Wilson said while opening the event in front of University Libraries last Monday.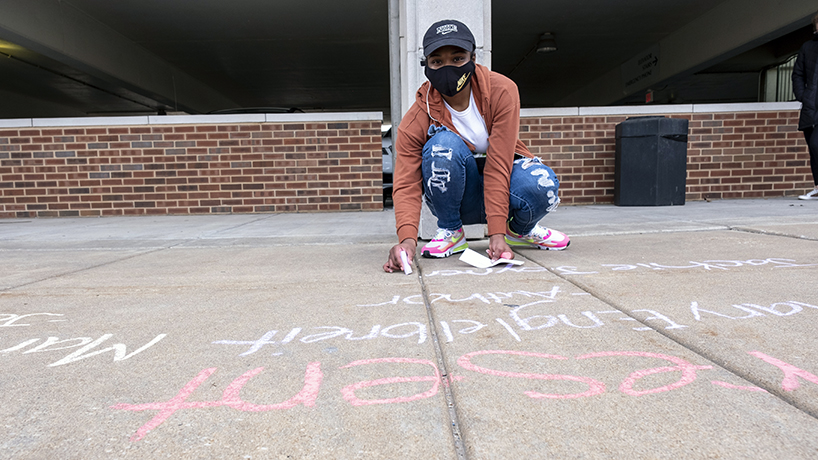 Wilson grouped the names of 153 notable historical women into era and movement – such as colonial women, civil war, industrializing city, progressive era and UMSL trailblazers – and dispersed them to approximately 30 student volunteers to chalk their names, dates and notable accomplishments in front of the majority of the buildings on North and South Campus. Some examples of those featured included Marie-Thérèse Bourgeois Chouteau, the "mother" of St. Louis; Emma Warr, who established the first school of nursing; Pearl Maddox, a civil rights leaders; Gerty Theresa Cori, Nobel Prize winner; Ntozake Shange, writer; Virginia Irwin, war correspondent; and many more.
He hopes that this year will be the start of a new UMSL tradition that might include more elements such as a guest artist and music once restricting the spread of coronavirus is no longer a concern.
The students each had their own reasons for participating, but some common themes emerged.
"I'm all about women," first-year student Kiwinda Kiwi said. "It's just so shocking that people don't know about a few women that are in the forefront of history."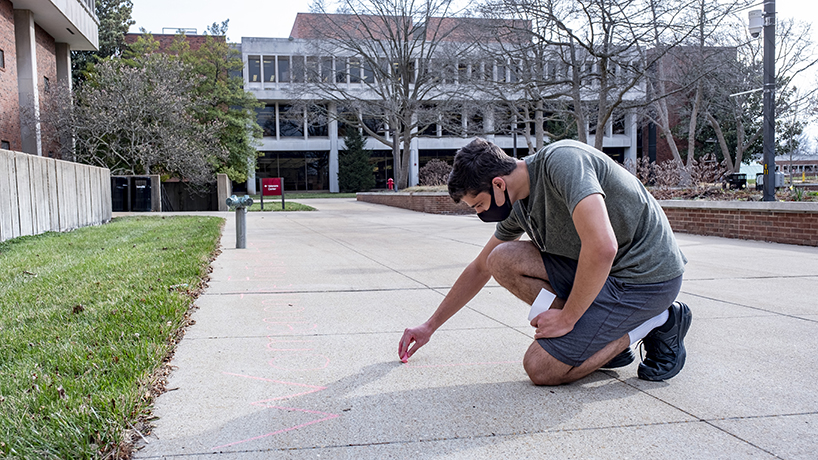 Amanda Hamilton, a student in Wilson's class, was compelled by what she'd learned about women's history and brought along her two sisters and her niece.
"We were kind of studying World War II and learning about the women in that era and how they were mostly silent, so doing this was very futuristic for them," she said. "It's just very fun to hear about."
George Shawki jumped at the chance to participate in-person. A 2+3 student with dual focuses in English and history, Shawki hopes to teach history at the college level after school.
"Part of the reason I'm doing this is that it's in-person and outside with other people," he said.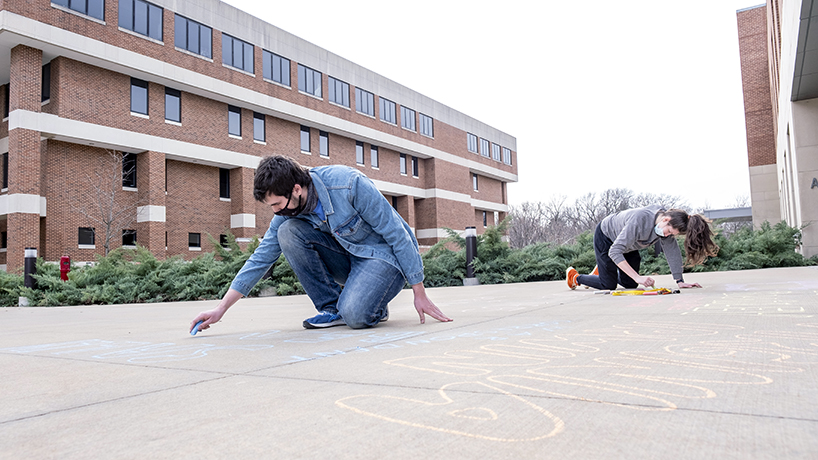 Karli Dean, a College of Business Administration student, also found her interest in learning about the history.
"It's meaningful a little bit because I am a woman," she said. "I love history. It's just two birds with one stone."
Her chalking partner, Wyatt Kircus, drew on his personal history.
"My mom's side is a lot of powerful women, a lot of activists," he said. "It's definitely nice to have an in-person as opposed to a virtual event because most happened virtually because of COVID."

Short URL: https://blogs.umsl.edu/news/?p=88620