UMSL receives renewed accreditation from AACSB for all business, accounting programs
The University of Missouri–St. Louis College of Business Administration continues to provide students with a global-oriented education that prepares them to grow into the region's next generation of business leaders and entrepreneurs.
The Association to Advance Collegiate Schools of Business this week reaffirmed the quality of that education when it renewed UMSL's dual accreditation for all business and accounting programs, both undergraduate and graduate.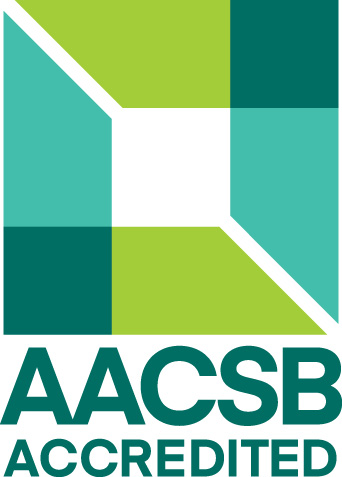 AACSB International was founded in 1916 and is considered the hallmark of excellence in business education. Fewer than 2 percent of business schools worldwide maintain dual accreditation in business and accounting, and UMSL is the only public university in St. Louis to do so.
"AACSB is the world's leading accrediting body, and we're proud that it has once again recognized the high quality of our business programs," said Joan Phillips, dean of UMSL's College of Business Administration. "UMSL has a long track record of training students who go on to become business leaders throughout our region, and we will continue to enhance and adapt our programs to meet the needs of the business community while bringing value to our students."
AACSB announced that 57 business schools had extended their global accreditation in business and/or accounting.
"AACSB congratulates each institution on their achievement," Stephanie M. Bryant, executive vice president and chief accreditation officer of AACSB, said in a press release. "Every AACSB-accredited school has demonstrated a focus on excellence in all areas, including teaching, research, curricula development, and student learning. The intense peer-review process exemplifies their commitment to quality business education."
Phillips, who assumed her new role last month, praised the work of previous Deans Charles Hoffman and Keith Womer as well as Associate Deans Joseph Rottman and Michael Elliott for leading the reaccreditation process.
The College of Business Administration, established in 1967, first earned AACSB accreditation in 1973. The accounting program received its initial accreditation in 1995.
There are more than 2,000 undergraduate and graduate students currently enrolled in the College of Business Administration. They receive training from nearly 100 full-time and part-time faculty members who are experts in their fields – whether it be accounting, entrepreneurship, finance, international business, management, marketing or supply chain and analytics as well as information systems and cybersecurity.
The college also works closely with local professionals and organizations to ensure the curriculum aligns with current industry needs and to provide opportunities for students to gain real-world experience through internships.
"The College of Business Administration shares the same commitment with our broader university to provide quality, affordable education that can help students, no matter their background, unlock opportunities for their future and transform their lives and the lives of their families and communities," UMSL Provost and Executive Vice Chancellor for Academic Affairs Marie Mora said. "We have innovative and experiential undergraduate, graduate and certificate programs designed to provide specialized knowledge, skills and training, whether students want to work in finance or accounting, become marketers, manage supply chains or start their own businesses. We are very pleased that AACSB, which is considered to be the gold standard of business-school accreditation, continues to recognize the quality of our business and accounting programs."
U.S. News & World Report has ranked the undergraduate international business program in the top 25 nationally for 18 consecutive years.
It also ranked the MBA program among the top four in Missouri. The program is designed with working adults in mind, providing flexibility to pursue specialized training at their own pace while managing career and family responsibilities.
CEO Magazine has recognized UMSL's Doctor of Business Administration program among the top 22 such programs in the world. The three-year cohort program gives senior managers the knowledge and applied research tools needed to solve high-level business problems in their companies or industries.
UMSL's accounting program, meanwhile, maintains its long-standing reputation for preparing students for successful entry into the CPA profession and placing graduates at top CPA firms, corporations and other organizations across the region and the country.
"UMSL is continually striving to make sure its students receive a world-class professional accounting education at an affordable price," said Stephen Moehrle, chair of the Department of Accounting. "We are proud that the AACSB has once again recognized the work our faculty, students and alumni have invested to make that happen."

Short URL: https://blogs.umsl.edu/news/?p=88802